Five reasons the March for Science was a dumb idea
Smug, illogical, censorious – why did they do this?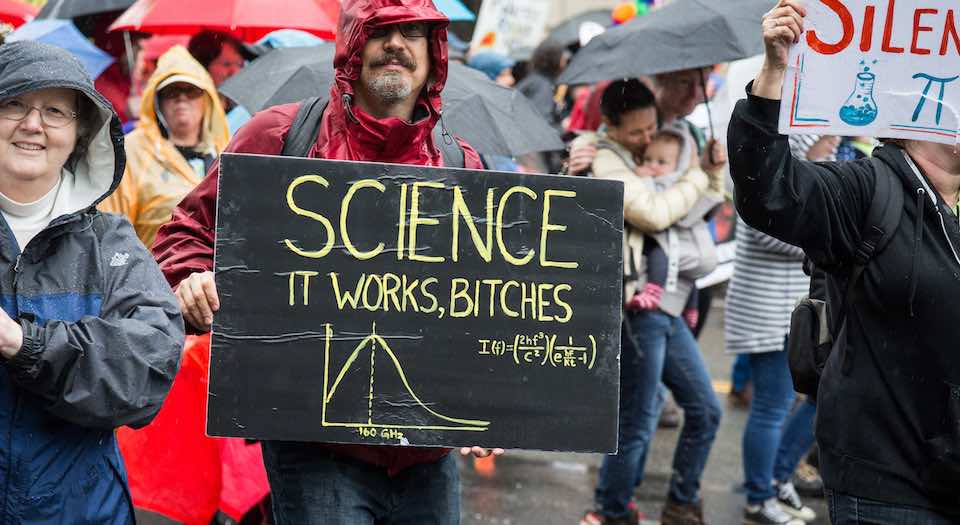 It may have attracted some of the biggest and brightest brains in the galaxy, but the global March for Science last weekend was a spectacularly dumb idea. On Saturday, spearheaded by a march on Capitol Hill in Washington DC, thousands of people protested at around 600 locations across the world, including London, Bristol, Manchester, Edinburgh and Cardiff. Yet anyone who wants to think in a scientific way should oppose this movement for the following five scientific reasons.
It's illogical
Many of those who demonstrated no doubt have several degrees and understand more about the human genome or quantum tunnelling than I ever will. But they seemed pretty clueless when it comes to irony, not to mention politics. 'Yes, this is a protest but it's not a political protest', said one of the organisers ahead of the event. If you're marching from the Science Museum to Parliament Square with placards, banners, chants and public speeches, you're doing something political. To do it in the name of stopping political interference in science is, as Mr Spock might say, illogical, Captain.
The website of the London march declares that one of the campaign's key principles is 'to support… political leaders and policymakers who enact evidence-based policies in the public interest'. You don't need to be an expert in forecasting algorithms to predict that, in the run-up to a General Election, this kind of talk will do nothing to shoo politics out of science. And that's ignoring the fact that, for over a generation, ministers and civil servants have been straining every muscle to claim their initiatives are evidence-based.
It's unclear and imprecise
Far from attempting to disentangle politics and science, the goal of the march seemed to be to twist the two together more than a double helix. Aside from the 11 separate aims listed on the organisers' website, protesters variously said they were marching to: stop funding cuts; promote gender equality; raise awareness of climate change; safeguard scientists from attacks; protect science education; oppose anti-science rhetoric; and even defend the theory of evolution.
The lack of a simple programme of clear, practical demands reduced the march to pure posturing – a chance to feel somehow engaged, but to no great effect. Like the Occupy movement, this was pseudo-activism for those who are defensive about their world, but who have no real plan to change it. Scientists are supposed to be precise and specific – the March for Science was anything but.
It's reactionary and partisan
Contrary to their lofty claims to be non-partisan and above mere politics, it was clear the organisers of the American and British marches had two unspoken targets: Trump and Brexit. Originally the protest was to be called the Scientists' March on Washington, explicitly following in the footsteps of the previous Women's March on Washington – a response to Trump's inauguration. The rhetoric during the march fit the standard anti-Trump narrative – that he was launching a 'post-truth' attack on facts and discrediting the scientific consensus.
Meanwhile, the British protest defended the status of 'experts'. It was a barely concealed jab at Michael Gove's comment during the EU referendum campaign, that 'people in this country have had enough of experts'. According to the British march website: 'There is growing concern that scientific progress and freedom is under threat on a global level – from the policies of the new US administration, uncertainty around the impact of the EU referendum, and a broad increase in anti-intellectualism and resistance to facts that contributed to both.'
In the Daily Mail report on the march, physicist and broadcaster Dr Helen Czerski was quoted as saying, 'Statistics show scientists are overwhelmingly feeling pretty rubbish about Brexit'. Her thoughts were echoed by Professor Peter Kinderman, the president of the British Psychological Society, who said 'absolutely [Brexit] could set back science'. This 'celebration of science' was nothing of the kind – rather, it was another excuse for a bit of Brexit-bashing by an elite in retreat.
It's anti-progress and anti-human
Although it marketed itself as championing science as 'a pillar of human freedom and prosperity', there was a deeply misanthropic current running through the March for Science. It was summed up by one Washington protester, who said: 'Science is facts. The universe doesn't care about what we believe, the universe is going to work the way it's going to work and we better get on the programme and work with that, or we are just going to get run over.' The overriding rhetoric was: science is indisputable.
Unsurprisingly, the march has ties to Earth Day, an environmentalist project committed to battling climate change – another field well-known for its intolerance of dissent or debate.
The protest movements of earlier, more politically engaged times sought to expand human freedom and increase prosperity for all. From the beginning, this protest intended to remind us all that human aspiration means little. As one banner claimed: 'Ice has no agenda, it just melts.'
It confuses science with scientism
The self-selecting weekend warriors in London last Saturday didn't speak for scientists, and they certainly didn't speak for science. This wasn't a celebration of science, but of scientism: the attempt to adopt science as an all-embracing ideology and push it beyond its purview. The pretence towards a fictitious global consensus and the fear of dissenting opinions had more in common with the medieval church than the Enlightenment. I can't imagine scientific heroes like Copernicus or Galileo marching for those values.
The whole basis of science is continual questioning and argument. Alternative views are the lifeblood of the scientific disciplines. Many of those who voted for Trump and Brexit did so as a stand against elite smugness and tin-earedness. Turning science into another argument against these supposed unwashed halfwits will simply ensure that public distrust of scientists grows. Contrary to what the marchers believe, the most serious threat to scientific thinking today is themselves: people who seek to exploit science to defend themselves from ideas that frighten them.
Gareth Sturdy is a physics teacher in London and organiser of the Institute of Ideas Education Forum.
Picture by: Mobilus in Mobili, published under a creative commons license.
To enquire about republishing spiked's content, a right to reply or to request a correction, please contact the managing editor, Viv Regan.