100 days of anti-Trump hysteria
The Trump administration is a joke, but so is 'the Resistance'.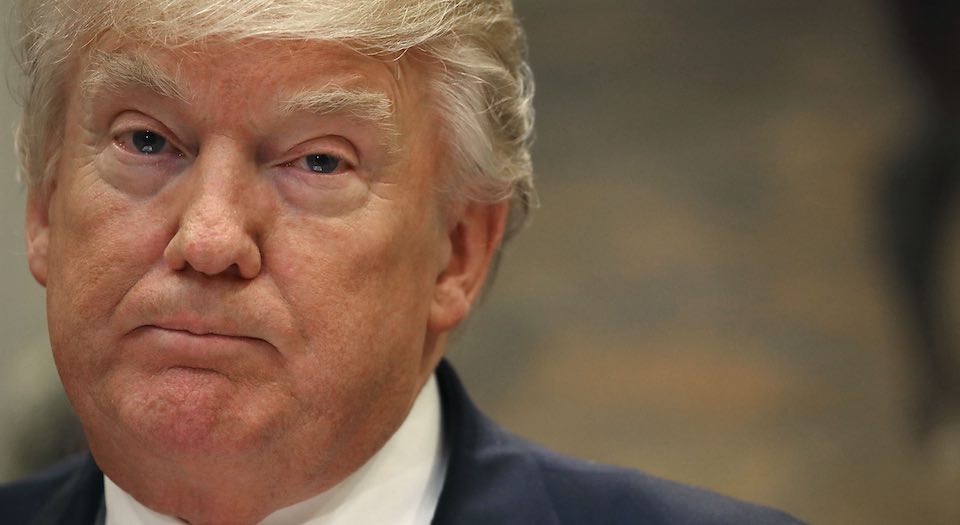 In his first 100 days, Trump has proven himself to be an incompetent, bloviating, Twitter-tantrum-throwing amateur, with remarkably few achievements to show for his time in office. Yet he has also in that time managed to make his opponents look ridiculous.
Trump, remember, was 'literally Hitler'. Liberals rushed out to buy Orwell's Nineteen Eighty-Four, to see what was in store under Trump, and imagined themselves 'the Resistance'. But, as we know, fascism has failed to materialise. Instead, we are back to mundane political issues like tax and healthcare, and continued Washington partisanship. Trump's temporary 'Muslim travel ban' was cited as the first step towards authoritarian rule, yet his apparent cabinet of ruthless white supremacists haven't managed to draft an executive order that could get past a court of law.
For the past 100 days we have also been told – endlessly – that Trump is a Russian stooge. The rival Democrats have alleged that Trump's campaign team conspired with the Russians to steal the election from Hillary Clinton. Months after making these accusations, the Democrats have yet to produce any evidence, only lots of fevered speculation.
And Trump didn't really look like Putin's poodle when he bombed an airbase in Syria, Russia's main ally in the Middle East, and declared Russia's claims regarding Syria's chemical weapons to be 'fake news'. Trump has also supported Montenegro joining NATO, rebuffed ExxonMobil's latest request for exploration in Russia, and made warm gestures towards China. Now Russia and the US both say their relationship is at a new low.
After 100 days, all the hysterical claims of incipient fascism and Russian conspiracy have not really damaged Trump; they have only made his opponents look silly. Such nonsense has been a distraction from getting to grips with his administration, and has given Trump some breathing space to fail and keep going.
The other day Trump boasted that 'no administration has accomplished more in 90 days'. Like much of what Trump says, it was completely untrue. His only major success has been to appoint Neil Gorsuch to the Supreme Court. That's it. There's been no border wall (and Mexico is not paying for it), no repeal or replacement of Obamacare, no tax reform, no infrastructure plan. Trump promised 10 legislative acts in the first 100 days, but none has been proposed or put to a vote, despite Republican control of Congress. Trump's statement following his meeting with the Chinese premier – 'After listening for 10 minutes, I realised it's not so easy' – could also describe his cluelessness when it comes to operating in Washington.
When you combine such a lacklustre record with Trump's outlandish claims (Obama wiretapped Trump Tower, millions voted illegally); his use of the presidency for personal/family financial benefit (promoting Ivanka's products, elevating her to adviser status); and his bizarre, undignified behaviour (tweeting about Arnold Schwarzenegger's TV ratings, inviting Sarah Palin, Kid Rock and Ted Nugent to the White House); you can understand why he is rated poorly on his job performance. Indeed, Trump's approval rating at the 100-day mark is the lowest of any recent president, at 43 per cent according to the Real Clear Politics average of polls.
Yet, for all his failures, Trump still remains in the driving seat of American politics, setting the agenda and living to fight another day. This is mainly because his opponents have been so ineffective. While Trump has experienced multiple setbacks, they have been largely self-inflicted.
For an indication of how ineffective his Democratic Party opponents have been, just look at how they responded to Trump's bombing in Syria: they praised him for taking 'decisive' action. After months of tilting at fascist windmills, here his erstwhile critics were supporting a real act of aggression on Trump's part. And after months of criticising Trump for lashing out impulsively and emotionally on Twitter and elsewhere, here they were congratulating him for changing his mind overnight and bombing the Syrians after seeing a news report – the military equivalent of a 4am tweet. Thanks to these supposed adversaries, Trump emerged politically stronger by doing nothing more than dropping a few bombs.
It's telling that Trump's failures and low approval ratings have not translated into support for the Democrats. A recent ABC/Washington Post poll found that only four per cent of Trump voters regretted their decision, while 15 per cent of Hillary Clinton's voters said they would vote for a different candidate if a hypothetical rerun of the election were held. And it doesn't seem that Trump voters are impressed with the Democrats generally. An Ohio Trump voter told the New York Times that he has 'mixed feelings' about Trump's performance in office, but seeing the anti-Trump opposition has convinced him 'that's where I don't want our country to go: into their hands'.
All of the frantic anti-Trump activity has enabled the Democrats to avoid reflecting on why they lost the presidential election, and why they now find themselves in a minority status in Congress as well as most state legislatures. Having witnessed working-class voters deserting their party, the Democrats still refuse to listen to their concerns. Trump made populist promises to these folks which he is now backtracking on (such as with healthcare). There are fertile grounds for challenging him. Yet the liberal elites would prefer to watch John Oliver, Samantha Bee and other smug comedians make fun of working-class Trump voters, rather than engage with them.
Democrats who think they have Trump on the run ought to consider another damning finding from that ABC/Washington Post poll: 67 per cent say the Democrats are out of touch with the concerns of most Americans. That's more out of touch than the Republicans or Trump himself. Think about that: Trump, the billionaire with gold-plated everything, is considered more of a man of the people than the Democratic Party establishment.
With opponents like these, Trump might be looking forward to the next 1,000 days.
Sean Collins is a writer based in New York. Visit his blog, The American Situation.
Picture by: Getty Images.
To enquire about republishing spiked's content, a right to reply or to request a correction, please contact the managing editor, Viv Regan.