Trump's terrifying cluelessness
In international affairs, Trump acts before he thinks.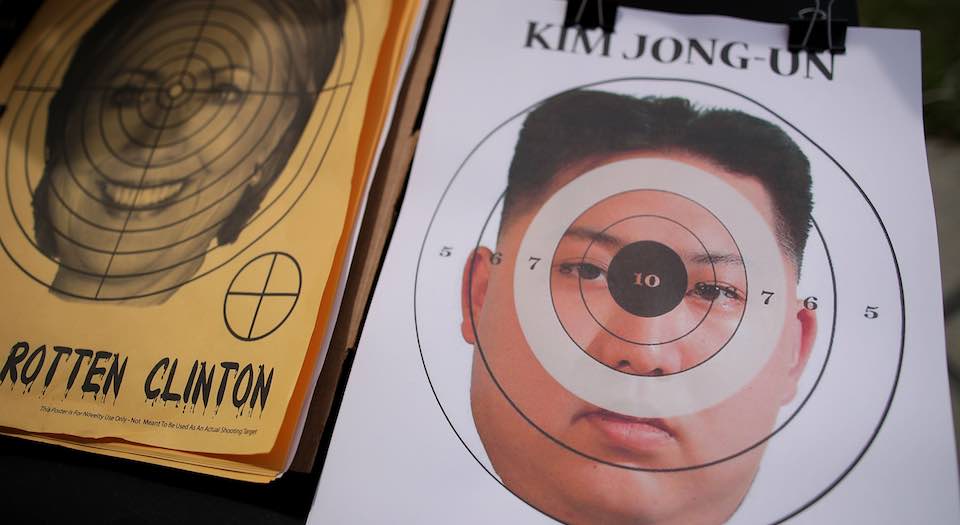 What happened to the Donald Trump who ran for president? He was going to stay out of other peoples' civil wars. He was going to re-stabilise relations with Russia. He was even going to be open to talks with North Korea. This horrified the pro-war foreign-policy establishment (famously called 'the blob' by Obama's White House aide, Ben Rhodes). Trump, the pro-war establishment spat with rage, was a businessman, a dealmaker, who would sacrifice the American establishment's overriding passion for chaos, death and war in favour of pragmatism and 'America First'.
And yet Trump is actually pursuing something like business as usual. He is ramping up support for Saudi Arabia and its barbarous war in Yemen, helping along Al-Qaeda in Yemen nicely. He bombed a Syrian army airbase following a still unattributed gas attack because he couldn't bear the thought of beautiful babies dying (he doesn't mind Yemeni babies dying). Relations with Russia have deteriorated following his Syria bombing.
The joy and excitement of the pro-war foreign-policy establishment as Trump launched missiles at Syria would have been funny had it not been so frightening. 'Trump became president last night', crooned Fareed Zakaria the day after the Syria bombing. A news anchor spoke of our 'beautiful' weapons. They're even happy that Trump now seems keen to push North Korea into a military confrontation.
Trump's approach to Asia seems so far to be one of bluster and sheer stupidity. First of all, he suggested abandoning America's longstanding policy of One China, whereby the US has formal diplomatic ties with China rather than Taiwan (while having close informal relations with Taiwan, including arms sales). In December, as president-elect, Trump took a direct call from the Taiwanese president, an unprecedented act by a leading or aspiring American politician. This caused great consternation in Beijing. Trump and Australian prime minister Malcolm Turnbull had an infamously acrimonious phone conversation in February about a deal Turnbull worked out with Obama in relation to Asian refuges. Most recently, Trump said South Korea was once part of China.
Following North Korea's latest missile launch, on 11 February, Trump has been talking tough, matching Kim Jong-un's fiery threats of all-out nuclear war. Secretary of state Rex Tillerson has said that all options are on the table. Last month, the Trump administration claimed that a US Navy aircraft carrier group was steaming towards North Korea; it turned out the group was actually heading in the opposite direction, though there is now a Navy group on its way to the Korean peninsula.
China has urged all sides to refrain from stoking tension, and has told North Korea that unilateral sanctions will be imposed on it if it carries out another missile test. Last week, North Korea marked the anniversary of the founding of its army by conducting live fire drills. On Wednesday the White House called an unusual all-Senate briefing on the North Korea situation. This seemed to be more for show than anything of substance: several Senators said nothing was discussed that couldn't be learned from the regular media. The State Department then made an announcement suggesting it was pretty much business as usual with North Korea: diplomatic measures via allies, accompanied by sanctions and so on. But then, in a Reuters interview, Trump said that while diplomacy is preferable, there is chance of a 'major, major' conflict with North Korea. The confusion and instability of the Korea policy is striking.
As always, the history of America's relationship with North Korea is left out of most of the Western media coverage. Leaving aside that America killed around 20 per cent of North Koreans during the Korea War of the 1950s, recent history is also far from how it is presented. The media narrative is of a North Korean rogue state determined to push for war; the reality is that recent North Korean actions should be understood in the context of George W Bush's designation of North Korea as part of the post-9/11 'axis of evil' (alongside Iraq and Iran).
Before this, President Bill Clinton had brokered a successful agreement between America and North Korea in which North Korea agreed to freeze plutonium production and to sell its missiles to America. However, following Bush's declaration and subsequent invasion of Iraq, North Korea naturally suspended the agreement and has been pushing ahead with its weapons programme ever since. Moreover, according to David Sanger, one of America's main investigative journalists on cyber security, Obama authorised an intensive cyber-sabotage operation against North Korea, which is ongoing under Trump.
Another important factor that doesn't feature much in Western coverage is South Korea. Contrary to the Western view, South Korea is not panicking over North Korea. Importantly, there are elections in the South on 9 May, and the likely winner is a liberal, Moon Jae-in, who wants to reopen talks with the North. He has also said that he wishes to review the THAAD anti-missile system that America has started to install in South Korea with the agreement of now impeached former president, Park Geun-hye. A big row is brewing over who should pay for THAAD: Trump says South Korea must foot the $1 billion bill; South Korea says it won't. China has been highly critical of THAAD, viewing it as a security threat. China also wants to prevent conflict, and it does not want a nuclear North Korea. The Chinese foreign minister pointedly said last week: 'The Korean Peninsula is not the Middle East.'
So what is going on with Trump's foreign policy? Is it the case, as American professor Daniel Drezner tweeted, that Trump fought the blob and the blob won? It's not clear that we are entirely back to business as usual. Had Hillary Clinton won the election, it's possible there would be greater conflict with Russia in Syria right now. Trump's air strikes in Syria were largely theatre: Russia was alerted about the bombing, allowing Russian and Syrian military personnel to be evacuated from the area. Trump's strike of Afghanistan with the 'Mother of All Bombs' was also primarily a spectacle. We seem to be seeing an emerging pattern: threats, fairly minor strikes, retractions, and then back to sanctions and / or diplomacy.
Trump's foreign policy is largely a domestic show. He is 'proving' his presidential credentials, and also that he isn't a Kremlin plant, as Democrats and others constantly claimed. Those rumours of Trump-Russia closeness are proving deadly, as Trump now tries to disprove them by confronting Russia in various international fields. This is not to excuse Trump or the chaos he threatens to unleash. It is rather to point out how playing domestic politics in the foreign arena can prove very foolish and destructive. Trump's desire to appear presidential via some 'beautiful' missiles is giving rise to a heady mix of posturing, swaggering and terrifying cluelessness — never good things in international relations.
Tara McCormack is a lecturer in international politics at the University of Leicester. She is author of Critique, Security and Power: The Political Limits to Critical and Emancipatory Approaches to Security, published by Routledge. (Buy this book from Amazon(UK).)
Picture by: Getty Images.
To enquire about republishing spiked's content, a right to reply or to request a correction, please contact the managing editor, Viv Regan.