Populism on the ropes? Don't be so sure
Macron's win is a small victory for a Euro-establishment in crisis.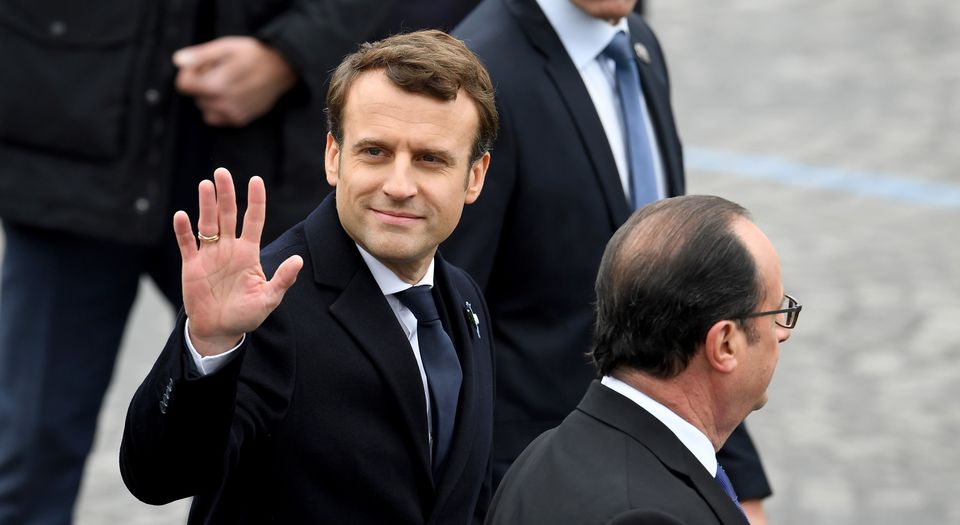 It is a sign of the pro-EU oligarchy's desperation that a 39-year-old ex-banker and political novice, Emmanuel Macron, is being hailed as the EU's saviour. Yet there was no mistaking the sigh of pro-EU relief when Macron won the French election. And coming on the back of the failure of Geert Wilders' anti-EU Freedom Party to pick up more than 13 per cent of the vote in the Dutch election, many EU supporters are now suggesting that Europe's populist surge is over. 'We've already passed peak populism', wrote one commentator, adding: 'If anything, the tide of so-called populism isn't sweeping across Europe, it is being swept away.'
At first sight, after Macron's victory, the idea that we're back to business-as-usual postwar politics appears plausible. Right-wing radical parties have indeed suffered a series of setbacks in recent months. In December, the Austrian Freedom Party's Norbert Hofer narrowly lost in the Austrian presidential election; the Alternative for Germany (AfD) party, plagued by internal strife and personality clashes, has received between just five and eight per cent of the vote in recent state elections; and UKIP, which ought to be flying high after Brexit, was wiped out in this month's local elections.
The recent poor performance of these so-called populist parties in Germany, Holland, France (to an extent), Austria and the UK shows that they have failed to establish a solid base within their societies. It is also an illustration of the political and organisational shallowness of the parties riding the recent anti-establishment wave.
Indeed, the scale of UKIP's defeat in this May's local elections raises an important question: how did a poorly run, politically lightweight party so thoroughly shake things up in recent years? It certainly wasn't due to its organisational strength or political leadership, despite the important, singular role played by its then leader, Nigel Farage. But not even Farage can be held responsible for the erosion of the Labour Party's support in its working-class heartlands. That was down to Labour's own elitist political culture, which distanced it from its social base. The truth is that UKIP, like many other new parties on the continent, has been less an active driver than a passive beneficiary – a beneficiary, that is, of the deep-seated failure of the mainstream parties to listen to, and express, the concerns of the electorate.
UKIP's decline is not a sign of a return to business-as-usual party politics, because the concerns that fuelled its rise have not gone away.
The search for a voice
One of the main weaknesses of today's political commentary on Europe is its tendency to confuse the electoral behaviour of the public with the fortunes of the political parties – old and new – which purport to speak on the people's behalf. Typically, anti-populist interpretations of European political life suggest that radical right-wing parties are the beneficiaries of a pre-existing right-wing mood, consisting of racism, xenophobia and anti-immigrant sentiment. Yet people didn't vote for Front National or the AfD in Germany because they are hardened anti-Semites or Islamophobes. Rather, they did so because they feel that the other parties ignore their social, economic and cultural concerns. That's why Europe's populist parties were able to surge so quickly – because there already existed a significant section of the electorate looking for a voice. And, regardless of what happens to specific populist parties, the alienation of a significant section of the electorate from the party-political mainstream is not going to disappear.
Many of those who voted for Front National in Pas-de-Calais or for UKIP in Sunderland used to support the parties of the labour movement. It is unlikely that most of those who switched from Labour to UKIP suddenly decided that their view of the world had changed. They shifted their allegiance because they decided the old parties regarded them as little more than voting fodder. Their attitude won't have changed. They will continue to look for a movement that can give voice to their anger and take their concerns seriously. Even if UKIP or Front National disappears during the next electoral cycle, it is unlikely their newfound and now newly lost supporters are going to return to the parties that have systematically ignored their needs for so long.
It was this search for a voice, for a new form of solidarity, that motivated many to vote for Brexit. Parties like UKIP that sought to respond and harness this search were its short-term beneficiaries. Where this energy will go in the future is an open question. However, don't expect it to be towards the old parties of the status quo. Not least because the most significant development in European political life over the past few years is not the demise of the anti-establishment parties, but the unravelling of Europe's centre left.
Those who blame Jeremy Corbyn for Labour's travails overlook the fact that his party has been in decline for some time. That Labour picked the ineffectual Ed Miliband and now Corbyn for its leader is telling – a party that no longer has a purpose and a mission will be unable to find people to lead it with conviction. But, compared to its continental cousins, the Labour Party appears as the embodiment of vitality and good health. In France, for instance, Benoît Hamon, the Socialist Party candidate, ended up with an embarrassing 6.36 per cent of the vote in the first round of the presidential election. And the Dutch Labour Party also went into meltdown during the recent parliamentary elections, picking up just 5.9 per cent of the vote and losing two thirds of its MPs.
This shows that many postwar socialist organisations, which used to be parties of government, have lost their base. They are no longer able to speak for, and represent the interests of, the lower classes.
Macron: an illusory triumph
Macron's victory required the French political class to relinquish its reliance on postwar conventions and institutions. This was hardly surprising given the mainstream candidates of the left and right were also-rans, failing to make it to the second round of the election. In such circumstances, the French establishment decided to give conventional party politics a rest and unite behind Macron. Its members looked to a single untested banker, rather than to the historic parties of the postwar era, to 'save' the Republic from the threat posed by an outsider candidate. Yet, by supporting a candidate who claimed to be above the old party politics, the establishment implicitly acknowledged the loss of legitimacy of its own institutions.
Macron's victory, therefore, cannot obscure the crisis of French political life. That mainstream commentators are delighted that Marine Le Pen received 'only' 34 per cent of the vote indicates how low they have set their sights. Not so long ago, the French establishment would have reacted with horror at the success of Front National. It is also worth noting that the abstention rate – 25.3 per cent – was the highest since the heady days of 1969. Add the abstentions to the record number of blank and spoiled votes and it appears that a third of the French electorate refused to choose between Macron and Le Pen.
It is self-deceiving, then, to claim that the mainstream parties are back in the saddle. Consider Austria, too. In December 2016, Hofer's defeat was greeted as a vote of confidence for the EU. Yet this overlooks the fact that Hofer received nearly 47 per cent of the vote. The sight of an anti-EU, right-wing candidate coming close to gaining half of the votes cast in a presidential election would have once prompted anxiety and mourning, not celebration.
Macron, a political nobody transformed into the French president, personifies the politics of damage-limitation now being pursued by the EU's technocratic elite. In its eyes, political parties and ideologies have become an inconvenience. What matters is that one of their own remains at the helm. Macron's is, as Brendan O'Neill described it on spiked last week, a Pyrrhic victory. Soon he will discover that though he may hold presidential office, he possesses little authority.
The political events of the past few months have changed little. The challenge of giving meaning to democracy and popular sovereignty remains the central issue facing the people of Europe.
Frank Furedi is a sociologist and commentator. His latest book, What's Happened To The University?: A Sociological Exploration of its Infantilisation, is published by Routledge. (Buy this book from Amazon(UK).)
To enquire about republishing spiked's content, a right to reply or to request a correction, please contact the managing editor, Viv Regan.