Labour: the party of the non-working class
The Tories are winning over those abandoned by Labour.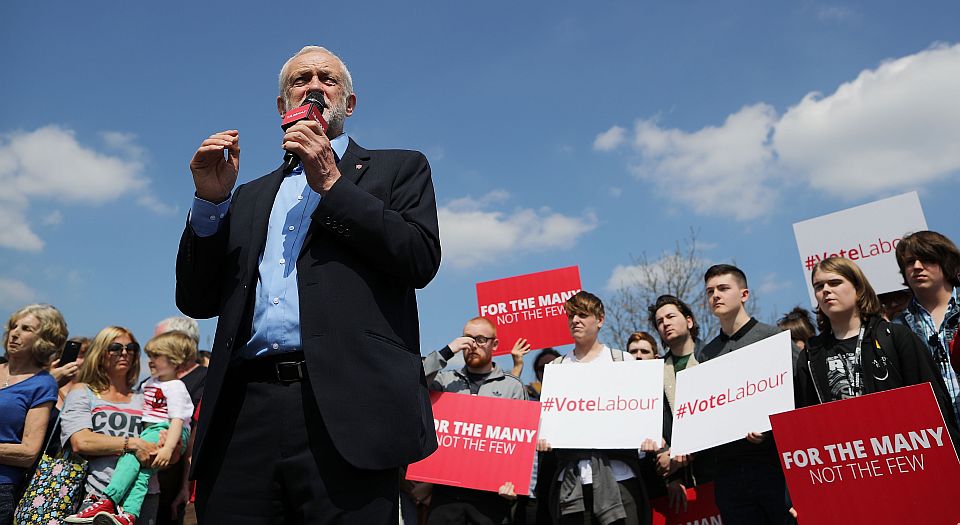 Theresa May's Tories have certainly been making eyes at 'proud and patriotic working-class people in towns and cities across Britain', as May herself put it last week. This week, the flirtation has continued, with May's announcement of the 'biggest extension of workers' rights' under a Tory government. And it appears to be an effective strategy. Polls suggest the Tories' support among skilled and unskilled workers, and even the unemployed, now dwarfs that of Labour.
The Tories' posture as the party of 'ordinary working-class people', as May characterised it last autumn, might not be entirely sincere, not least because some of the policies announced alongside statutory rights to unpaid leave for carers and bereaved parents look more likely to divide workers, rather than help them. In particular, Tory plans to force companies to publish data on racial pay gaps threatens to racialise the workforce, pitting workers against each other according to skin pigment. Still, while the Tories' posture may not be convincing, it is revealing. Just not about the Tories.
No, it says far more about the transformation of the party that for much of the 20th century dominated and represented the working class: Labour. That's the story here. Not that Theresa May has won the support of vast swathes of still-working-class Britain, but that the Labour Party has lost them, abandoned them, ignored them. That's why the Tories are in a position to speak for working-class voters – because Labour is not.
Remember this is the Conservative Party we're talking about here. Yes, it's channelled the hopes and aspirations of many working-class people before, especially during the 1980s, when the promise of self-betterment understandably resonated. But that was a long time ago. More recently the Tory party has appeared to be little more than a post-Oxbridge venue for Old Etonians to trot out New Labour hits. What it has not been is an electoral destination for 'ordinary working-class people'. And yet, just a few weeks before the General Election that is what the Tories have become: if not a working men's club, then at least a Wetherspoons.
It makes perfect sense when you look at it, though. While May is donning the proverbial donkey jacket and talking about workers' rights, what is Labour leader Jeremy Corbyn doing to 'woo working-class voters', as the Guardian inaccurately described his latest policy announcement? He's promising to save the NHS, of course, with a promised £37 billion cash injection over the course of the next parliament. The recourse to a 'save our NHS' gesture is predictable, but it's revealing, too. It captures a party that knows not how to speak for its one-time social base, only to speak to it, as an agglomeration of the poor and needy, people in want of treatment. Because that's what the working class is for Labour now: patients in waiting, objects of public-health prohibitions, and sermons about fizzy drinks and fags. That's why the NHS has become the sacred cow to whose udders Corbyn et al are determinedly attached. Because in Labour's eyes, it's what people need: beds and no circuses.
Not that Labour's estrangement from the working class can be laid solely or even mainly at the sandals of Corbyn. Its social base has been atrophying for years – at least since the collapse of the postwar consensus in the late 1970s. As one study reveals, in 1966, 69 per cent of manual workers voted Labour; by 1987, only 45 per cent did. That's a third of its working-class support haemorrhaged in a couple of decades. And this wasn't, as the standard leftish narrative maintains, down to the evil influence of The Murdoch Press or an epidemic of home-owning selfishness; rather, it was a result of Labour's having become a party of the state and, with it, the public sector, an increasingly careerist enclave that spoke for the interests not of the working class, but of the subsidised and the middle class.
Admittedly, under Tony Blair, whom Labourites now universally despise, demon eyes and all, Labour did increase its share of the working-class vote once more – but then, such was New Labour's late 1990s appeal, burnished by the decrepitude of the Tories, that it picked up support from all sections of society. What is more telling, as one former Labour pollster pointed out earlier this year, is that while it was in government New Labour largely hung on to its middle-class base and lost the working class. 'Between 1997 and 2010', he writes, 'for every voter Labour lost from the professional classes it lost three unskilled or unemployed workers'.
And so it continues. While May turns the Tories into the Party of the People, Corbyn, breathing sweet NHS-things into his supporters' ears, almost unwittingly pushes on with Labour's long metamorphosis into the party of the non-working class: the students, the vulnerable, the ill, and other 'victims' Labour now longs to look after.
Tim Black is a spiked columnist.
To enquire about republishing spiked's content, a right to reply or to request a correction, please contact the managing editor, Viv Regan.