The myth of the Macron renaissance
His 'new' politics looks a lot like business as usual.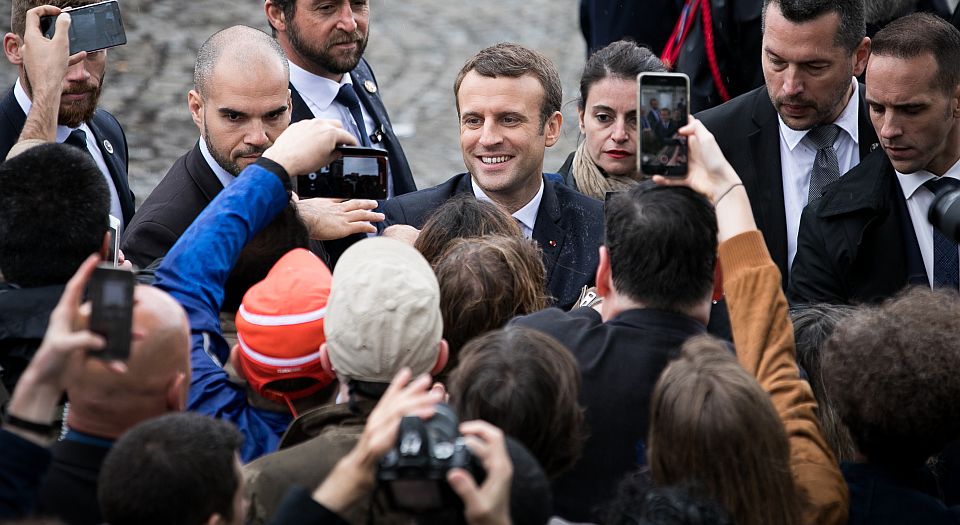 On Sunday, 39-year-old Emmanuel Macron officially became the youngest leader of France since Napoleon. Throughout his campaign he told voters he would reinvigorate French politics, inject it with youth, dynamism and new ideas. In a typically grand inauguration ceremony, his speech was littered with 're-' words. 'There was "re-formulate", "re-invent", "re-mould", "re-juvenate", "re-launch". And of course "re-naissance"', noted BBC Paris correspondent Hugh Schofield.
Yet less than two weeks after his defeat of the far-right Marine Le Pen, Macron's supposed breath of fresh air already smells decidedly stale. The problems started last Thursday when his movement, now renamed La République En Marche (LREM), released a list of 428 candidates for the parliamentary elections in June. The list featured a fair number of new faces – including one female former bullfighter – but there was embarrassment for Macron when several people on the list said they had no intention of standing for LREM.
Stéphane Saint-André, MP for Parti radical de gauche, and François Pupponi, a Socialist MP, both denied they were standing. Pupponi told Le Monde he intended to 'run as a Socialist'. Mourad Boudjellal, president of Toulon Rugby Union Club, and Augustin Augier, secretary-general of the NGO Alima, also denied their candidacies. Macron's centrist ally François Bayrou was reportedly 'furious' about the list, which included very few members of his MoDem party. He said it had been published without his consent.
On Tuesday, Macron announced his new prime minister, the mayor of Le Havre, Edouard Philippe. While Philippe fits in with Macron's youthful image – he is only a few years older – it is unclear how he will embody the theme of 'new politics'. In his political career he has been a member of both Parti Socialiste and the right-wing Les Républicains. He worked under former right-wing prime ministers Alain Juppé and François Fillon (the failed right-wing candidate in this year's election).
Macron has come under fire for choosing Philippe, partly because he heavily hinted he would appoint a woman as PM. It didn't help matters that within hours of the announcement, French feminist groups were attacking Philippe for using sexist stereotypes in a racy political novel he wrote, and for not supporting liberal causes such as gay marriage – Philippe abstained from the vote on gay marriage in 2013. It is hard to see how Philippe will inject French politics with anything different. He is establishment through-and-through. He attended the same elite schools in France and Switzerland as Macron, former president François Hollande, and many leaders before them.
Macron has been quick to get on with his promised reforms of the EU. At the new president's traditional first meeting with German chancellor Angela Merkel, the pair discussed potentially rewriting EU treaties. Macron then met president of the European Council, Donald Tusk. Yet while the 23 per cent of voters who supported Macron in the first round of the election supported his pro-EU stance, he would do well to remember that recent polls show a majority of French people are Eurosceptic. Macron's Europhilia will not be seen as new or fresh by many, and he may have to temper it before the French go to the ballot box in June.
He was supposed to name his government on Tuesday, but he held off for an extra 24 hours, with LREM claiming it needed extra time to vet potential ministers. He eventually appointed a gender-balanced (11 out of 22 posts went to women) mixed bag of establishment figures from the right, left and centre, as well as some political newcomers. He might win some right-on points for appointing Marlène Schiappa, writer of the well-known blog Maman travaille (working mum), as secretary of state for equality between men and women, and famous French ecologist Nicolas Hulot as minister of ecology transition. But that won't be enough to detract from the fact that much of his government is a veritable who's who of establishment figures. Les Républicains mayor of Tourcoing Gérald Darmanin; Bruno Le Marie, a minister under former president Nicolas Sarkozy; Jean-Yves Le Drian and Annick Girardin – these are the people who make up Macron's 'new' government and 'new' politics. And there is no guarantee they will remain ministers beyond June's elections. If Macron fails to create a majority of LREM MPs in parliament, he will have to reappoint ministers to his cabinet.
While Macron's 're-launch' of politics lacks vigour, he is making strides in the continuing destabilisation of the established French parties. In the run-up to his cabinet announcement, MPs from both of the main parties were falling over themselves to sign up to LREM in the hope of a prize position. Even Francois Baroin, who is leading Les Républicains' parliamentary campaign, appeared to admit defeat, saying this week that even if his party won a majority in June they wouldn't stand in the way of Macron's bills. The Macron quake has even caused reverberations in Front National. There are rumours of a party split over Le Pen's policy on withdrawing from the Euro.
All in all it's been a busy two weeks for France's new president, the fruits of which include: a familiar line-up of establishment faces, accusations of sexism, and the reinforcement of France-EU ties. Even with the decay of the old parties, this looks like business-as-usual, not a renaissance.
To enquire about republishing spiked's content, a right to reply or to request a correction, please contact the managing editor, Viv Regan.