We can't blame foreign wars for homegrown terror
Salman Abedi's hatred of Western life wasn't nurtured in Libya.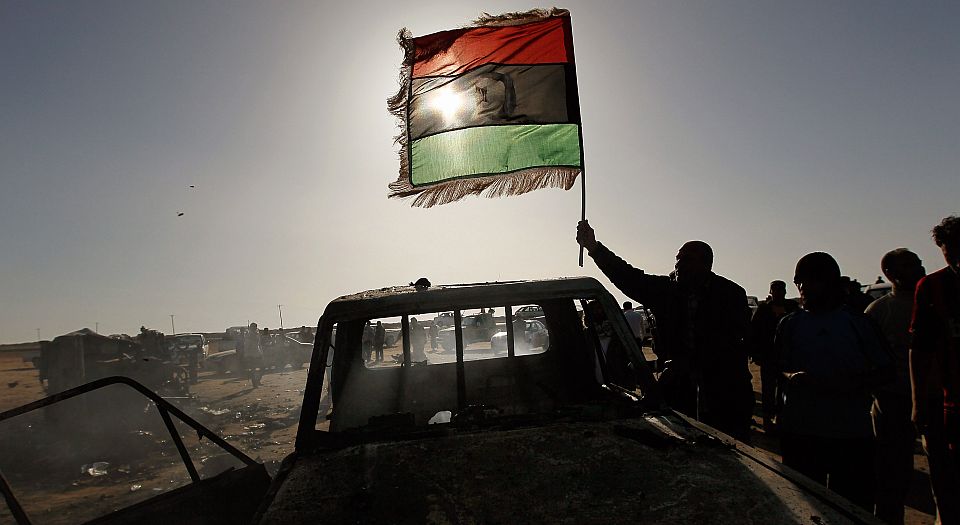 Despite headlines like 'Jeremy Corbyn suggests Britain's wars abroad to blame for Manchester suicide bombing', the Labour leader didn't make the most incendiary of speeches when he unofficially re-opened the election campaign after the post-Manchester hiatus last week. It was, as usual, caveated, nuanced, slinking away from any easily soundbitten message. He said 'terrorists will forever be reviled and held to account for their actions', before pointing vaguely to the 'connections between wars our government has supported or fought in other countries and terrorism here at home', and promising 'a foreign policy [that] reduces rather than increases the threat to this country'.
But there was little mistaking the underlying logic of Corbyn's argument: Salman Abedi's decision to kill concert-going teenagers and children, and the parents waiting to take them home, was so-called blowback from the West's overseas wars. As one less subtle commentator put it, the Manchester bombing was the result of 'interventionist policies carried out in the name of human rights and "civilian protection"'. And Salman Abedi himself was therefore 'the direct product of US and UK interventions in the greater Middle East'.
Now, let's be clear. Western interventionism has played a major role in creating the chaos in which large parts of the Middle East and North Africa now find themselves. It has helped lay the ground for the rise of the barbarous mutations of Islam that have been cutting and shooting their way across vast swathes of Syria, Iraq, Libya and so on. Many Islamist militias, including ISIS, have been the ultimate recipients of military hardware from the US and the UK and other Western powers. But the main contribution the West has made to the rise of ISIS and its ilk is to have helped remove or severely undermine the dictatorial authorities that once kept rival factions, Islamist or otherwise, in check, by, on the one hand, providing the populace at large with a functioning state infrastructure, and, on the other, suppressing opposition. With the West-driven overthrows of Saddam Hussein in Iraq, Colonel Gaddafi in Libya and the West-backed assault on Bashar al-Assad in Syria, the central, cohering state powers in these nations disappeared, or withdrew into their tribal hinterlands. And with that, spaces opened up – spaces in which Islamist militias flourished, providing desperate peoples with a semblance of security, and themselves with a chance to further their cause.
Libya, the nation of Salman Abedi's parents, is a case in point. When Nicolas Sarkozy, David Cameron and Barack Obama, the then leaders of France, Britain and the US, imposed a no-fly zone over Libya in March 2011, they didn't just help the anti-Gaddafi groups overthrow the increasingly decrepit Colonel – they also removed the state that held Libya as a nation together. In the aftermath, there was an-all-too-predictable political and social vacuum, into which the militias, initially mobilised against Gaddafi, were sucked, filling the void where the Libyan state used to be. As one study reports, the then governing General National Congress actively coopted militia fighters, increasing their number from 120,000 to more than 200,000 – nearly 11 percent of the country's workforce. Since then, the country has fallen apart along roughly tribal lines, with rival centres of power established in Tripoli and in the east. And an increasingly violent set of mutually antagonistic Islamist militias and groups, including ISIS and its affiliates, have found it easy to pick up territory and influence.
But while the connection between Western intervention and the flourishing of Islamist militias in Libya is clear, the connection between the Manchester bomber and Western intervention is not. Yes, Abedi's father Ramadan was a member of the Libyan Islamic Fighting Group, an anti-Gaddafi faction that was exiled in the mid-1990s, with many of its members, Ramadan included, finding a home in England. And yes, when the uprising against Gaddafi was given the green light by the West in 2011, Ramadan and the then 16-year-old Salman did go back to Libya to fight – a journey, it is suggested, Salman subsequently undertook several times again. But there is no reason why the Abedi family's antipathy towards Gaddafi – whom Britain conspired to overthrow, lest it be forgotten – and the post-Gaddafi mess, should translate into an antipathy towards people in England, let alone the massacring of kids, teens and parents attending a pop concert.
Another argument the more sophisticated blowback theorists come up with is that exposure to the trials and tribulations of Muslims in countries affected by Western intervention turns young, second-generation immigrants like Abedi against his or her host nation. But given that Western intervention has a centuries-long history, as does immigration to the West, this fails to explain why only now Western intervention is producing individuals like Abedi, or indeed the London bombers.
The problem with the blowback theory, aside from being asinine and morally cowardly, is that it is based on the wrong assumption: namely, that Western acts abroad are turning Muslims at home against Western society. That assumption is dangerously misleading. Not only does it almost excuse, perhaps even justify, detonating a rucksack filled with tricyclic acetone peroxide, bolts and nails, at a pop concert, killing 22 and maiming many more. It also prevents us from facing up to the real drivers of terrorist atrocities in our midst: the encouragement of a victimhood and grievance culture; the widespread self-loathing of so many aspects of Western mainstream society; and the divisive policies of multiculturalism (and with them, the failure of assimilation).
Look again at the trajectory of Salman Abedi's radicalisation, such as it was. His profoundly superficial loathing of the West – the usual Islamist mix of whines about lax sexual mores, mingled with some vague anti-imperialist sentiments, and the nihilistic showing-off of gang culture – precedes the conflagration in Libya. In other words, the civil war in Libya didn't prompt Abedi to turn away from British society. He was never really facing it, let alone identifying with it, in the first place. This is crucial. The loathing of mainstream Western society, the rejection of the most mundane aspects of our way of life as being in some sense corrupt or decadent, which has morphed into attacks on the mundane and everyday, from rush-hour Tube trains to pop concerts, restaurants and bars, was festering before the Arab Spring. In fact, it was festering before the Iraq War in 2003, and before the invasion of Afghanistan in 2001. Indeed, it was festering before the signal moments in the recent history of Western interventionism. It is there already in the tacit rejection of the mainstream universal in favour of the multicultural particular; there already in the environmentalist assault on our consumption habits; there already in the platitudes of the bien pensant anti-capitalist.
It was, if anything, this virulent antagonism towards Western society latent within in the West itself, and refracted and intensified through the prism of Islam, that drew the likes of Abedi and other Islamists to these conflicts thousands of miles away. In a warped mirror image of Western interventionism itself, places like Libya and Syria appear as little more than stages on which someone like Abedi can project his own self-image as a righteous, Islamist avenger, and give substance to his anti-Western posing. Hence Western Islamists' love of jihadist self-presentation on social media. They're not clandestine – they're demanding recognition. They're not turned into jihadists by their experience (direct or otherwise) of a place like Libya – they look to it already inclined, in search of ways to affirm and justify their jihadism. As Bilal Bettammer, a Libyan student and social activist during the overthrow of Gaddafi, recalled of the the influx of fighters to Libya in 2011, 'I'd say of the more hardline groups, 60 or 70 per cent of their fighters in the beginning were from abroad'. Noting 'a big influence from Manchester', Bettammer remembers watching a British preacher in Libya. 'We have to choose Sharia and reject secularism, he was saying. He was from Manchester, talking about stories of his life there.'
A radical Islamist from Manchester preaching to Libyans about the errors of the West. It's a telling detail. Foreign wars are not creating Islamist terrorists at home; they're just making them feel more emboldened, and, worse still, justified. But there is not, nor can there be, any justification for what Abedi did. And that is what blowback theory does: it justifies the unjustifiable, and gives succour to jihad.
Tim Black is a spiked columnist.
To enquire about republishing spiked's content, a right to reply or to request a correction, please contact the managing editor, Viv Regan.