There is too much phoney tolerance
A perversion of the t-word is being used to excuse restricting free speech.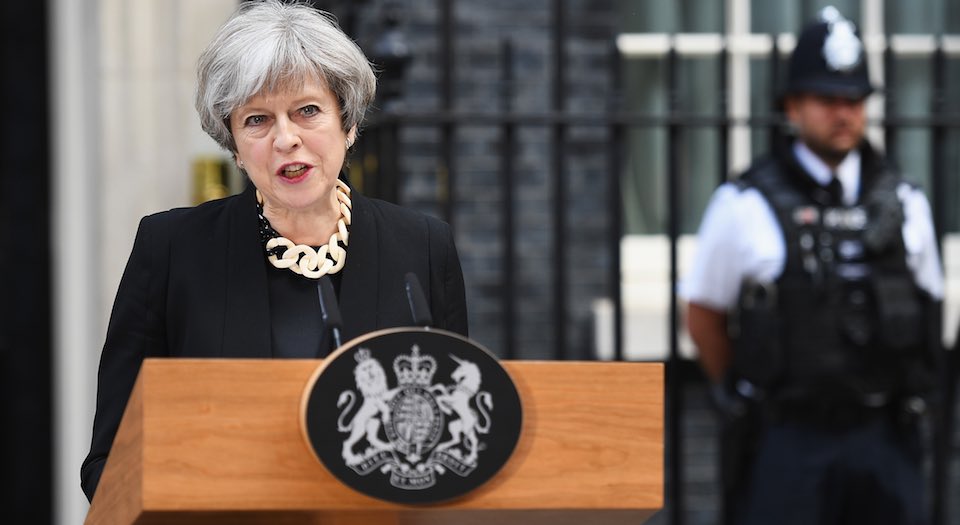 Tory prime minister Theresa May said after the London Bridge terror attack that 'There is – to be frank – too much tolerance of extremism in our country', and that 'we need to become far more robust in identifying it and stamping it out'. Too much tolerance? Well, yes and no, Mrs May. It all depends on what you mean by the t-word.
There is too much phoney tolerance. That's the perversion of tolerance which turns its meaning on its head, and uses 'tolerance' as an excuse for censoring views which are deemed offensive, whether about Islam or the trans lobby. It is captured in such statements as 'We will not tolerate intolerance'. There is certainly far too much of such censorious phoney tolerance in our society, emanating from the government downwards.
The flipside of this is that there is far too little genuine tolerance in public life. Free speech is not the right to a free ride. Real tolerance does not mean allowing anybody to rant away, insult and offend without challenge because 'everybody's entitled to their opinion'. True tolerance means allowing anybody to express their views, however disagreeable – and then being free to tell them what you think of them. It is about bringing everything out into the open, tolerating the expression of views you don't want to hear, in order to challenge or expose them. For advocates of true tolerance, the potential solution is never censorship, but ideological combat.
Phoney tolerance has been much in evidence in the UK General Election campaign, where it has apparently become intolerable for a politician such as UKIP leader Paul Nuttall even to utter the words 'Islamist extremism'. The same phoney tolerance was on display in the BBC's response to the terror attack in London last weekend, when presenters and reporters tried not to use the 'i-word' at all. When Mrs May had the nerve to name and attack the 'evil ideology of Islamist extremism' in her Downing Street statement, the BBC could not bring itself to repeat the evil words, but instead kept warning viewers that the prime minister had used 'strong language', as if May had said 'Muslim bastards' or something.
This phoney tolerance is not really about being 'soft' on terrorism or extremism. It is more about being too soft in defence of our own liberties, feeling that it is too hard to stand up for unfettered free speech, robust debate and the right to be offensive. The fashion is for those who cannot or will not defend Enlightenment values to turn this perverse form of tolerance into an end in itself, a 'value' to be protected by censorship and self-censorship. But genuine tolerance and open debate should be a means to the bigger end of deciding what society believes to be the truth.
May said that defeating terrorism would require not just a policing and security response, but persuading people that what she calls 'pluralistic, British values are superior to anything offered by the preachers and supporters of hate'. No doubt she is right that this 'will require some difficult and often embarrassing conversations' about what we believe.
Yet in the same statement, the prime minister made clear that her idea of a solution is not really conversation or debate, but censorship and control. She called for 'international agreements that regulate cyberspace to prevent the spread of extremism and terrorist planning. And we need to do everything we can at home to reduce the risks of extremism online.'
This is a call for more phoney tolerance, imposing bans and restrictions on offensive ideas and opinions in the name of avoiding divisions and promoting unity. But calls for society to 'unite' are empty if we're not really prepared to have out the arguments about what we should be uniting behind.
To paraphrase May, when it comes to phoney tolerance enough is more than enough. Instead we need to instil an attitude of genuine tolerance and free speech.
In the first place, that will have to mean distinguishing between offensive words and violent deeds. Contrary to the prime minister's suggestion, 'extremist ideology' and 'terrorist planning' are not the same thing, online or in the real world. Words can be powerful weapons in a debate or even a slanging match. But however sharp or pointed they are, words are not knives. However inflammatory they are, words are not explosives. And an argument or opinion, however aggressive or offensive it might seem, is not a physical assault. Yet all too often today we see words treated as if they were physical weapons.
The difference is more than semantic. The right response to violent assault is to end it, as forcibly as necessary – hopefully in even less than eight minutes – and possibly to lock up the perpetrator. The answer to being assaulted by bad words is not to end speech or lock up the speaker. It is more speech – to resist or simply to rubbish the words objected to.
True tolerance means allowing, in the words of a famous justice of the US Supreme Court, 'freedom for the thought that we hate'. And then using our freedom of speech to launch a ruthless war of words against it. There should be no ideological holds barred, no special-case protections against offensive ideas for Islam or any other outlook. This is not just about the right of extremists to spout Islamist or racist rubbish. Far more importantly, it is about the right of the rest of us to hear and judge for ourselves.
But the champions of phoney tolerance do not believe we are fit to make such moral judgements. They have such a lowlife view of the public that they think any Muslim youth catching sight of an Islamist video will be automatically converted to terrorism, and any white working-class youth hearing 'dog-whistle' racist rhetoric will sign up for a rabid Islamophobic pogrom. Their imposed idea of 'tolerance' barely disguises the contempt for people who are not like them.
Are our values really so weak that we need to run scared of a few Islamist clerics or cranks? What we need instead is surely a strong-minded defence of a free and democratic world that can give our society the sense of purpose needed to stand up to its enemies and defend those values, just as those brave punters stood up to the terrorists at London Bridge.
In this, I am always with that old Tory champion of true tolerance, Dr Samuel Johnson, who declared that 'Every man has the right to utter what he thinks truth – and every other man has the right to knock him down for it'. Figuratively speaking, at the very least.
Instead, in what should be the heated debate of a General Election campaign, we have an arms race to see who can be the most intolerant of offensive words or 'hate speech'. In the wake of the London attack, Labour leader Jeremy Corbyn has been denounced for having suggested about ISIS supporters that 'Expressing a political point of view is not in itself an offence. Expressing a point of view, even an unpalatable one, is sometimes quite important in a democracy.' Corbyn's basic point was perfectly sensible and reasonable. Yet he made it in 2014, as an anonymous backbench Labour MP, when nobody much cared what he said. Now, as leader of the Labour Party vying to be prime minister on the eve of an election, in the midst of a row over regulating free speech online, he is saying nothing of the sort.
May says that there has been 'too much tolerance of extremism'. Yet in the age of phoney tolerance, we have reached the point where those of us who champion unfettered free speech as a fundamental value of our civilisation can be accused of 'extremism'. If there is one thing we should not tolerate in silence, it is the perversion of tolerance into an excuse for more self-defeating censorship.
Mick Hume is spiked's editor-at-large. His new book, Revolting! How the Establishment is Undermining Democracy – and What They're Afraid of, is published by William Collins. Buy it here.
Picture by: Getty
To enquire about republishing spiked's content, a right to reply or to request a correction, please contact the managing editor, Viv Regan.