The rise of Labour, the death of Labourism
Corbyn's success confirms the hollowing-out of the left.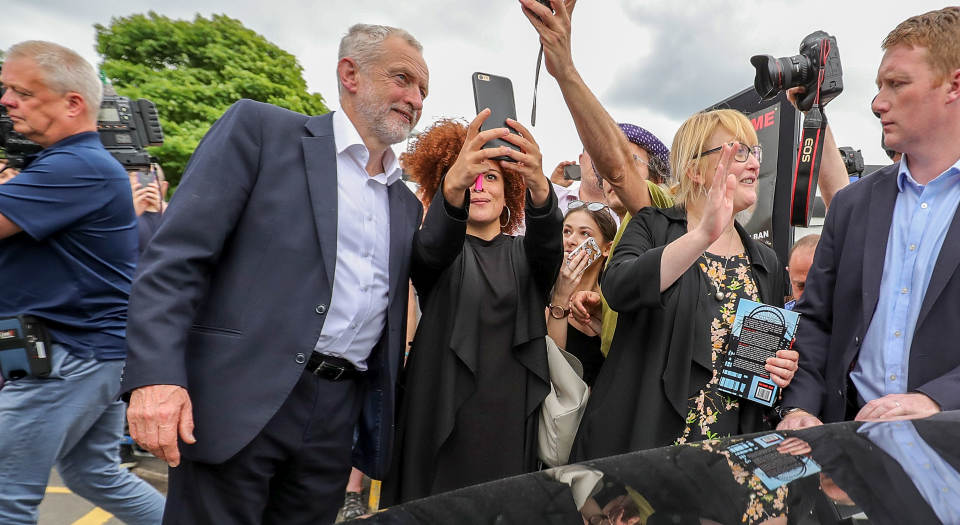 A curious thing happened 10 days ago. Just days before Jeremy Corbyn's Labour Party did better than expected in the General Election. Just days before everyone started talking about the 'rebirth' of Labour, of Old Labour in fact, and the return of socialism to the agenda of British politics. That curious thing was the release of figures showing that trade-union membership in Britain has fallen to an 'all-time low'. Trade unions in this country have just experienced their 'biggest membership drop since records began'. Last year alone they shed 275,000 members. Even more notably, strike action is in steep decline. In 2015, when Corbyn started his so-called revolution of Labour, the number of workers who went on strike was 'the lowest since records began'. Just 81,000 workers were involved in strike action, the 'smallest number' since records kicked off in 1893.
These revelations of an historic decline in working-class agitation, made by the Department for Business, Energy and Industrial Strategy just 10 days ago, and confirmed by the Trades Union Congress, aren't being talked about by anyone. Least of all Corbynistas and other excited Labourites. And with good reason. To say they cast a shadow over the claims of a revival in the fortunes of Labour is an understatement. What they show, what they confirm in as cast-iron a way as you could ask for, is that if Labour is reviving then it is on the back of something other than working-class energy. It is on the back of something other than socialism. Labour is in the ascendancy, to a certain extent, but Labourism is dying. Which raises a question that nobody really wants to confront: What is Labour for now? More to the point, who is it for?
The rise of Labour without Labourism is actually confirmed by Corbyn's success. The most striking thing about Corbyn's impressive showing in the election – against all expectations his party got 40 per cent of the vote, or 12,874,985 votes – is that it has hardened rather than weakened Labour's appeal to the middle class. The great fear among the Blairite wing of the party was that gruff leftist Corbyn would shatter the party's standing among the middle classes it picked up in the 1990s and 2000s. Not so. Corbyn has kept those middle classes and won many more, even in Kensington, the richest constituency in Britain, which his party nabbed from the Tories. Indeed, as shown by the exhaustive national Ashcroft Polls, at this election, for the first time in history, the middle and upper classes, known as social class ABC1, were as likely as the general voting public to vote for Labour and were slightly more likely to do so than skilled workers. This is an incredible, historic shift; that it reached this crossover point under Corbyn, that the wealthier finally became more likely than skilled workers to vote Labour under this alleged Red, makes it even more incredible. And deserving of interrogation.
All the stats point to Labour becoming an ever-more attractive prospect to the middle and upper classes. Yes, Corbyn's Labour, to many people's surprise, won back some of the party's traditional working-class base. The stunning collapse of UKIP, which shed three million votes now that it is surplus to requirements in Brexit Britain, means that Labour and also the Tories got a boost to their numbers. But it is Labour's newer support and the swings towards it that are most striking. As one number-crunching report puts it, Labour 'gained the most ground in 2017 in seats with the largest concentrations of middle-class professionals and the rich'. In short, Labour, 'founded as the party of the working class', is increasingly winning huge support, seat-changing support, from 'wealthy professionals in leafy suburbs'. So alongside its victory in posh Kensington, it also won Canterbury and experienced a huge upward shift in Hampstead: that is, in very middle-class areas 'which voted Remain last year', in the words of the BBC's chief election-watcher John Curtice.
The Tories, by contrast, 'made their largest gains in the poorest seats of England and Wales'. Where Labour experienced its largest favourable swings in places like Hampstead and Hove and other parts of the south, the Tories' largest favourable swings were in working-class constituencies that voted Leave last year. This includes Boston and Skegness, one of the poorest parts of Britain, where there was a six per cent swing to the Tories, and Bolsover in the Midlands, where there was an eight per cent swing. Leave vs Remain is still, a year on from the referendum, a key dividing line. The Ashcroft Polls estimate that 68 per cent of Tory voters are Leavers and 64 per cent of Labour voters are Remainers. Somehow, over time, the Tories have become attractive to the poor and those opposed to establishment politics, as represented by the EU, while Labour is drawing in huge numbers of the professional and the rich who want to preserve establishment politics. An extraordinary turnaround.
All indicators show Corbyn's Labour doing well among the non-working-class. So in areas where there are high levels of manufacturing jobs, there were fairly large swings to both the Tories (9.4 per cent) and Labour (9.1 per cent) – this will no doubt be from the collapse of UKIP. But in areas where there are low levels of manufacturing jobs – that is, better-off areas – there was a tiny 1.4 per cent swing to the Tories and a massive 10.8 per cent swing to Labour. In constituencies with high levels of poor health, which of course are poorer constituencies, the Tories fared better relative to Labour. Even in areas where average incomes fell over the past five years, it was the Tories who made greater advances on their 2015 vote, relative to Labour. So in areas hit hardest by austerity, Corbyn's Labour, the anti-austerity party, did not do relatively as well as the Tories in terms of vote gains. This might suggest that the kind of anti-austerity pushed by Corbyn's Labour – which is less a call for meaningful economic growth and more a cry to prop up a public and welfare sector that tends to benefit its middle-class employees more than its working-class charges – appeals primarily to the comfortably off.
Beyond the striking shifts in voting swings and party fortunes, there is also the question of the Corbyn Labour base – its membership, its most active element. These people tend to come, in significant part, from the wealthier sections of society. As the Guardian reported last year, internal party data showed that the surge in members brought about by Corbynism was 'disproportionately' among 'high-status city-dwellers pursing well-paid jobs'. Corbyn's Labour has struggled to win new members among 'rural dwellers, elderly people and those struggling to make ends meet'. This led one Telegraph reporter to say, not without justification, that 'Jeremy Corbyn's Labour Party is posher than Tony Blair's'. Labour won back some of the working classes it lost to UKIP, yes, but it belongs, in a very real way, to the professional and well-connected and those who tend towards Remain.
Of course this is a longstanding trend. Labour without Labourism has been growing for years. Even before Blairism, Labour was losing the working-class vote and winning the middle-class one, though the Blair years solidified this process (Blair won back working voters and then lost them again). What is striking is that these trends have been copperfastened, in various, sometimes strange ways, by Corbynism, that supposed turn against Blairism, that supposed recovery of old Labour values. The movement of more of the middle and upper classes to Labour is an important and revealing historic moment. It is made possible precisely by the decline of working-class agitation, by the neutering over decades of working-class strength. This was always the least attractive aspect of Labour to significant sections of the middle class – its Labourism. Its removal has paved the way for the rising popularity of Labour among professionals and the wealthier. The redefinition of the working class as 'the vulnerable', the 'left behind', the 'at-risk' – language Corbynistas themselves use – confirms both the diminishing of working-class power and the appeal of Labour to sections of society motivated more by a charitable than a radical instinct, by concern for 'the vulnerable' rather than solidarity with the angry or aspirational.
And Labour without Labourism also speaks to the shift of the left-wing sensibility from one of ideology to one of culture, even of culture war. Increasingly, to be left now is to make a display of one's compassion and capacity for hope – flimsy, non-ideological categories – against those judged to be uncaring, ruthless, backward, etc. Tragically, to be left risks becoming an expression of moral superiority rather than of tangible support for economic or social aspiration. Under Corbyn, we might well see Labour transformed even more from a means of achieving improved economic conditions to a tool for pursuing culture-war themes and ideas. There are many components to so-called Corbynism, some good, others not so good; but to many of its most active cheerleaders it seems at least partly to mean: 'I am better than you.'
Brendan O'Neill is editor of spiked.
Picture by: Getty Images.
To enquire about republishing spiked's content, a right to reply or to request a correction, please contact the managing editor, Viv Regan.