Macron: a political mirage
He's successful only because French politics has collapsed.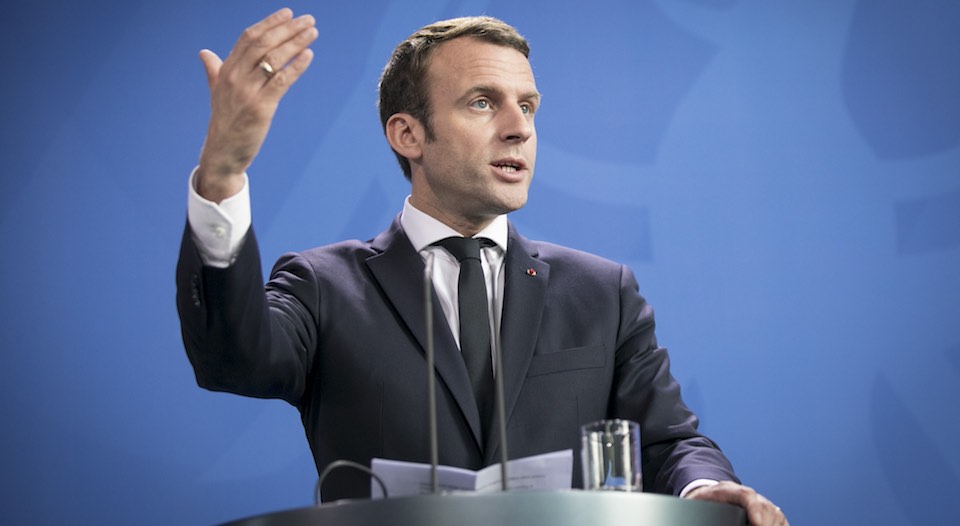 'France is back', said French prime minister Edouard Philippe on Sunday night, after President Emmanuel Macron's République En Marche (REM) party won a clear majority in the first round of parliamentary votes.
REM won 32.32 per cent of the vote, putting it more than 10 points ahead of Les Republicains and giving it more than triple the percentage points of the former ruling Parti Socialiste (PS). Pollsters are now predicting a landslide win for REM in next Sunday's run-off, of between 415 and 445 seats in the 577-seat national assembly.
Philippe said: 'Next Sunday the national assembly will incarnate the new face of our republic, a strong republic, a republic brought together.' Former Republicain prime minister Jean-Pierre Raffarin described the results as a 'big bang'. And certainly, on the surface, REM has won an impressive number of votes for a party that didn't even exist 18 months ago.
Much has been made of the young, dynamic Macron. His style of politics has been termed Macronisme. His pro-globalisation stance, his promotion of market mobility and creativity, has meant he has been likened to Tony Blair and Hillary Clinton. And his charming-liberal routine has led to comparisons to Canadian prime minister Justin Trudeau. His speeches are full of English business jargon, and it's clear to see why he appeals to the young, upwardly mobile metropolitan French.
However, Sunday's results do not demonstrate that Macronism has convinced all of France. Far from it. The abstention rate was 52.29 per cent, the highest it's been since 1958. A political commentator for French TV station RTL, Alba Ventura, has said there is a 'weariness' among voters. 'This record abstention is the price of political parties who, for more than 20 years, have proposed nothing, no ideas, no discussions', he said.
Indeed, REM's 'success' on Sunday reminds us that Macron is only filling the political void left by the slow, historic collapse of the French political establishment.
In next Sunday's run-off, the centre-right Republicains are predicted to win around 80 seats. It would be a disastrous result considering that, at the beginning of the year, they expected to win the presidential election and take back power from François Hollande's hugely unpopular PS government.
But it is the PS that has been truly decimated. Its candidates won just 9.52 per cent of the vote and it is expected to win around 40 seats next week, an enormous drop from the more than 300 it returned at the last election. Former PS minister Thierry Landon summed up the defeat, saying the party is 'on its knees, decapitated, shattered'. Bênoit Hamon, PS's no-hoper presidential candidate, has now been knocked out in the first round of parliamentary voting, coming in third after the REM and Republicain candidates contesting his seat.
Macron is keen to talk up the fact that many of his prospective MPs are not career politicians. Just 25 of the REM candidates are sitting MPs, drawn from either of the two main parties. He has also kept his promise to ensure equal numbers of men and women. But this doesn't make them any more representative. Research from the Cevipof political-studies institute shows that the majority of his candidates come from an upper-middle-class background, and just 8.7 per cent from a working-class background. It's no surprise, then, that his party appeals mainly to the well-educated urban middle classes.
Macron is not upending the political establishment. He and his party are establishment through and through. He's simply capitalising on the collapse of the old politics, an accidental product of elite exhaustion rather than an insurgent, democratic force. The abstention rate makes this clear. Yes, Macron won the presidential vote in May by a big majority, but only because voters were rejecting the far-right Marine Le Pen. Half of French voters remain distinctly uninspired by him.
France has long suffered from a dearth of ideas and political vision. That the REM's vision for France could only muster up support from around 16 per cent of the voting public makes clear that it is not the answer to this lack.
To enquire about republishing spiked's content, a right to reply or to request a correction, please contact the managing editor, Viv Regan.