The 'Biobag': hope for premature babies?
The creation of a Ziploc-style artificial womb is very good news.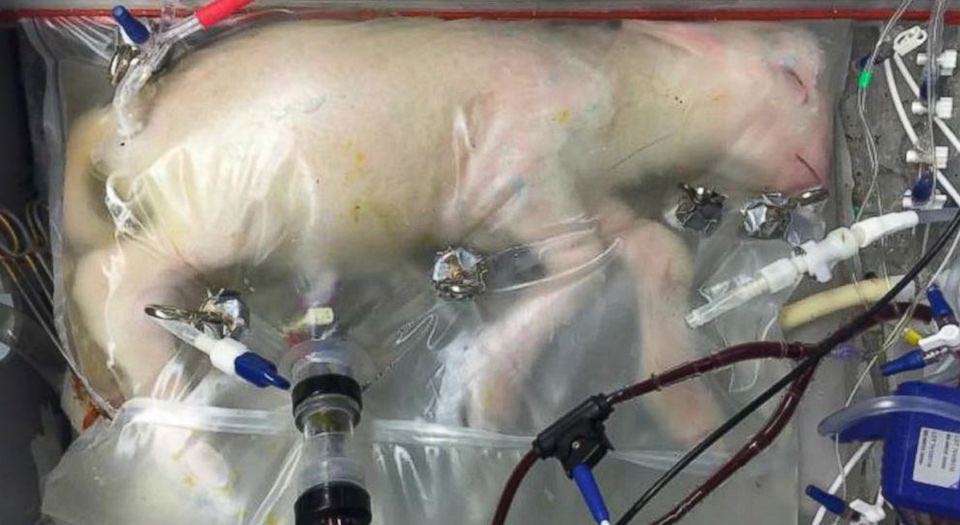 In the developed world, extreme prematurity is the leading cause of infant mortality and disability. According to the World Health Organisation, pre-term birth complications caused nearly one million deaths in 2015. Although many of those deaths could be prevented with currently available interventions, even with the best care the chances of survival for an infant born at 24 weeks gestation only reaches 70 per cent, dropping to around 40 per cent at 23 weeks, and to just 23 per cent at 22 weeks.
Survival without severe or moderate impairment is, of course, less common. At 24 weeks, up to 30 per cent of infants survive without severe or moderate impairment, dropping to 20 per cent at 23 weeks and to about five per cent at 22 weeks. Survival before 22 weeks is extremely rare and considered 'miraculous'. Most infants born before 24 weeks face considerable medical problems, and parents are left to reflect on whether they made the right choice in the face of their child's suffering.
The major problem preventing survival is respiratory failure. Before around 24 weeks, the lungs are profoundly immature and cannot accommodate the transition from liquid to gas ventilation. Premature birth disrupts the normal development of the lung alveoli. The alveolar walls enlarge and thicken, preventing efficient oxygen exchange and causing organ failure and death. Mechanical ventilation fails to arrest or reverse the abnormal development of the infant's lungs, and even exacerbates the problem because mechanical ventilation is based on enhanced gas ventilation.
For decades, scientists have searched for techniques to provide ventilation and support for the premature infant in a more natural or physiological environment. In 1969, Warren Zapol and Ted Kolobow developed the first artificial placenta that maintained life for a premature fetal lamb outside the womb for two days. Other efforts have followed but all faced problems associated with cardiac failure, infection, poor circulation and a variety of other problems associated with pumping blood too quickly or too slowly through the fetus.
In April this year, however, scientists at the Children's Hospital in Philadelphia reported spectacular progress by maintaining premature fetal lambs outside the womb for up to four weeks inside a custom designed 'Biobag'.
The Biobag provides a sterile environment, reducing the problem of infection, which replicates the size and shape of the uterus and is filled with an artificial amniotic fluid. Rather than placing cannula directly into the fetal lamb to maintain blood flow, the team developed a technique of umbilical cord cannulation. They used a double umbilical artery and single umbilical vein cannulation that provided blood flow through the fetal lamb. The flow was maintained entirely by the fetal heart without the need for a mechanical pump, which resolved the circulatory problems.
In essence, the scientists developed a minimally invasive artificial womb, which, most critically, worked. All eight lambs that were placed into the final Biobag prototype survived for the 28 days of the procedure. Regulatory constraints meant that the experiment had to be terminated at 28 days, but there were no signs of any instability and it is quite probable that the lambs would have remained stable in the Biobag beyond the four weeks of the experiment.
While in the Biobag, the animals demonstrated continued normal development of their lungs and brains and also demonstrated obvious signs of maturation, including opening their eyes, becoming active, growing wool, and occupying more space in the Biobag. Seven of the eight lambs were sacrificed at the end of the four weeks for further detailed analysis of their development. One lamb, however, was nurtured to full maturity and can be seen ambling around.
The implications for premature birth are obvious. Assuming the Biobag can be successfully engineered for humans, which is not trivial but within reach, then many parents can be spared the tragedy of their newborn infants either dying immediately or facing a shortened life blighted by severe physical and mental disability. Placing a small infant into a device that looks somewhat like an oversized Ziploc bag has struck some commentators as an odd idea that parents might not reach for. But many medical advances appear odd in the beginning, and it is easy to be disturbed by the abstract possibility of placing an infant into a bag. The harsh reality awaiting those infants without that technology, however, will quickly dissolve most parents' concerns. Once the life-saving possibilities are realised, we will view pictures of infants inside a Biobag as both beautiful and inspiring.
Inevitably, the issue of abortion has also been raised with regard to the Biobag, mostly around the issue of viability. In Britain, the US and other countries, abortion is permitted before 24 weeks gestation but then illegal or severely restricted after that. In large part, the relatively liberal access to abortion before 24 weeks is based on the minimal viability of infants born before 24 weeks, but the Biobag obviously threatens that basis. With the Biobag, viability might be pushed well below 24 weeks.
The issue of viability, however, has always been a diversion in the discussion of abortion. Certainly, as a pregnancy develops the decision to end the pregnancy becomes increasingly difficult for both medical and emotional reasons. Early termination is a relatively non-invasive procedure to end an unwanted pregnancy and maintain the physical and mental health of the woman. Later termination is much more invasive and occurs after the woman has shown signs of being pregnant and may have felt the fetus move. Often late terminations involve serious developmental abnormalities and are performed to end an otherwise much wanted pregnancy.
For both early and late termination, however, viability is not the issue. Early terminations involve fetuses that would, in many cases, be viable if the pregnancy continued. Late terminations involve fetuses that are, in many cases, only viable with heroic medical intervention, if at all. We know how to maintain pregnancy, how to deliver healthy infants and how to care for them after delivery. It is because we know those things that we can provide ways to end an unwanted pregnancy and ways to support a wanted but failing pregnancy. Termination is used when the pregnant woman does not wish to deliver an infant. Medical intervention, such as the Biobag, is used when the pregnant woman does wish to deliver an infant but the pregnancy goes wrong. Those two situations are entirely different and the development of the Biobag does not make them suddenly equivalent.
If, eventually, pregnancy can be entirely avoided, however, then a radical challenge to abortion would become possible. Assuming women opted to avoid the physical and mental challenges of pregnancy, then no woman would be providing life support to a developing fetus and no woman would need an abortion to end a pregnancy. The legal and ethical implications will spark considerable discussion. While, at the present time, avoiding pregnancy is complete science fiction, the Biobag does point to a future where the abortion debate might be radically different. But for now, the Biobag is a brilliant invention that should help to end the tragedy of premature birth.
Stuart Derbyshire is an associate professor in the department of psychology and A*STAR-NUS Clinical Imaging Research Centre at the National University of Singapore.
Picture: YouTube
To enquire about republishing spiked's content, a right to reply or to request a correction, please contact the managing editor, Viv Regan.