In defence of Tim Farron
There's nothing liberal about the hounding of the Lib Dem leader.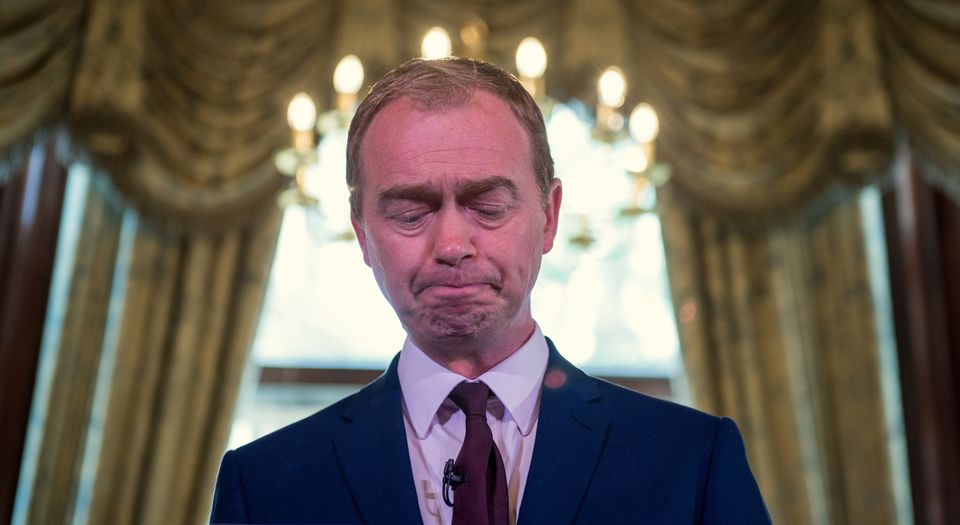 It's very rare these days that Jesus Christ has a direct impact on British politics. Yesterday was an exception, with Tim Farron making the announcement that he is stepping down as leader of the Liberal Democrats because it is apparently 'impossible' to be the party's leader and 'remain faithful to Christ'. His statement came only hours after Brian Paddick, his home affairs spokesman, resigned in protest at Farron's views on homosexuality.
It's not difficult to see why Farron, who is an evangelical Christian, would reach this decision. His faith has been under scrutiny ever since he gave an interview to Channel 4 News two years ago. In answer to the question of whether homosexuality is a sin, Farron said 'We are all sinners'. When asked the same question this April, he muttered something about not being in a position to make theological pronouncements. In other words, he was there as a representative of his party, not his religion.
Part of the appeal of a secular society is that it protects religious freedom. This is why the hounding of Farron seems both meanspirited and unnecessary. So long as politicians do not allow their personal prejudices to impact on the rest of us, they are entitled to believe whatever they like. If I'm having sex with another man, the last thing I'm going to be thinking about is whether or not I have the approval of Tim Farron. Unless I'm having sex with Tim Farron, in which case it's a deal-breaker.
If his grilling on Channel 4 News wasn't bad enough, Farron has had to contend with the wrath of those present-day guardians of moral righteousness: British celebrities on Twitter. David Walliams has accused Farron of 'intolerance and prejudice', and David Baddiel has called him a 'fundamentalist Christian homophobe'. Sue Perkins, who previously said that Farron's views were 'antifuckingdeluvian', has offered further criticism following his resignation. 'Since when were liberal values and Christianity mutually exclusive?', she tweeted.
I'm not so sure that celebrities and politicians should be dipping their toes into the muddy waters of theology. The effect is often embarrassing. This applies as much to Theresa May quoting from the Koran at the 2014 Tory Party conference as it does to the Reverend Ian Paisley ranting about how he wanted to 'save Ulster from sodomy' in the late Seventies. Needless to say, Paisley wasn't successful in this endeavour, as anyone who has ever logged on to Grindr in Belfast will know.
Besides, God's opinion on the whole issue varies depending on who you ask. Many of an Abrahamic persuasion insist that God hates the gays, and to prove his hatred will occasionally transform housewives into pillars of salt. Most Quakers say that God is a big fan of the gays, and wants them to get married like everybody else. Others point out that the Virgin Mary is a gay icon. I fail to see why journalists and celebrities are continually seeking Tim Farron's opinion on the matter, as though being leader of a dying political party gives him some kind of special insight.
Farron's resignation is no victory for the LGBT community, either. This is a man who fought against Section 28 of the Local Government Act 1988, with its bizarre prohibition in schools against the 'promotion' or 'acceptability of homosexuality as a pretended family relationship'. He voted for equal marriage, opposed the gay blood ban, and supported the posthumous pardoning of thousands of gay men who had been convicted at a time when homosexuality was illegal. Whatever else you might say about Farron, it's clear that his faith has not prevented him from toeing the party line.
This is why comparisons with the theocratic DUP are misleading. Ian Paisley clearly didn't like sodomy very much, and wanted society to be run according to his own personal preferences. Likewise, the DUP has undemocratically vetoed equal marriage in Stormont, in spite of a majority of MLAs voting in its favour. At no point has Farron allowed his private faith to take precedence over his political obligations. As he put it in his resignation speech: 'There are Christians in politics who take the view that they should impose the tenets of faith on society, but I have not taken that approach because I disagree with it. It's not liberal.'
Nor is there anything liberal in lambasting someone for holding unfashionable opinions. Whatever else we might think of Farron's politics, his faith is none of our business and he should not be compelled to make statements that go against his conscience. It would make Farron an odd kind of evangelical Christian were he to be heard extolling the virtues of same-sex love, or seen dancing around at the head of a gay pride parade dressed as one of the Village People. We usually look for sincerity from our politicians, not hypocrisy. In the case of Farron, these expectations have been reversed.
Andrew Doyle is a stand-up comedian and spiked columnist. Follow him on Twitter: @andrewdoyle_com
Andrew's new stand up show, Thought Crimes, will be running at this year's Edinburgh Festival Fringe. Tickets available here.
To enquire about republishing spiked's content, a right to reply or to request a correction, please contact the managing editor, Viv Regan.