Macron is not the Messiah

The French president's success is built on the rubble of the old politics.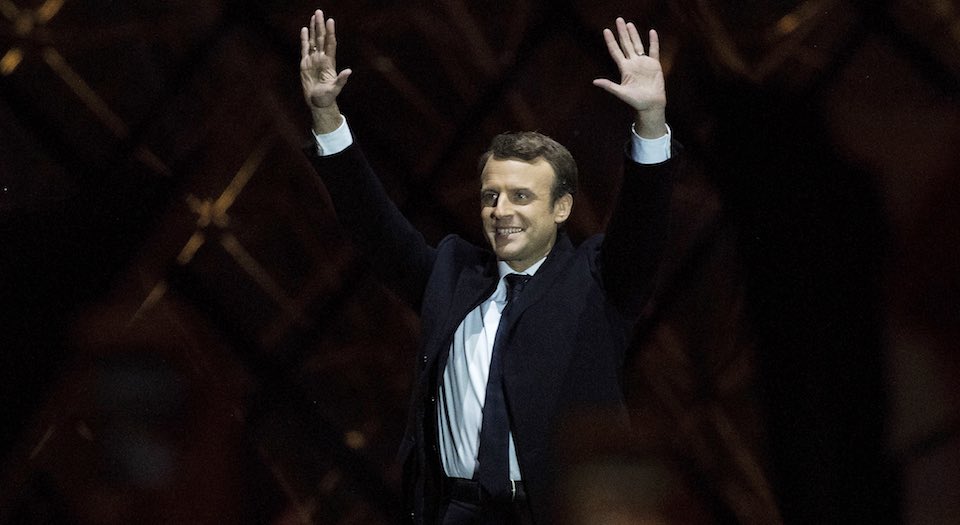 'If you put a goat on Emmanuel Macron's République En Marche ticket it would have a good chance of getting elected', said French political commentator Christophe Barnier, shortly after the first round of parliamentary voting in France. After a casual glance at the results from last Sunday's second round, it seems like he had a point. As predicted, Macron's new REM party won an easy majority in the National Assembly, with 308 seats (the Assembly has 577) and 43 per cent of the vote. Along with seats won by REM's centrist allies, MoDem, Macron now has a working majority of 350.
Both mainstream parties did slightly better than expected, but are now shadows of their former selves. This is especially the case for the formerly ruling Parti Socialiste (PS), reduced from 279 seats to just 44. The right-wing Les Républicains fared slightly better, taking 137 seats and becoming REM's main opposition. Front National managed to win eight seats, including a seat for party leader Marine Le Pen. Amid the ruins of France's two most established parties, Macron is now in a strong position to push through his desired labour-law reforms and liberal economic programme.
The director of newspaper Figaro, Alexis Bezet, called Macron and REM's consecutive wins a 'tsunami'. And internationally, Macron has been hailed as some kind of Messiah. A leader in The Economist on Macron, last weekend, was titled 'Europe's saviour?'. The online version pictured Macron walking on water. 'Mr Macron offers a fresh answer to the popular discontent that has swept through Western democracies', it said. 'He promises a new politics that ditches divisions between left and right… The hopes of France, Europe and centrists everywhere are resting on him.'
Behind many of the columns devoted to praising Macron's march to power lies the hope that something similar could happen here in Britain, or elsewhere. 'An ancien régime of tired and corrupt conservative and socialist politicians, indissolubly linked to the immobilisme that has plagued France, has been swept away', wrote Will Hutton in the Observer. 'The open question is whether France's revolution can cross the Channel.'
But the praise heaped on Macron's victory is short-sighted. Not least because it ignores the most shocking statistic to come out of the parliamentary elections: the record number of abstentions. Last Sunday's abstention rate of 57.4 per cent surpassed the record set by the first round of voting. What's more, of the 20million French citizens who did vote, around 10 per cent spoilt their votes. These elections mark the lowest turnout of any parliamentary election since the beginning of the Fifth Republic in 1958.
Even if you ignore the record abstentions, Macron's sweep of seats is also not without precedent. In the 2002 election, the right-wing UMP (predecessor to Les Républicains) and its allies won 365 seats, and turnout was far more impressive: 60 per cent in the second round of voting.
As it stands, Macron now has the power and backing he needs to push through his programme, and yet he achieved his mandate with the support of only around 18 per cent of voters. This raises questions over the legitimacy of this parliament and certainly casts doubt over many commentators' claims that Macron's success is some kind of centrist fightback against a decrepit establishment.
Even the French media, which during the presidential campaign seemed not to have a bad word to say about Macron, has tempered its response to the parliamentary results. The front page of Monday's l'Humanité said, 'A full card and empty ballot boxes for Macron'. 'Success tarnished by abstention', said La Croix.
It would be ridiculous to suggest that Macron's success is evidence of a revival of French politics when six out of 10 French voters felt so disenchanted they couldn't bring themselves to go to the ballot box. The establishment parties are indeed exhausted, unable to offer credible candidates and severely lacking in new ideas, but this does not make Macron the Messiah. Rather, Macron is the byproduct of this exhaustion. He's the establishment 2.0. A newer, younger model of what has come before. This 39-year-old technocrat, who wants to run France like a startup, is merely an opportunist.
When established parties collapse in on themselves, the resulting political void makes it easy for political chancers like Macron to step in and claim they can change things. Yet, so far, it is more of the same. Macron is not a political outsider, he has a thoroughly establishment background, having worked for the PS and gone through the usual educational route of French politicians. His new parliamentary majority has been praised for upping the numbers of women in parliament to a record high. Yet, once again, there is no diversity when it comes to social class. The vast majority of REM MPs come from upper-middle-class backgrounds.
So perhaps Macron's 'magic' could have got a goat elected, but that still doesn't make him the saviour of French politics.
Naomi Firsht is staff writer at spiked and co-author of The Parisians' Guide to Cafés, Bars and Restaurants. Follow her on Twitter: @Naomi_theFirsht
To enquire about republishing spiked's content, a right to reply or to request a correction, please contact the managing editor, Viv Regan.