Why May is so hostile to migrants
Technocrats like the PM see migrants as numbers, not individuals.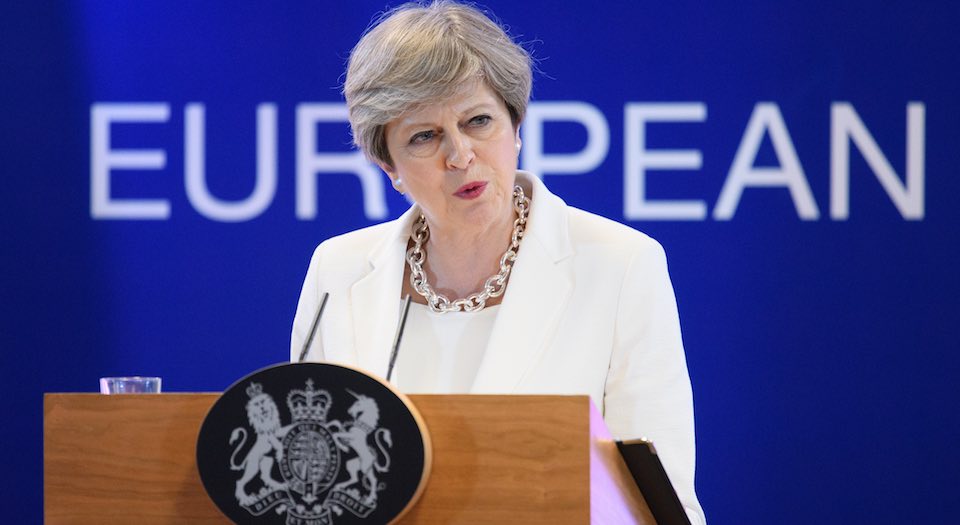 A year on from Britain's vote to leave the EU and the government has finally published its first plan for EU migrants' rights after Brexit. Theresa May calls it a 'fair and generous' offer – it is no such thing.
The government's plan is to offer so-called 'settled status' to EU and EEA citizens who have been living continuously in the UK for at least five years. The new status will be roughly equivalent to the 'indefinite leave to remain' currently available to non-EU migrants. It will allow access to some public services, including healthcare and pensions, but then it would have been hard to justify excluding taxpayers from the very services they make contributions towards. The status will not be granted automatically to current residents: all EU nationals wishing to stay will have to apply. And the offer remains conditional on the EU reciprocating for British expats.
Immediately following the referendum, there were calls from many different quarters to guarantee the rights of EU citizens living in Britain and to reassure them that the Brexit process would not throw their lives up in the air, stop them working, or break up families. In June 2016, prominent Leave and Remain campaigners, alongside a range of business leaders and trade unions, and even the anti-immigration think-tank Migration Watch, urged the government to make an 'unequivocal statement' to protect the status of EU nationals. They argued that any changes post-Brexit should only apply to new migrants. Polling by ICM and British Future back then showed that 84 per cent of the public agreed that EU citizens should be allowed to stay in Britain.  
The London Evening Standard has since revealed that all but one of David Cameron's Cabinet agreed to a unilateral offer for EU migrants to stay – it was May who sought to block it. Since becoming prime minister, May's delay of a year before publishing any plans and her willingness to use EU migrants as 'bargaining chips' in Brexit negotiations have understandably caused a great deal of anxiety, with many EU migrants feeling like they are in limbo. With no reassurance from the UK government, over 150,000 EU nationals have wasted time and money scrambling to fill out the formidable 85-page form for permanent residency, only now to learn that they will have to fill out another application for settled status under May's plans.
As a Remain campaigner, perhaps May had swallowed the stereotype that the vote to Leave was a vote to kick out all the foreigners, rather than a positive call for a more democratic society. But her delayed offering is also a continuation of the technocratic indifference towards migrants that characterised her time as home secretary. She has always presented herself as a politician who 'gets the job done', and at the Home Office that job was to cut migration numbers to the tens of thousands by any means necessary.
With no control over EU migration, May made the restrictions on non-EU citizens ever more onerous and punitive. The minimum earnings threshold for non-EU skilled workers soared to £35,000 and a 'deport first, appeal later' policy was introduced. A cheating scam at a single English language college led the Home Office wrongly to deport all 48,000 of the overseas students who had taken the English tests. In terms of family reunion, according to Migrant Integration Policy Index, the UK has the 'least family-friendly immigration policy in the developed world' – and yet May's 2017 manifesto promised a further tightening on spousal visas. It is a measure of the meanness of the UK's immigration policies under May's watch that what effectively amounts to little more than an assurance that EU citizens won't be deported can be considered 'generous'.
Recent, May-led immigration policies are not driven by racism, as many argue: most of those affected by the minimum income threshold are Americans and Australians. Rather, they are driven by a technocratic view of people as numbers, which under May's stewardship were to be lowered at all costs. Despite the starry-eyed pretensions of some Europhiles, such as Jean-Claude Juncker with his declaration that 'borders are the worst invention ever', the EU's system of free movement is based on technocratic criteria, not on any principled belief in open borders. Fortress Europe has criminalised non-EU migration, militarised Europe's external borders, and outsourced detention to dictatorships in North Africa in order to reduce the numbers trying to get here. EU citizens are also treated as numbers, as economic actors, a mobile labour supply ready to fulfill the needs of Europe's capitalists. After Brexit, the EU has been just as delayed as Britain in offering any reassurances to British expats in Europe, thanks largely to Angela Merkel's rejection of an informal deal last November. Though the British government's post-Brexit proposals are inadequate and its broader immigration policies inhumane, the EU is no model for the fair treatment of migrants.
Despite British voters' rejection of EU technocracy, when it comes to immigration, the technocratic treatment of people remains the norm. Leaving the EU puts the immigration question back on the table. A freer, fairer approach must begin with a far more generous offer to EU migrants.
Fraser Myers is a producer at WORLDbytes.
Picture by: Getty
To enquire about republishing spiked's content, a right to reply or to request a correction, please contact the managing editor, Viv Regan.