Macron: king of the technocrats
His monarchical turn reveals the authoritarianism of the Third Way.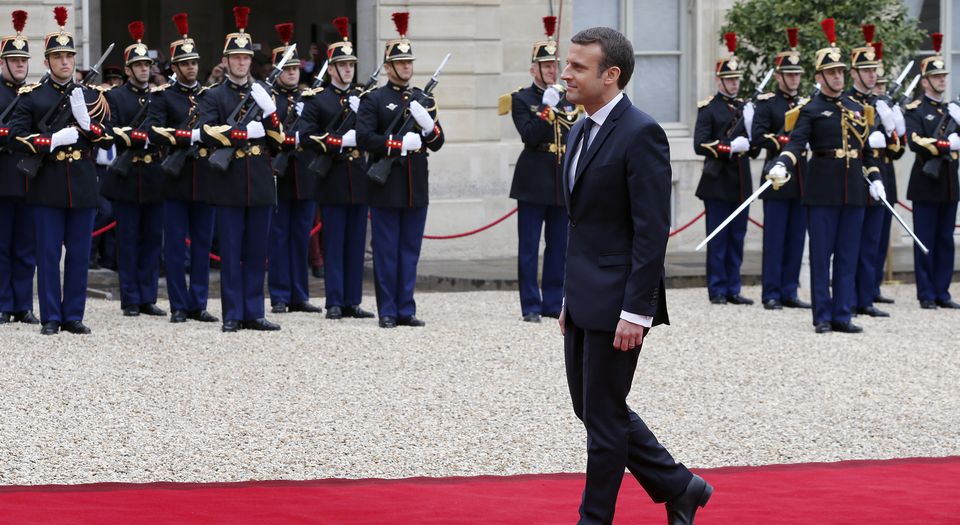 'I'd rather have a bad parliament than a good king.' That's what Tony Benn used to say when explaining why he opposed the European Union. And indeed, the last 12 months have shown that beneath the arguments for the EU there was always a desire among Europe's technocratic elite for just that: a king, a just ruler to protect us from democratic rupture, from the inconvenience of free electorates. This is what fuels ongoing support for the Brussels machine, and it is what fuels the bizarre personality cult that has emerged around French president Emmanuel Macron.
The elite devotion to him has been remarkable. The Economist depicted him walking on water. 'Victory for Macron, for France, the EU & the world', tweeted Hillary Clinton on his election day. The fug of adoration for Macron is so thick that the little detail that this vague, wannabe Blairite, this beneficiary of a crumbling establishment, has inspired a paltry level of popular support, owing to historic abstention rates, is either barely discussed or casually dismissed.
The adoration has clearly gone to Macron's already swollen bonce. He's acting like a 'liberal strongman', says Politico, seemingly intending it as a compliment – he's setting out to defend the so-called liberal order while garbing himself in the pomp and power of the old French monarchy. On Monday he summoned parliament to the Palace of Versailles, echoing 'Sun King' Louis XIV's pronouncements to the nobility. And his team are talking up his 'Jupiterian' approach – a reference to the supreme Roman god, standing above the fray with thunderbolts in hand.
It's not just the imagery that's autocratic. In his Versailles speech, he laid out plans to streamline parliament. He wants to cut a third of MPs from the National Assembly, restrict representatives to two-term tenures, introduce a 'dose' of proportional representation, and cut back on unnecessary lawmaking. These tinkering policies may not seem much on the face of it. But as one academic pointed out, all of this will serve to shore up executive power – emboldening bureaucrats over representatives, and filling parliament with newer, less battle-ready MPs.
Macron has styled himself as the successor to de Gaulle, the father of the Fifth Republic who redirected power to the French presidency amid times of imperial crisis and parliamentary gridlock. Under the guise of 'getting things done', and pushing through his controversial labour-law reforms, Macron is similarly seeking to disempower the parliament and boost the executive, which already has far fewer checks on it than, say, the US presidency. And yet for all the media fearmongering over Herr Trump, Macron's machinations seem not to have worried commentators or the global elite.
Not that they've gone unnoticed in France. Left-wing parliamentarians boycotted Versailles, and judges and civil-liberties groups have spoken out against Macron's authoritarian turn. In his speech, he pledged to end the state of emergency, in place since the Paris terror attacks in 2015. But a document leaked to Le Monde revealed that the measures would merely be transposed into law. This means that warrant-free searches and house arrests, and powers to clamp down on protests, will still exist. With a battle over labour reform looming, it is feared these powers will be used against unions.
This all serves as a grim reminder of the authoritarianism of the Third Way politics Macron seeks to emulate. It's a politics that attempts to cultivate a mood of anti-politics – embodied by the job-for-life corrupt French MPs Macron rails against – as a pretext to put power in the hands not just of the state, but of supranational bodies. That Macron intends to push ahead with More Europe, in the face of bubbling Euroscepticism at home, speaks to the casual disregard for democracy that continues to define Europhiles.
But more immediately, Macron's monarchical turn should remind us of the rank hypocrisy of today's political elites, who are currently championing this not-so-liberal strongman. Even as they lament the rise of the Putin-esque autocrats – from Erdogan to Duterte, Modi to Trump – they are cheering on a leader set on consolidating power and undermining liberty. What they fear is not authoritarianism, but democracy. That's why, for all the talk of defending 'the free world' against the revolting populists, they're happily throwing in their lot with this would-be king.
Tom Slater is deputy editor at spiked. Follow him on Twitter: @Tom_Slater_
To enquire about republishing spiked's content, a right to reply or to request a correction, please contact the managing editor, Viv Regan.