This is the scariest Twitch-hunt yet
The hounding of Anne Marie Morris is positively unhinged.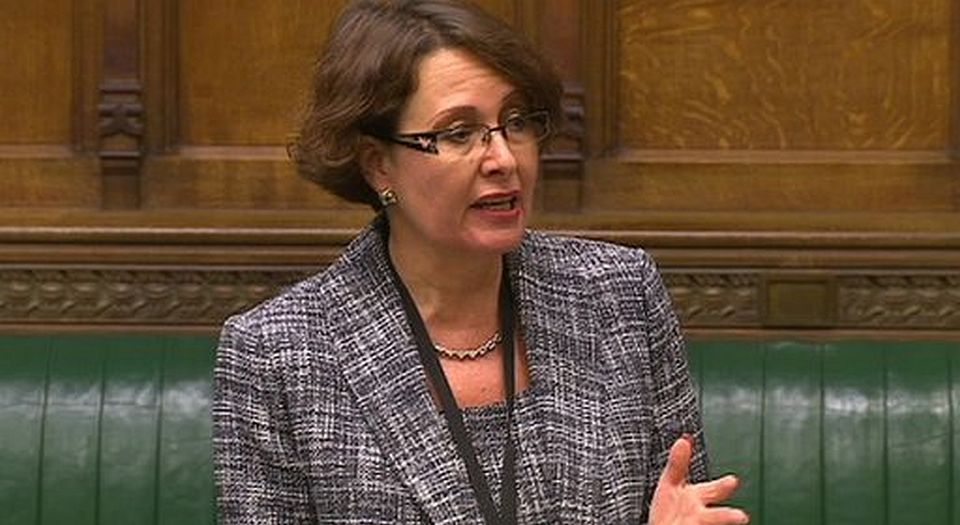 Sharpen the pitchforks, fan the flames: a politician has misspoken.
Yes, another day, another Twitch-hunt. Another live-tweeted expulsion from polite society. Another roll-up-roll-up real-time destruction of a person's reputation for the crime of having said something stupid.
The victim this time is Anne Marie Morris, the Tory MP for Newton Abbot. She was recorded dumbly using the outdated phrase 'nigger in the woodpile' at a gathering of Eurosceptic Tories at the East India Club in London. Ms Morris said 'the real nigger in the woodpile' in the Brexit issue is what happens if we get two years down the line and there's still no deal between Britain and the EU. So she was clearly using the phrase in its classic sense to mean an issue of great importance that isn't being openly or sufficiently discussed. She wasn't being racist, just old-fashioned. Phew. We can call off the Twitterhounds, put back the tomatoes.
Don't be daft. The small matter of intention, of what someone means, counts for literally nothing in the Kafkaesque world of 21st-century speech-policing. All that matters is that everyone speak correctly, always, religiously, without fail, unless they want to be rebranded scum and made unemployable. And so it was that the illiberal liberal media and outrage-hungry Twitterati demanded that Ms Morris be punished. Theresa May, being weakened and rubbish, duly suspended her. But of course that isn't enough. It never is. Their nostrils filled with the perfume of a public shaming, of the sweat and terror of their quarry, the Twitch-hunters always want more. She must be sacked, they cried, forever thrown out of the party, tarred and feathered. (Okay I made up that last one, but seriously, it can't be far off.)
The Morris debacle, this latest by-numbers orgy of ostentatious fury and demands for at least a metaphorical head on a platter, shines an unforgiving light on the political state of the nation. First, it exposes the nasty, Stalinist streak in the virtual Corbynista movement. These largely youthful cheerleaders and tweeters for Jeremy are at the forefront of demanding Morris's public humiliation. Guardian square Owen Jones even suggested action should be taken against other Tory MPs who were at the meeting and who failed to denounce Morris for her choice of phrase. This is the living (or rather deathly) essence of Stalinism: to seek the punishment not only of moral miscreants but also of those who fail to point the finger at them, who neglect to rat them out. Behind the countercultural facade of the Corbynista moment there lurks that dark, censorious, state-loving shade of leftism that really should have been left in the 20th century.
And secondly, this controversy shows how unhinged, how otherworldly, PC has become. Commentators are accusing Morris of racism. She engaged in a 'racist outburst', some claim. This is categorically untrue. Morris did not say the N-word at anyone. She did not use it as an insult. Her aim was not to demean black people. It was simply to make a political point about Brexit. Doesn't this matter? Doesn't it matter that she had no racist or wicked or evil intention and rather was simply expressing an opinion on political events? It should matter, but, terrifyingly, it doesn't.
The end result is that Morris has been punished for something she didn't actually do: express a racist sentiment. This is how Kafkaesque the myopic monitoring of speech has become: use the wrong word, once, and you might find your entire moral worldview called into question and your public reputation trashed by the baying commentariat. To punish Morris for using the N-word is as mad as punishing a rapper for using it. No, not because Morris's use of that word is as acceptable as Jay-Z's. Of course it isn't. Rappers use it with power and cultural force, whereas Morris just sounds dim. She really should have gone for a different phrase. But the key thing, the overriding thing, the thing that a more rational, civilised society would take into account, is that neither Morris nor your average rapper uses the N-word as a racist attack, as an attempt to denigrate or dehumanise black people. Both of them lack the thing that must surely be proven before we demand that someone be punished: foul intent; the desire to do evil.
This is what is terrifying about this latest Twitch-hunt: it confirms that in the febrile, finger-pointing climate whipped up by a vengeful Twitterati and censorious commentariat, you can be branded racist even if you are not racist. Like when girls were branded witches when they were not witches.
Brendan O'Neill is editor of spiked.
To enquire about republishing spiked's content, a right to reply or to request a correction, please contact the managing editor, Viv Regan.