Betsy DeVos is right about Title IX
Campus sexual-assault investigations are deeply unjust.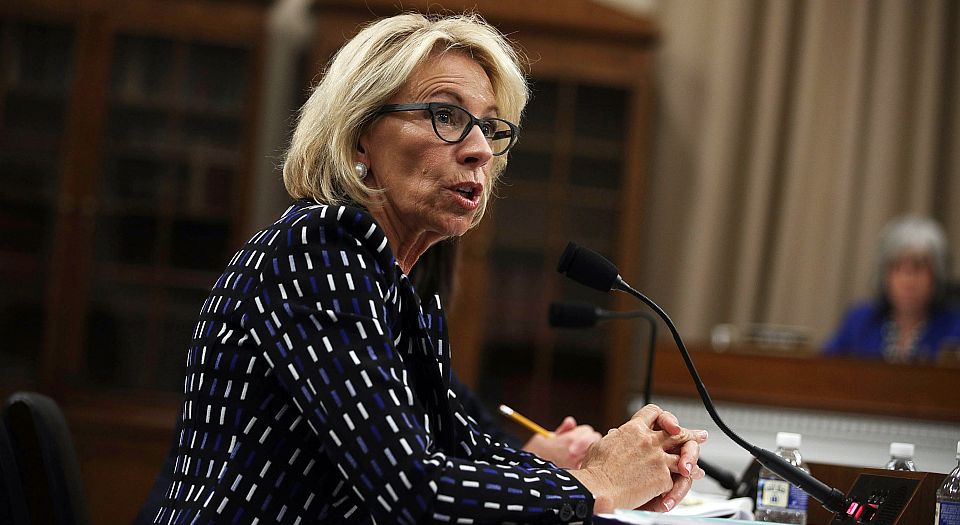 Campus sexual assault is back in the news. Last week, Betsy DeVos, the US secretary of education, came under fire for suggesting that federal law related to campus sexual violence needed to be reformed. Part of the outrage was due to the fact that, as well as meeting with anti-rape activists, DeVos reportedly met with some men's rights groups who had been known to publish pictures of complainants online, calling them false accusers.
DeVos' comments were focused on the use of a federal law known as Title IX. Title IX forms the basis of campus investigations into sexual-assault allegations in the US, which often begin after the police conclude there is insufficient evidence to progress a criminal investigation. Title IX has been criticised for creating kangaroo courts on campus that undermine due process. DeVos did not spell out specific plans but did say this was an area that the Department of Education was 'not getting right'.
She has since been accused of failing to understand the extent of the campus rape problem. Critics point to FBI statistics which suggest only between two and 10 per cent of sexual-assault cases involve false allegations, and that Title IX enables victims to find redress where the criminal-justice system has failed. But these campaigners get it the wrong way around: Title IX has long worked to undermine justice, not deliver it.
Title IX, of the Education Amendments of 1972, prohibits discrimination on the basis of sex in education programmes or publicly funded institutions. Over the years, this has come to encompass investigating cases of sexual harassment and sexual assault. In 2011, the Office for Civil Rights, within the Obama administration's Education Department, informed colleges that they should deploy a 'preponderance of the evidence' standard in campus sexual-assault hearings.
This dramatically lowered the burden of proof in these cases. If, under this standard, it is considered that there is more than a 50 per cent chance that a defendant is guilty, then he or she is guilty. These investigations are undertaken by university administrators, and lack the ordinary due-process protections which would be granted to a defendant in a criminal case. And a guilty verdict can come with huge consequences. If a student is expelled following a Title IX investigation, it will forever be on his or her permanent record.
There have been some seriously disturbing cases. In one, at the University of Kentucky, a Title IX proceeding began after two students had drunken sex, and a third student complained that the young woman was too drunk to give consent. This third party was not a witness to what actually happened. The two students concerned had been completely cordial with one another and had spent another night together later on. But following the third party's complaint, the male student was suspended and had his college grant rescinded. In another case, at Boston College, a student was expelled for sexually assaulting a fellow student on a casino boat party, even though he was completely exonerated by a police investigation.
Given cases like these, how could anyone disagree that Title IX is broken? It has spawned a Kafkaesque network of campus courts that bulldoze the rights of defendants. We should remember that these cases often involve allegations of serious criminality. The idea that young defendants can be branded guilty based on an unfair investigation and a lowered standard of proof should concern anyone who cares about delivering genuine justice in these cases.
What's more, these cases are far more complicated than campaigners would like to make out. The FBI's statistics, that only between two and 10 per cent of sexual-assault allegations are untrue, actually refer to allegations that are provably untrue. Cases can be just as hard to prove untrue as they can be to corroborate. The idea that we should be relaxed about Title IX investigations, because so few allegations are provably false, is misleading and unjust. Throwing around simple statistics helps no one.
So good on Betsy DeVos. It's time for a serious discussion about Title IX, and the injustices that have flowed from it.
Luke Gittos is law editor at spiked and author of Why Rape Culture is a Dangerous Myth: From Steubenville to Ched Evans. (Buy this book from Amazon(UK).)
To enquire about republishing spiked's content, a right to reply or to request a correction, please contact the managing editor, Viv Regan.