Tyler, The Creator: the wrong kind of queer
Apparently, using the word 'faggot' disqualifies you from being gay.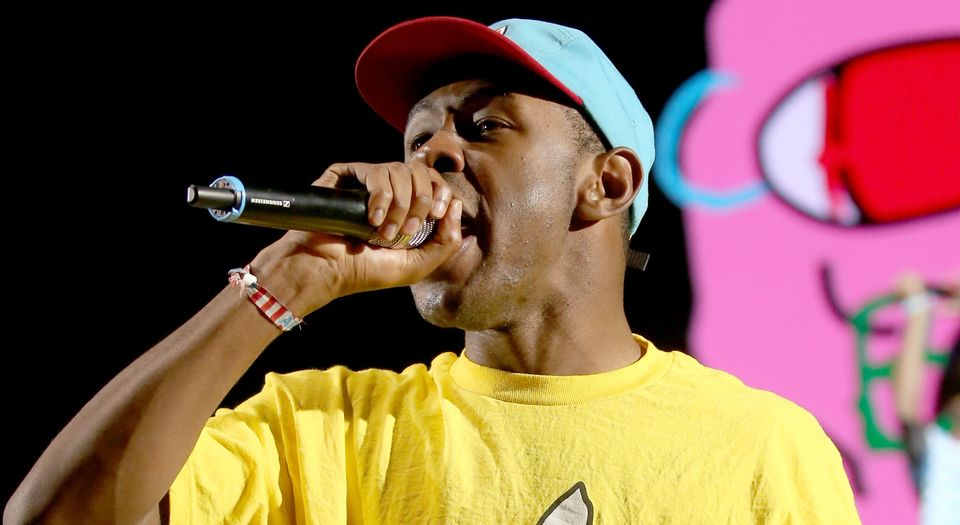 There are few openly gay rappers. Is it the homophobia of fans and the industry that's keeping hip-hop stars in the closet? Well, in the case of Tyler, The Creator, it's definitely not. It's the LGBT commentariat. Lyrics on his new album, Scum Fuck Flower Boy, in which the Los Angeles rapper appears to come out, have sparked not celebration but condemnation. He's been instantly rejected due to his previous 'crimes' against the LGBT community – that is, his erstwhile fondness for using the word 'faggot' in his lyrics.
Since bursting on to the scene as the leader of the scatalogical skater-brat crew Odd Future, Tyler has sparked controversy. In 2013, he was banned from the UK for five years by then home secretary Theresa May. But for the purpose of selective outrage, his other early lyrics about rape and torture have been ignored for the time being. Meanwhile, his fans, labelled by many as bigots for enjoying his 'homophobic' material, have proved themselves entirely accepting of Tyler's sexuality. His OF crewmates probably don't mind either, seeing as two of their most prominent members, Frank Ocean and Syd Tha Kyd, are openly bisexual and gay respectively.
While Tyler is a notorious provocateur, and he's chosen not to release any definitive statement, the lyrics on Flower Boy appear sincere. He raps about gay experience in a way quite unprecedented for a hip-hop artist of his stature. On the song 'Garden Shed' he describes a 'garden shed for the garçons', a seeming allegory for the closet: 'For the garden / That is where I was hidin' / That was real love I was in.' In the midst of another song, called 'I Ain't Got Time!', Tyler raps, 'Next line, I'll have 'em like whoa / I've been kissing white boys since 2004'.
Since the album leaked, the think pieces have flown, many prefaced with 'as a gay hip-hop fan…'. It makes you wonder how any of these journalists could ever enjoy a rap record if they're so easily shocked by the use of the word 'faggot'. Because Tyler's use of the f-word is pretty much their entire beef with him. He's never advocated violence against gay people. And he helped launch the career of his close friend Frank Ocean, one of the biggest LGBT stars of recent years. But, instead of pondering the nuance, writers have set about totting up the number of times Tyler used the f-word on his debut album Goblin. Apparently, it's 213 times, an average of 14.2 utterances per song – as if that extra fifth of a faggot makes all the difference. Some have suggested that the fact he doesn't use it on his new album is, at the very least, a sign of 'progress'.
Tyler could well be the most high-profile out male rapper ever. And yet no one is hailing his 'bravery' or 'courage'. A writer in the Guardian urges him to reduce 'those numerous (still unforgiven) uses of faggot down to zero'. The Atlantic says the Flower Boy revelations remind us that 'it is not only straight people who can be infected by homophobia'. Meanwhile, GQ pondered Tyler in disturbingly religious terms, in a piece titled 'Has Tyler, The Creator earned his redemption?'. It concludes that he hasn't, given that his use of the word faggot cannot be accepted as 'reclaiming his own community's language' because 'he was never an active member of that community'.
What the hell is an active member of the LGBT community? Tyler has previously caught flak for saying 'why does that shit matter?', when asked in an interview about gay rappers. Seemingly, those who think their sexuality isn't that big a deal, and don't want it to define their work, aren't active enough. Do these journalists think being active means attempting to delegitimise someone else's attempt to come out? Presumably they're hoping for a grovelling apology for his entire career, for his freedom of expression, for not being a queer man in the 'correct' way. Their puritanical condemnation is the precise opposite of tolerance.
Christian Butler is a spiked columnist. Follow him on Twitter: @CPAButler
To enquire about republishing spiked's content, a right to reply or to request a correction, please contact the managing editor, Viv Regan.