The damnation of Justin Gatlin
The anti-doping crusade has turned sport into a moral spectacle.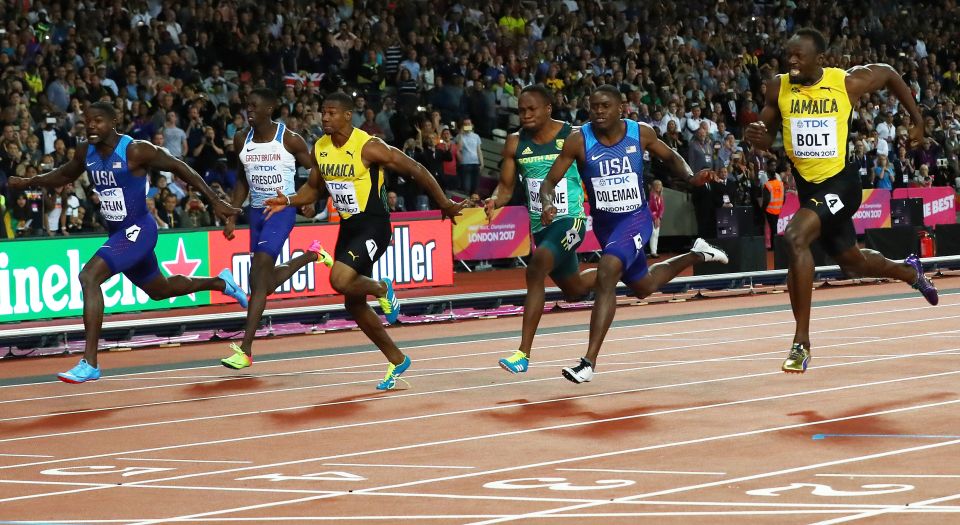 'That wasn't in the script.' So the refrain went in the aftermath of Usain Bolt's defeat in the 100-metres final at the World Athletics Championships on Saturday night.
It wasn't meant to be this way, said the commentators of Bolt's third-place finish. This was near enough Bolt's valedictory race at a major championship, in the event – the 100-metres – that he has dominated and elevated for the best part of a decade. He was meant to bow out with a win. He was meant to be able to flash that familiar, joyously cocksure smile over the finish line, before performing his signature 'lightning bolt' gesture with conviction, not out of obligation.
But there was to be 'no fairytale ending', as ex-Team GB sprinter Darren Campbell said on Sunday morning. Instead, ghosting home in lane seven, while spectators were awaiting Bolt's never-to-come stride to victory, was Justin Gatlin. Or as he's otherwise known, 'the drug cheat'. And with that, the fairytale ending was transformed into something else entirely: a sporting end of days, a triumph for cheating, for doping, indeed for everything rotten and vice-ridden about sport, and athletics in particular, from which Bolt, 'the saviour', was meant to rescue us.
Rarely has the result of a sporting contest prompted such condemnation. In the London Stadium, the immediate response was sustained, cacophonous booing. This was followed over the coming hours by an outpouring of opprobrium from the British media, complete with obligatory, liberal usage of Gatlin's unofficial epithet, 'drug cheat'. Even the normally restrained BBC sports website described Gatlin's win as a 'last hurrah for a man that many in the sport wished no longer had the chance to compete'. Former athletes weighed in, too, with ex-GB heptathlete Kelly Sotherton tweeting, 'No one saw that happening. No one wanted that to happen #Gatlin', and one-time 400-metres runner Roger Black reflecting on 'this whole sense of disappointment, disillusion and really disbelief'.
Then there was the response of Lord Coe, who said 'I'm hardly going to sit here and tell you I'm eulogistic that somebody [who] has served two bans in our sport would walk off with one of our glittering prizes'. Which would have been an unremarkable statement from an ex-athlete who, during his time in parliament and British sports officialdom, has long been an ardent opponent of doping. But Coe's now the president of the International Association of Athletics Federations (IAAF), athletics' ruling body, and the organiser of the World Athletics Championships. He's effectively in charge of the sport; he is its gatekeeper, its arbiter. And here he was denigrating the achievements of one of his competitors, who even he admitted was entirely 'eligible to compete'. When asked how he would respond to Gatlin when they next met, Coe promised an icy shoulder: 'I will say [to Gatlin], "You were eligible to compete here and frankly" – as Usain Bolt said to him last night – "you have worked hard for what you have achieved". I think the journey to that point is not a comfortable one for me… it's not the perfect script.'
Too right it is not the perfect script. The so-called blue-riband event of any athletics meeting, the 100-metres sprint, the point at which we celebrate the human body's capacity for speed and power, has seemingly been won by the wrong person. Not in any sporting sense. But in a moral sense. The right winner, we're repeatedly told, was Bolt, or, failing that, anyone-but-Gatlin. And yet it was Gatlin, this supposedly tainted, corrupted individual, who collected the gold medal at a hastily re-arranged medal ceremony on Sunday – re-arranged for an earlier time before the international TV feed began, presumably, to make it less of a centrepiece. None of this, as everyone keeps saying, was in the script.
But what if the problem here is not the fact that Gatlin beat Bolt, and Christian Coleman, in what was, relatively speaking, a slow race. What if the problem is the script itself? What if the real damage being done to sport owes less to doping competitors than to the near pathological obsession on the part of the IAAF with dopers, who they demonise and cast out of the sporting community even when they are still competing? What if the problem, in short, is the transformation of a sporting spectacle into a moral spectacle, with the 'clean' pitted against the 'dirty' in a contest in which, given the stream of moral opprobrium that comes the way of one-time cheats, there can only be one winner, even in defeat?
After all, is Gatlin really deserving of the booing and character assassination? Is he really the dark to Bolt's light? Yes, he broke the rules, but even that is surely not enough to justify his perpetual damnation. For a start, his first ban, in 2001, when he tested positive for the amphetamine in his attention deficit disorder medication, was dished out reluctantly by the American Arbitration Association and the IAAF, the former of which stated: 'Mr Gatlin neither cheated nor did he intend to cheat. He did not intend to enhance his performance nor, given his medical condition, did his medication in fact enhance his performance.' The ban was a technical result of athletics' strict liability rules, not of Gatlin's determination to cheat. Even in 2006, when he tested positive for a banned steroid and was given an eight-year ban, cut to four years on appeal, there was a context: an ex-employee with a grievance, and Gatlin's spotless testing record during the preceding and succeeding weeks and months.
Yet despite all this, despite doing his time, despite being banned during his career peak of his mid-to-late 20s, Gatlin will always be the bad guy, the man known by his headlined prefix 'drug cheat', condemned to outrun rivals but never his past. There is to be no redemption for him. Thanks to the moral fixation on doping, which has generated the oft-cited script in which the good and the pure are fighting the bad and the corrupt, he's never been able simply to run races as fast as he can. He's always simultaneously embroiled in this other non-sporting narrative – the script – in which he's the arch-villain to Bolt's smiling, charismatic hero.
Of course, all this adds to the drama of their contest, as it did in the 2015 World Athletics Championships showdown in Beijing, when Bolt's against-the-odds victory over an in-form Gatlin was heralded in the British media, at least, as a triumph of good over evil. But this script not only lionises the likes of Bolt, it also demonises the likes of Gatlin, turning a sportsperson into something he or she is not – into a moral avatar, a vehicle of the bad, an ethical example to us all. And when the right(eous) side loses, as Bolt did on Saturday, it is experienced as something more than a sporting defeat. It appears as a moral blow, something to be denounced and booed vociferously, as if the competitor actually did something terrible merely by winning a competition, and doing so entirely legitimately.
Perhaps if the issue of doping was demystified and treated less as an existential threat to sport, than as a way, like dietary regimes or training methods, to improve one's performance, then the moralistic contamination of the sporting spectacle would recede. But that seems unlikely given sporting officialdom's long-term instrumentalisation of sport, especially athletics, as moral force. Either way, the anti-doping crusade has consequences. Because for as long as the IAAF, and the World Anti-Doping Agency, commit themselves to defining and protecting the 'moral fabric' of sport, they won't just cast those they accuse into secular hell, they will also prompt us to lose sight of the achievements of sport's greats.
This doesn't just mean that every athletic achievement is now automatically accompanied and undermined by the suspicion that he or she is 'on something'. It also means that even the achievements of the unadulterated greats, like Bolt, are refracted through the anti-doping prism. And yet of all athletes, surely Bolt's achievements are sufficient to stand on their own two feet, without the lustre of moral cleanliness. This is the man who has amassed 19 global gold medals, including eight Olympic victories and World Championships victories; the man who in 2009 ran the current world record of 9.58 seconds; the man whose huge closing strides and flashed smile over the line have enchanted spectators for nearly 10 years. His defeat last night ought to take nothing away from Bolt. Indeed, given Bolt's injury problems this year, largely a result of the curvature of the spine he has battled all his life, and the death of close friend Germaine Mason this year, his loss was not unexpected. But peer through the fog of anti-doping hysteria which has engulfed one of Bolt's last races, and his glory remains undimmed.
Perhaps the last words should go to that paragon of sporting evil himself, Justin Gatlin: 'Bolt is an electrifying character who has run sizzling times, mind-blowing times, and throughout the years he has always kept it classy. He's inspired me to be a stronger, faster competitor, and I've only wished every year to be his top rival.'
Tim Black is a spiked columnist.
Picture by: Getty.
To enquire about republishing spiked's content, a right to reply or to request a correction, please contact the managing editor, Viv Regan.