Neither William nor Charles
Who should be the next monarch? Nobody. Abolish the whole thing.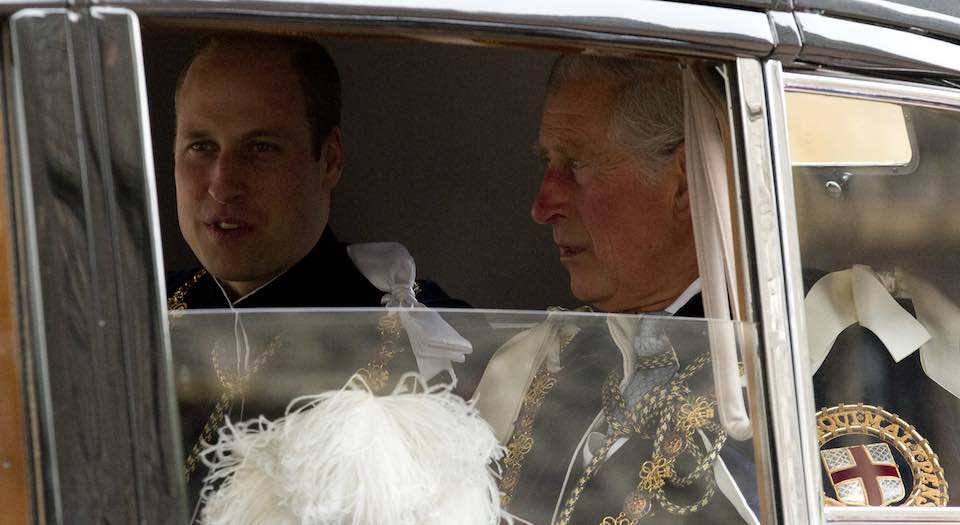 To understand why the prospect of King Charles III isn't popular, one only has to look back to 1649 when Charles I had his head lopped off. Unfortunately for the current heir to the British throne, those words 'King Charles' still do not resonate with the people.
Following the release of the 'Diana Tapes' last month, in which Charles' former wife told how he 'refused to be the only Prince of Wales never to have a mistress', Bonnie Prince Charlie has had a tough time. A recent YouGov poll revealed that only 36 per cent of Brits think he makes a positive contribution to the royal family. His wife, Camilla, got particularly skewered: only 14 per cent of us want her to be queen.
As a consequence, there's been a lot of treasonous chatter. Perhaps we should depose of the whole idea of King Charles, many argue. A poll carried out by the Sun found that 51 per cent of us want his son, William, to replace the queen. According to Prospect magazine, this increases to 63 per cent among young people.
This concern with Charles' future coronation is certainly justified. As Prince of Wales, he has garnered a strong reputation for extending the royal tentacles into matters of parliament. Whether it be the Iraq War, agricultural policies or bonkers homeopathic remedies, countless Freedom of Information requests have shed light on Charles' rampant meddling in the political arena.
But simply substituting Charles for a new heir is not the solution – not least because his replacements are far from saintly. As confirmed by the recent news that Princes Will and Haz will be in the new Star Wars film, media and celebrity fawning over the two princes has become a full-time occupation. But behind their seemingly trustworthy façade lies their father's contempt for political procedure.
Where was the uproar when it was revealed Prince William was in a Fifa World Cup meeting that discussed a vote-swapping deal between South Korea and England? Wills has even made clear his intention to continue his father's interference in government. Speaking to GQ, he openly admitted that he has 'written to ministers, but purely to point them towards people I think they should see'. At best his comments shriek of self-importance; at worst, they squeal of anti-democratic interference. Even Harry, a royal admired for his laddish behaviour, revealed his skewed appreciation for us plebs when he criticised our free press for reporting on his current romance. While they don't share their father's overtly obnoxious mannerisms, Harry and William are hardly men of the people.
But more importantly, the suggestion we should prevent King Charles III by helicoptering in his son ignores the incompatibility of a monarchy with contemporary democracy. The choice to swap Charles for William is nothing but a tacit acceptance of the existence of the monarchy. It is ironic that we are being polled on our attitudes to the next monarch, because as long as we continue to accept the institution of king and queen, our views on it are actually meaningless. We have no say.
For underlying the existence of the monarchy is a profound distrust in what we, the demos, think. Historically, the propulsion of an individual into the monarchical role, with all its political and moral authority, was deemed necessary to tame the whims of an unruly and uneducated populace. It was explicitly justified as a subjugating force. Now we prefer to dress up our monarchy in a more amenable outfit. We regard the king or queen as a posh celeb, rather than as an individual who still has the power to give assent to bills, make treaties, appoint ministers and judges, and declare war. They're national pets; things to cuddle and laugh at rather than fear and obey.
But what this prevailing attitude overlooks is that a monarchy – no matter how photogenic – is still a monarchy. It is still predicated on the assumption that a certain group of people should be attributed with higher worth than the rest of us. It still empowers an unelected wing of the state to take certain actions, and it still symbolises distrust in ordinary people, and in doing so it undermines conviction in our moral and political autonomy.
An institution such as the monarchy will not be remedied by having the 'correct monarch'. It cannot be tweaked or finely tuned. If we really want to address the fundamental problem with the monarchy – its anti-democratic basis – there is only one thing to do: switch it off, take out the batteries and throw the damn thing away. Charles' son isn't the solution; we are. It's time to take ourselves seriously and get rid of the monarchy once and for all.
Jack Schwartz is a spiked columnist.
To enquire about republishing spiked's content, a right to reply or to request a correction, please contact the managing editor, Viv Regan.