The lethal pomposity of the Afghan War
America's addiction to Afghan meddling is a disaster for humanity.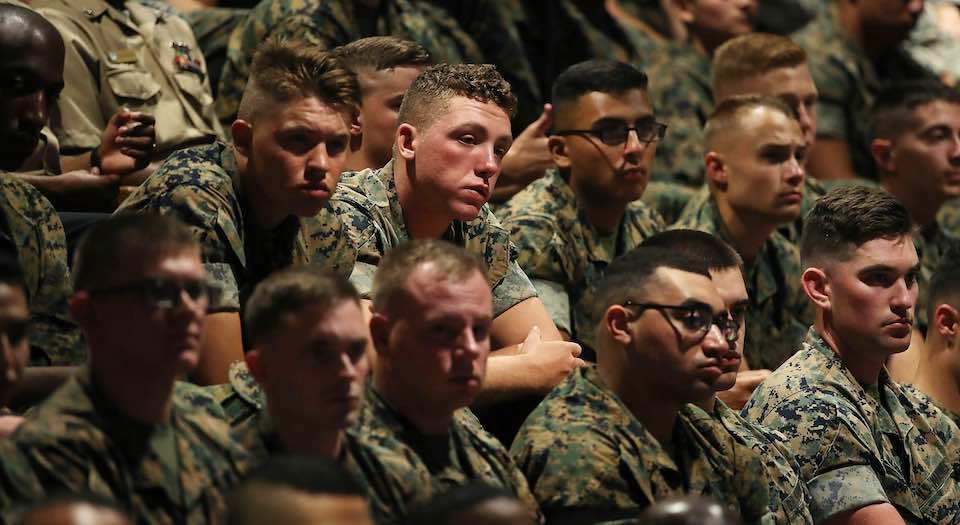 Fasten your seatbelts: America's longest war is set to get a whole lot longer. Speaking at Fort Myer last week, President Trump announced his intention to increase the number of US soldiers in Afghanistan. This marks a depressing u-turn from his election pledge that, 'if I become president, the era of nation-building will be ended'.
Unlike hawkish Hillary, one of Trump's few redeeming features was his insistence that the US should break with its tradition of flooding Afghanistan with troops. With more than 30,000 civilian deaths and an ever-increasing sense of aimlessness, an end to America's war with the Taliban and other Afghan elements is well overdue.
So far, the Trump administration has remained coy about how many troops it plans to fly out. Unofficial reports estimate it will be 4,000. This would bring the total number to around 12,400 – a far cry from the 100,000 troops that occupied Afghanistan in the Obama era. Trump has also signalled that he will discourage off-the-field micromanagement of the troops' activities and grant soldiers more leeway to make judgements on the spot.
Trump might not have gone 'full Obama', but his promise to plough extra troops into Afghanistan is deeply worrying. Since its start in 2001, the war there has continually been shrouded in euphemism and deceit. Following 9/11, under President Bush, it was marketed as a 'war on terror', necessary to protect Westerners from bomb-toting Islamists. When the US recognised terror was no longer sexy, it started to repackage the occupation as a 'war on drugs', an effort to protect Westerners from Afghan heroin. Under Obama, too, the occupation was rebranded, alternatively talked up as a war for women's liberation or a war for democracy.
Trump has followed suit in giving America's 16-year meddling in Afghanistan a new mask. There is speculation that the increased troop presence will be focused on helping Afghan president Ashraf Ghani to manage the country's estimated $3 trillion worth of mineral deposits. It's a war for mineral management now.
Unlike Obama, who at least pretended to have a half-baked plan for magically clearing up the 'Afghanistan problem', Trump's proposal is notable for its thoughtlessness. He says US troops will be in Afghanistan for an indefinite amount of time, and even admits that his decision not to pull out of the country was based on 'instinct'. This confirms that Trump doesn't actually care about Afghanistan — which shouldn't come as a surprise, given he didn't mention it in any of his three debates with Clinton during the presidential race.
'Our troops will fight to win', he recently said — but he failed to specify what it is they will win at. That's because there is nothing to win. America's preoccupation with Afghanistan today, as was the case back in 2001, has little to do with the region itself. It isn't about terror or drugs or women or democracy. It's about America itself. The deployment of troops in Afghanistan has always sprung from and expressed the crisis of politics and values within the West. Unsure what it really means to be American or Western today, feeling politically and morally disorientated, the modern US outsources an existential crisis on to a violent and ravaged playing field. That the occupation of Afghanistan continues to dominate US foreign policy so long after 9/11 only shows the extent to which it has little to do with that event and is now merely a platform for moral and military posturing; a displacement activity, and a deadly one.
These war games are as precarious as they are vapid. In his latest comments, Trump risked isolating Pakistan, a traditional supporter of US operations, by crudely urging it to do more to clamp down on the Taliban. That Pakistan, in response, has suspended talks with the US reveals the dangers of shallow, kneejerk foreign policy.
The West's perennial obsession with Afghanistan is particularly deadly for Afghans. Between 2001 and 2016, 111,142 people were killed in the Afghan conflict. And given there is no tangible endpoint to the West's obsession with Afghanistan — because it is driven more by existential Western concerns rather than tangible Afghan ones — no one can predict how many more will die. It is time for the West to discard its outdated fetish for military occupation. Instead of using this region as a stress ball to distract from our own crises, we need to tackle our own societal problems head on and leave other societies alone. Playtime is over. Withdraw all Western troops and put an end to this lethal pomposity.
Jack Schwartz is a spiked columnist.
Picture by: Getty
To enquire about republishing spiked's content, a right to reply or to request a correction, please contact the managing editor, Viv Regan.