We need more Texas attitude and less PC
Texans' heroic response to Hurricane Harvey has been inspiring.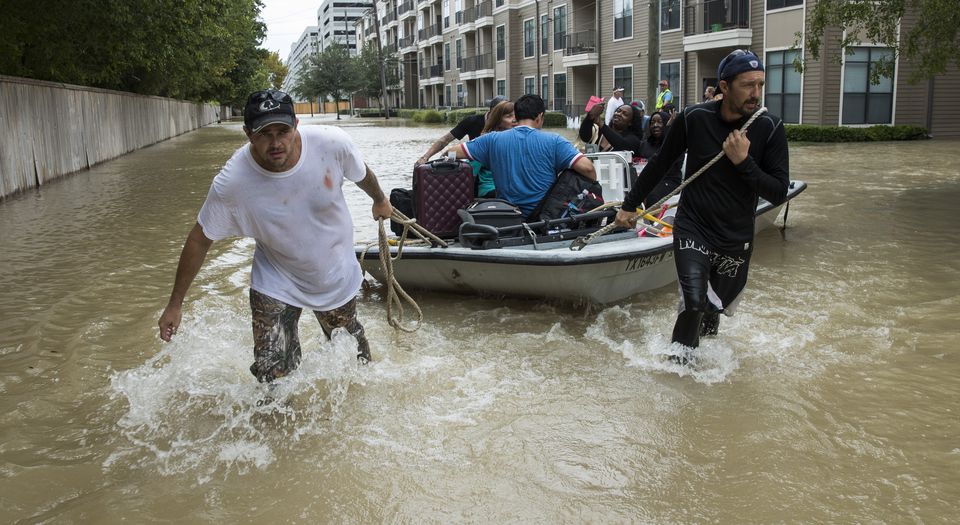 It is hard to grasp the enormity of Hurricane Harvey and its impact on the people of Houston and surrounding areas of Texas.
Unprecedented rainfall and raging winds of 130 miles per hour. Flooding of Biblical proportions: highways turned into oceans, surreal images of trucks and animals floating in newly formed rivers, and water as tall as houses. And the sad tragedy of its destructiveness: 38 deaths counted so far (with no doubt more to come), billions in economic damage, and the heartbreaking loss of home, possessions and normal life that had taken, in some cases, decades to build.
Yet, as devastating as Harvey has been, you have to be impressed by the bravery and resilience shown by the people of Houston and the area in response to this natural disaster. Texas is known for its swagger, embodied in its slogan 'Don't mess with Texas'. Looking at the heroic feats of rescue we have seen on our TV screens, it's fair to say that Texans have lived up to their boasts.
The official response to Harvey appears to be very competent. The Federal Emergency Management Agency (FEMA) was on the ground two days before Harvey reached land. Texas governor Greg Abbott deployed the entire Texas National Guard. Houston mayor Sylvester Turner quickly activated police and firefighters, and provided calm, clear instructions to residents. This was much better than the response to Hurricane Katrina in Louisiana in 2005 – indeed, it seemed to show that the authorities had learned the lessons of the botched response to Katrina.
In the improved official response is a broader lesson. As our societies and economies develop, there is always a chance of disaster, natural or otherwise, which can knock back that development. But we advance by learning from setbacks, not by avoiding expansion in the first place. In fact, economic growth and the accumulated wealth of an advanced society like the US mean that we have more resources to cope with hurricanes or whatever else Mother Nature throws at us.
As capable as the local, state and federal disaster response has been, what has been even more impressive is the great effort made by thousands of ordinary people, volunteering to help their fellow citizens. Seeing massive flooding and destruction, many would think: 'How do I get out of here?' But in Houston we saw lines of cars towing boats, people driving into the worst of the flooding. Like the cavalry, on came the hundreds of the 'Texas Navy' (joined by the 'Cajun Navy' of Louisiana) in fishing boats, jet skis and kayaks.
They went about their business with modest determination. CNN found two men loading up their boat, heading into the storm. 'What are you going to do?', the CNN reporter asked. 'Go try to save some lives', one of the men said, in a matter-of-fact way. Those without a boat helped, too. Five volunteer rescuers from Lufkin, Texas stopped at a gas station, and a guy handed them three $100 bills, according to a New York Times report. 'Texas people just stick together', said one.
While Hurricane Harvey brought out the best in many, it also brought out the worst. Across social media, certain liberals were feeling less than sympathetic to Texans, seen as Trump voters and Republican Party backers. 'I don't believe in instant karma, but this feels like it for Texas', tweeted a University of Tampa professor: 'Hopefully this will help them realise the GOP doesn't care about them.' (This professor was later fired for this tweet, which he shouldn't have been.)
The heroism shown by ordinary Texans has been a great antidote to the prejudices expressed by well-off liberals towards 'deplorable' Americans. The politically correct view is that white folks are irredeemably racist, and the country is inescapably divided by race, yet the images from Houston told a different story: a black deputy sheriff wading through floodwaters with a white child in each arm; a white SWAT officer carrying a Vietnamese-American woman and her baby through floodwaters; three Asian and Hispanic constables moving an elderly woman in a wheelchair.
As it happens, this was not exceptional: as anyone who has travelled through Texas and the South will know, social interactions between people of different backgrounds are casually pleasant. Unlike PC liberals, most people don't see life through a prism of racial categories. In response to Harvey, we didn't see the 'diversity' of essentially different people – we saw citizens helping citizens, Texans helping Texans.
The strong, 'let's go' response from the primarily male army of rescuers was also a challenge to the liberal tendency to view masculinity as 'toxic' and dangerous. It turns out that there are many occasions – and not just during disasters – when masculine responses are a good thing, if not life-saving. A New York Times report highlighted rescuers' boats 'with painted images of Texas flags and scantily clad women on the sides'; the men 'were sleep-deprived, hungry and armed. They smoked cigarettes. They cursed.' Today's feminists would no doubt denounce such masculine, working-class behaviour. The people of Texas, however, see them as endearing heroes.
The people of Texas have taught us all valuable lessons. Our culture needs more Texas, and less PC. We need to build on the example of self-sufficiency and willingness to help each other that the Texas volunteers showed, and not just in response to natural disasters. We need to assume the best, not the worst, in our fellow citizens.
Houston is not over Harvey yet – there will be a lot more work to do, families to help and houses to rebuild. But Texans have already shown they have the grit and resilience to handle anything, and that should inspire us all.
Sean Collins is a writer based in New York. Visit his blog, The American Situation.
Picture by: Getty Images.
To enquire about republishing spiked's content, a right to reply or to request a correction, please contact the managing editor, Viv Regan.