It's time to cool these German-Turkish tensions
Martin Schulz is playing a dangerous game by bashing Erdogan.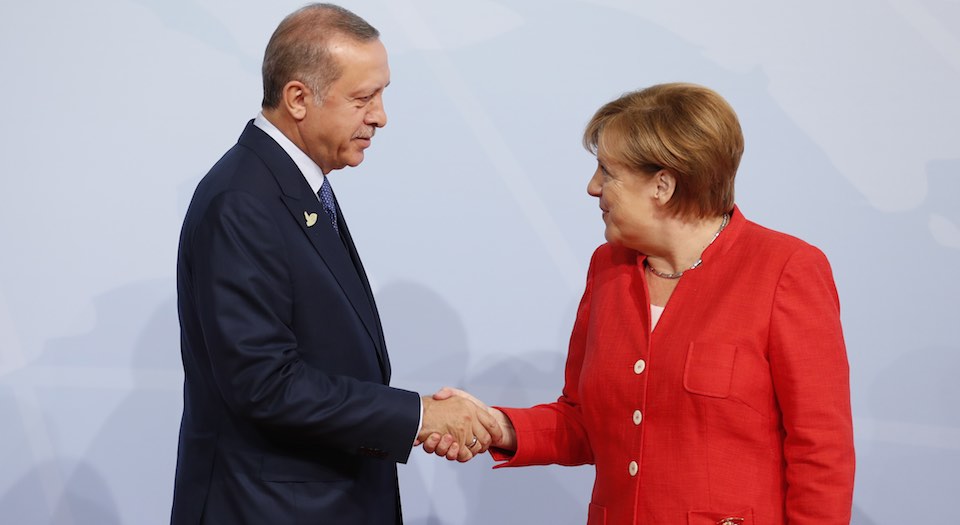 Tensions between Germany and Turkey have been escalating for more than a year now. But relations slumped to a new low following a televised election debate between Angela Merkel and her SPD rival, Martin Schulz, last Sunday. Schulz demanded a harder stand against Turkey. 'A point has been reached where we need to end the economic relationship, the financial relationship, the Customs Union and the accession talks', he said.
His comments didn't only take Merkel by surprise – they also provided the only frisson of political excitement in an otherwise dull discussion. As a reporter at the FAZ newspaper put it, you would need a magnifying glass to find any serious differences between the candidates. Until Schulz mentioned Turkey, that is.
Schulz has found it hard to score points in this federal election campaign, in which voting will take place later this month. Last week, one newspaper described him as desperate, despairing and unable to find anything that might contrast him with Merkel. If he thinks his comments on Turkey will achieve this, he is likely to be proved wrong.
Far from contributing to the debate about Germany's future, Schulz was really exploiting a German-Turkish crisis that has already reached dangerous proportions. In recent months, at least 12 German citizens have been arrested in Turkey, the most prominent being Turkish-German journalist Deniz Yücel (arrested in February), and the human-rights activist Peter Steudtner (arrested in July while attending a human-rights workshop in Istanbul).
Just hours before Sunday's TV debate, the German press reported the arrest of two German tourists (one has since been released). In March, President Erdogan tried to arrange rallies in Germany and other European countries to boost his support in a referendum on new presidential powers, but the German authorities blocked them. He accused them of using 'Nazi' tactics. Then, in May, the Turkish government denied access to German parliamentarians seeking to visit the military airbase in Incirlik, where German troops are stationed as part of NATO.
In particular, the jailing of German citizens in Turkey has put real pressure on the government to show the German public that it is 'doing something'. This is why even before Sunday's debate, the foreign minister Sigmar Gabriel (Martin Schulz's predecessor as head of the hapless SPD) started to up the stakes by threatening Turkey with an end to investment and even German tourism to the country. And yet just a few weeks earlier, Gabriel had said it was important for Germany to keep engaging in diplomatic dialogue with Turkey. Policy seems out of control.
Schulz's tactical posturing on TV was anything but a principled political act. And it could prove destabilising. Both Germany and Turkey have much to lose from any further escalation of this conflict. First, escalation will make it even less likely that those stuck in Turkish jails, effectively held as hostages, will be released. Secondly, it will have a negative effect on the Turkish community in Germany, which is already deeply divided. It will potentially do more to increase tensions between Germans and Turks than any far-right movement could ever have hoped for.
This is why Merkel has remained relatively quiet and cautious in relation to Turkey. But with Schulz trying to score cheap points, she has now taken up the cause, too, and promises harder moves against Turkey at the EU level. Sunday's debate was an example of how unstable politics becomes when it is empty of content and when politicians think posturing is a good substitute for principles.
Sabine Beppler-Spahl is spiked's Germany correspondent. She is head of the board of the liberal think-tank Freiblickinstitut e.V., which has published the Freedom Manifesto. She is also the organiser of the Berlin Salon.
Picture by: Getty Images.
To enquire about republishing spiked's content, a right to reply or to request a correction, please contact the managing editor, Viv Regan.