Remainers' pro-migrant mask is slipping
It is oligarchy, not migrants, that elite Europhiles are fighting for.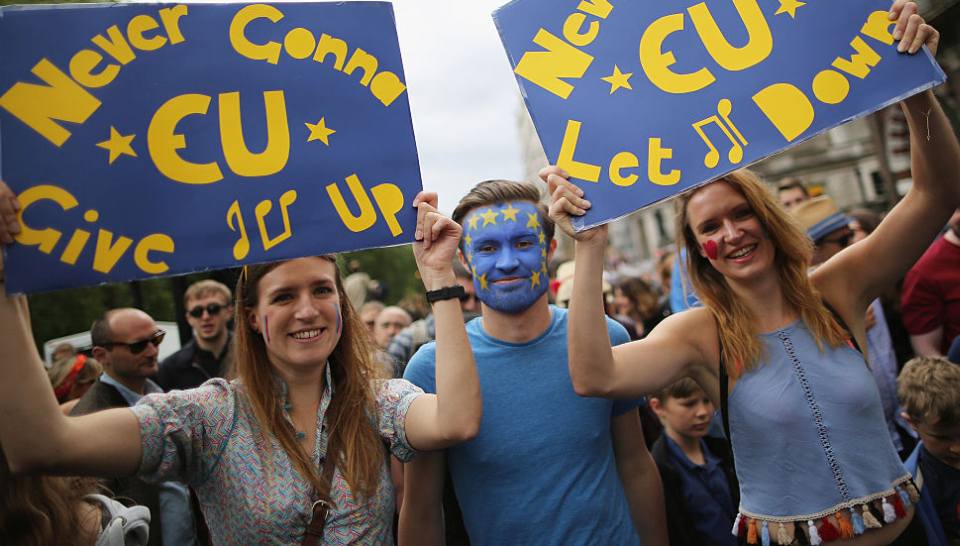 If there was ever any doubt that the pro-EU brigade's support for immigration was little more than a virtuous veneer painted on to the technocratic reality of the EU, then that must surely have been dispelled by the latest intervention into the Brexitverse by ex-prime minister and prominent EUphile Tony Blair.
At the weekend, Blair announced, by way of a report produced by his grandly, blandly named Institute for Global Change, that the UK can introduce stronger immigration-control measures and remain in the EU. In other words, so committed is Blair to the EU that he is prepared to drop any pretence of supporting the principle of freedom of movement if it means the UK can remain in the EU clubhouse. His wingman and former policy adviser, Lord Adonis, added, in a suspiciously synchronised column for the Observer, that German chancellor Angela Merkel and French president Emmanuel Macron would even be prepared to accept Britain having stronger immigration controls if it was to remain in the single market.
Those Remainers who really, sincerely are convinced that support for the EU is identical with support for immigrants were clearly a little peeved by Blair's latest intervention. Yet they really shouldn't be. Yes, Blair's litany of suggested controls – mandatory registration for EU immigrants; restrictions on access to welfare, bank accounts and property; and limits on NHS access if EU nationals are economically inactive – is more brutally spelled out and UKIP-lite than the vague nods to a need for immigration controls made by other Remainers. But nonetheless they still make these nods.
Just a few months ago, Keir Starmer, a convinced Remainer and Labour's shadow Brexit secretary, echoed the calls of fellow Labourite Remainers, like Yvette Cooper and Andy Burnham, and called for immigration curbs. So Blair's abandonment of pro-immigration virtue at the merest sniff of continued EU membership should not be dismissed as the manoeuvrings of a shameless, Iraq War-supporting populist, as some have attempted to do. Rather, it touches on the true nature of the pro-immigration virtue which has been worn, like a Red Ribbon, with such pride by the EU's champions. That is, it is not a principled commitment to freedom of movement – if it was, it wouldn't be dropped or blithely traded off; no, it's a cynical commitment to immigration, adopted only for so long as it is useful rather than electorally harmful, as pro-EU politicians now view it.
But then, the EU is not and never has been the bastion of free movement its supporters champion it as. For a start, as those desperately trying to cross the Mediterranean have discovered, it has always been rather anti non-Europeans. Even inside the EU, freedom of movement has never really been a moral principle as such. In its previous incarnation as the European Economic Community, migration between member states was seen principally in terms of economics and labour markets. It is only with the the formation of the European Union in 1992, and the concomitant idea of EU citizenship, that internal migration was transformed and sublimated into something seemingly virtuous.
Yet even then the focus was not really on freedom of movement as a moral good. And that's because the newly christened EU citizens were never treated by the EU oligarchy as ends in themselves, as autonomous individuals with lives freely to lead. They were treated, rather, as means, tools, instruments. And not just economically. They were treated as cultural instruments, too, as vehicles of social and attitudinal change, a means to challenge and morph the make-up of national societies, to challenge and morph the attitudes and values of largely indigenous, provincial working-class populaces, to dilute and stigmatise their sense of nationhood and, ultimately, their sense of national sovereignty. And, at the same time, the migrant was therefore a means to usher in the brave EU world, consisting of a transnational entity run by an oligarchic pool of national elites who had stumbled on a way to govern apart from the older national democratic structures.
Blair himself was central to the EU's use of immigration as a means to re-engineer society, turning it away from the nation state and towards the transnational EU. Between 1997 and 2010, New Labour oversaw the quadrupling of net migration from 48,000 people in 1997 to 198,000 by 2009. As Labour speechwriter Andrew Neather infamously put it in 2009, 'mass immigration was the way that the government was going to make the UK truly multicultural'. So spectacular was New Labour's achievement that UN migration chief Peter Sutherland went so far as to pay tribute to the UK's immigration policy, on the grounds that it undermined the 'homogeneity… of the people who inhabit [the UK]'.
When freedom of movement is instrumentalised in this way, it is never really free. It is always implicitly controlled. The pro-immigration posture of Blair and the EU was always potentially and latently anti freedom of movement. Which is why the charges of hypocrisy now being levelled at Blair by some Brexit supporters, who accuse him of unthinkingly opening the borders and creating this 'mess', miss the mark. Because while Blair certainly oversaw a huge increase in net migration, he and New Labour were also quite happy to restrict EU immigration as and when it was convenient and useful to do so. This happened in 2006, when the then Labour government not only banned low-skilled citizens from new EU member states Bulgaria and Romania from working in Britain, but even set about further stigmatising them with a leaked memo that read, 'free movement will encourage people from Bulgaria and Romania to come to the UK, some of whom may be drawn towards organised criminal activity'. EU migrants were supported by the likes of Blair, but only up to the point that their free movement was useful. At the point they undermined the government, antagonising too clearly those it still relied on to be elected, then migrants were abandoned, demonised and blocked.
This seems to have been forgotten by all those surprised at what looks like Blair's partial conversion to the other, Brexiteering side. But it shouldn't be. It shows that any apparent commitment to people's free movement on the part of pro-EU politicians was just that: an appearance. The real, substantial commitment has always been to the EU as a technocratic institution, a refuge from, and a challenge to, EU members' national publics. That commitment to the would-be status quo of the EU trumps everything, from democracy to the principle of free movement. Influential Remainers will stop at nothing, it seems, to maintain their privileges and status, even if that means trampling on the one thing – being pro-immigrant – that has lent their cause its specious moral lustre.
Tim Black is a spiked columnist.
Picture by: Getty Images.
To enquire about republishing spiked's content, a right to reply or to request a correction, please contact the managing editor, Viv Regan.