No, Köln fans aren't a 'disgrace'
At the Emirates, they brought the kind of passion the English game has lost.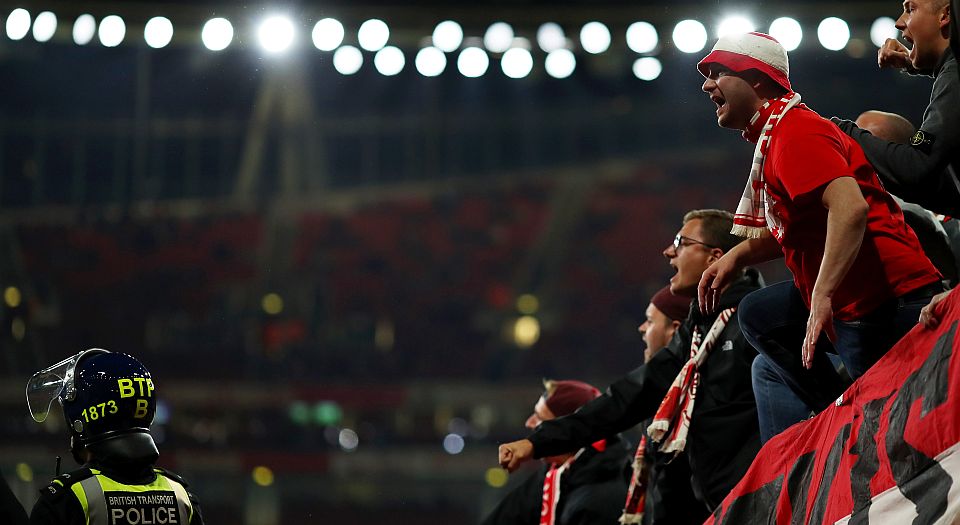 A strange thing happened at the Emirates last week. The normally hushed home of Arsenal FC was transformed into a cauldron of noise. It is what's known in the trade as 'atmosphere'. There was chanting, clapping, dancing and flares, courtesy of the massed ranks of visiting FC Köln supporters. The behaviour of the visiting fans has, however, divided opinion. There has been a mixture of praise for the vibrant atmosphere and frothing outrage over allegations that some away fans made Nazi salutes and urinated in doorways.
We thought that atmosphere was a thing of the past, a mythical phenomenon about which grizzled veterans of the old standing terraces fondly reminisce. Like wooden rattles, flat caps and leather balls, old-school atmosphere was presumed dead, the first casualty of the commercialised Premier League. In its place we have cheesy, ersatz atmosphere in the form of piped goal-celebration music, cardboard clappers and authorised 'singing sections'. Or else no atmosphere at all. Arsenal fans know all about the latter.
The English invented football, but those bloody Germans have not only culturally appropriated the game, they've sodding well perfected it. Much the same can be said of terrace culture. We fashioned it in the Sixties and exported it to Europe. And then we destroyed it. We gentrified our stadiums and made them 'family friendly'. No offensive chanting, no persistent standing, sit down, shut up. It's taken an invasion of 20,000 Köln fans to remind us what echt terrace culture is all about: being noisy, colourful and gloriously unruly. Whisper it, but the Germans now do atmosphere better than the English.
Our football stadiums may have been sanitised, but a deep-rooted fear of the mob still haunts the public imagination. While video footage of noisy Köln fans marching through central London went viral on social media, amazement and curiosity soon gave way to censorious harrumphing and finger-wagging as the German hordes, thousands of whom were ticketless, descended on genteel Islington. There were scuffles with stewards as a small group of fans kicked over crowd-control barriers and tried to force their way through the turnstiles. Eventually riot police were deployed to control the crowds and kick off was delayed by an hour. Inside the stadium the segregation of rival supporters completely broke down as thousands of Köln supporters, who'd bought tickets on the black market, appeared in the home sections.
The reaction to the chaotic scenes last Tuesday night was predictably shrill and disproportionate. 'These Cologne fans are a disgrace', tweeted ITV political editor Robert Peston. 'Nazi salutes. Peeing in doorsteps. My European solidarity being tested.' Peston's claim about Nazi salutes was not corroborated by any photographic or video footage, yet it was duly parroted by news agencies across the world. Invariably, lazy hacks reached for their stock football-violence cliches. 'It was a sorry throwback to the shameful spectre of football's hooligan days of the Eighties', thundered the Daily Mirror's John Cross. 'Violent yobs, drunken fans and a night of shame at the Emirates as 20,000 Cologne supporters went on the rampage.' The Daily Mail went into outrage overdrive. 'Five arrested at Arsenal after thousands of ticketless Cologne fans fight with riot police', screamed one report.
I think a good dose of perspective is needed here. This wasn't a riot. Nobody died. Thousands of fans did not fight with riot police. The only fact that the Daily Mail got right was that there were five arrests on the night. That's right, just five arrests. A tiny minority of Köln fans tried to force their way into the stadium and scuffled with stewards. But it would be stretching the definition to describe this as hooliganism. While Robert Peston imagined Sieg Heiling Nazis, other eye-witnesses were more measured. The Guardian's Barney Ronay described the disturbances as 'mild outbreaks of violence'. Football writer Andy Mitten observed that the violence involved a small group of around 50 'aggressive little arseholes'. Or to put it another way, 99 per cent of the visiting fans were well-behaved. But that kind of statistic doesn't really sell newspapers, does it?
Even the absence of segregation in the stands wasn't particularly catastrophic. There were no reports of fighting between rival fans. Ronay described the scene as 'fevered and edgy but largely peaceful as supporters intermingled in the stands'. One video posted on Twitter shows Arsenal and Köln fans trading chants inside the stadium concourse. There is no sign of hostility or tension – it's more Pitch Perfect than Football Factory. Arguably, the noise generated by the away supporters roused the normally sedate home fans to crank up the volume. Per Mertesacker, far from being horrified, positively relished the atmosphere. 'It was quite fun to play in front of two crowds battling each other, in a way', said the Arsenal defender. 'It felt good to be part of that.' Lukas Podolski, who has played for both clubs, also felt that the misbehaviour of a tiny minority was blown out of proportion. 'Fifty out of 20,000? Every Oktoberfest or other event is worse. Where is the outcry then?', said the former German international.
Were Arsenal fans intimidated by the Köln invasion? No doubt some felt unsafe. But those fears were unfounded. As Andy Mitten noted: 'The only aggression I saw was from an Arsenal fan screaming at a fellow Arsenal fan who did little but moan.' The relatively minor skirmishes between fans and stewards could have been averted if Arsenal hadn't given Köln a miserly allocation of 2,900 tickets. Alternatively, the club could have teamed up with Islington Council and shown the match on a large screen in Finsbury Park for those fans without tickets. The German authorities showed the way at the 2006 World Cup by setting up dedicated fan parks for ticketless supporters where they could eat, drink and watch televised games. It's not rocket science. It just requires a change in mindset. It means that we should stop seeing large numbers of football fans as a public-order problem and start treating them with civility and hospitality. A little more 'willkommen' and a little less 'move along now'.
Duleep Allirajah is spiked's sports columnist. Follow him on Twitter: @DuleepOffside
To enquire about republishing spiked's content, a right to reply or to request a correction, please contact the managing editor, Viv Regan.