Title IX: the sexual inquisition on campus
The campus rape panic is destroying due process and ruining lives.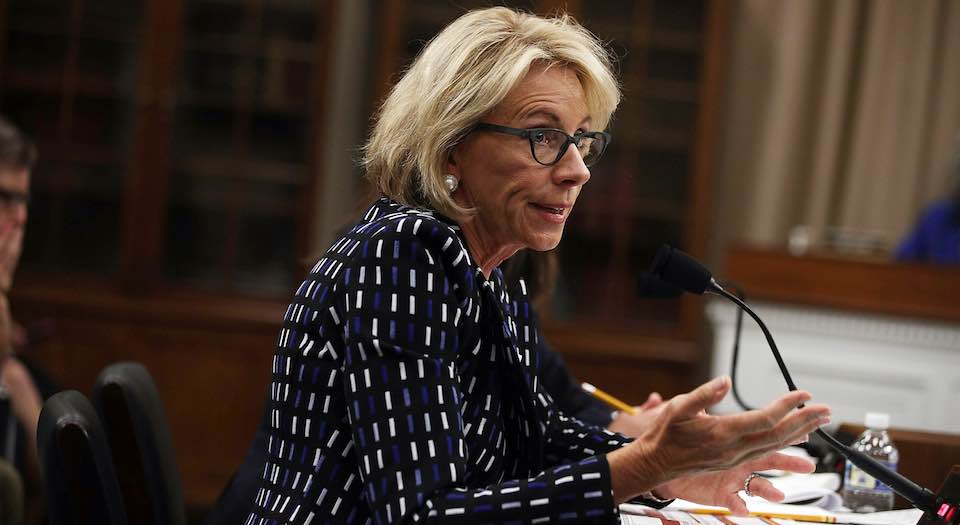 US education secretary Betsy DeVos has hit the headlines again for speaking out on Title IX, the controversial federal law that ensures gender equity in education. Last week, she promised to 'replace the current approach with a workable, effective, and fair system'. She is getting a lot of flak, especially from feminists, but her comments should be welcomed: it is common knowledge now that Title IX has become, at best, unworkable, and at worst subject to serious abuse.
When it was first passed, Title IX of the Education Amendments Act of 1972 stated that every educational programme which receives federal funding must give men and women equal opportunities. It was most effective in making sure women were not discriminated against when it came to sports scholarships. In its infancy, it was a mere 37 words.
But since 1972, it has been continually interpreted and stretched so that it now covers far more than making a legal defence against discrimination. It now serves to police students' private lives on campus, covering everything from misplaced jokes or comments to allegations of rape and physical assault.
The most stark example of this shift came with the Office for Civil Rights' 'Dear Colleague' letter in 2011. The OCR stated that sexual harassment 'includes unwelcome sexual advances, requests for sexual favours, and other verbal, non-verbal, or physical conduct of a sexual nature'. Translated, this meant Title IX could be used to prohibit 'unwelcome verbal conduct', which, as many have pointed out, could mean anything. In 2016, at the University of Texas at Arlington, a student faced a Title IX investigation after allegedly criticising another students' sexuality – the accused denied the incident even happened, and later committed suicide after he was found responsible.
An even bigger problem with the 'Dear Colleague' letter's additional stipulations for Title IX investigations is that universities are now required to work with a 'preponderance of evidence' standard, also known as '50 per cent and a feather'. This means that, rather than following due process, Title IX officers can begin their investigations on the assumption that an allegation is true. Even in complaints about rape and serious physical abuse.
One of the most jaw-dropping Title IX cases involved Matt Boermeester, a student at the University of Southern California, who was suspended after an onlooker accused him of abusing his girlfriend, Zoe Katz. Both Boermeester and Katz told investigators they were just 'playfully roughhousing' and they tried to get the investigation quashed. Katz described the mistreatment she suffered when she was summoned to give her testimony to Title IX investigators: 'I was stereotyped and was told I must be a "battered" woman.' Boermeester was later suspended and barred from entering campus. Because of the preponderance of evidence standard, Title IX investigators willingly ignored common sense, punished an innocent man, and put a young couple through a nightmare.
It should never be the job of a university to carry out investigations into serious allegations like rape and sexual assault – especially when cases are seldom clear-cut. The problem with asking college administrators to deal with quasi-criminal investigations is most clear when it comes to drunk sex. Many feminists and PC warriors now believe that even consensual drunk sex should be classed as rape. Former vice president Joe Biden, an open advocate of the expansion of Title IX's expansion, famously said: 'If a young woman is drunk, SHE CANNOT CONSENT… She cannot consent, and it's rape. It's rape. It's rape. It's rape.'
Anyone who's ever had a glass of dutch courage before a date will know how ludicrous, and insulting, this statement is. But the anti-drunk-sex theory is central to many Title IX cases. Take the case of two students at Occidental College in 2013. They had consensual sex while drunk one night. Both agreed at the time that it was consensual sex. Months later, the woman filed a Title IX complaint against the man, and he was expelled. Why? Because 'Occidental's sexual misconduct policy forbids students from having sexual contact with anyone who is "incapacitated" by drugs or alcohol'.
DeVos is right – we need to talk about Title IX. It has become the weapon of choice for those who want to peddle the idea that women are in need of protection. Using Title IX to cover 'verbal conduct', outlawing drunk sex and doing away with any notion of due process flies in the face of equality. Title IX was originally intended to be a short legal stipulation prohibiting discrimination. Now it is used to support the idea that women are more vulnerable, more endangered and less capable than men. The use and abuse of Title IX is becoming increasingly hysterical, notably in the case of professor and author Laura Kipnis, who was subject to a Title IX case simply for writing about another Title IX case.
At the same time, though, we need to recognise that while it's important to roll back the 'Dear Colleague' letter and review Title IX, that alone won't be the antidote for the panic around sexual harassment in education. The problem lies in a much deeper cultural trend on campus and in society, one which sees women as vulnerable and men as dangerous. The censorious use of Title IX by feminists is not new: in the 1980s, anti-porn feminists like Catharine MacKinnon encouraged the use of Title IX to police nasty words said to women. Title IX is a tool to pursue cultural prejudices and fears; it isn't the source of those prejudices and fears.
We need to get serious about busting the myth that university is a dangerous place, and instead champion the idea that women should be trusted to deal with private matters – even unpleasant ones – without the intervention of campus authorities. So yes, let's review Title IX. But unless we also tackle the broader, sadly feminism-fuelled view of women as damsels in distress, tinkering with Title IX won't change much at all.
To enquire about republishing spiked's content, a right to reply or to request a correction, please contact the managing editor, Viv Regan.