We voted for Brexit, not for BoJo or his bus
This Boris-bashing is another coded attack on supposedly gullible voters.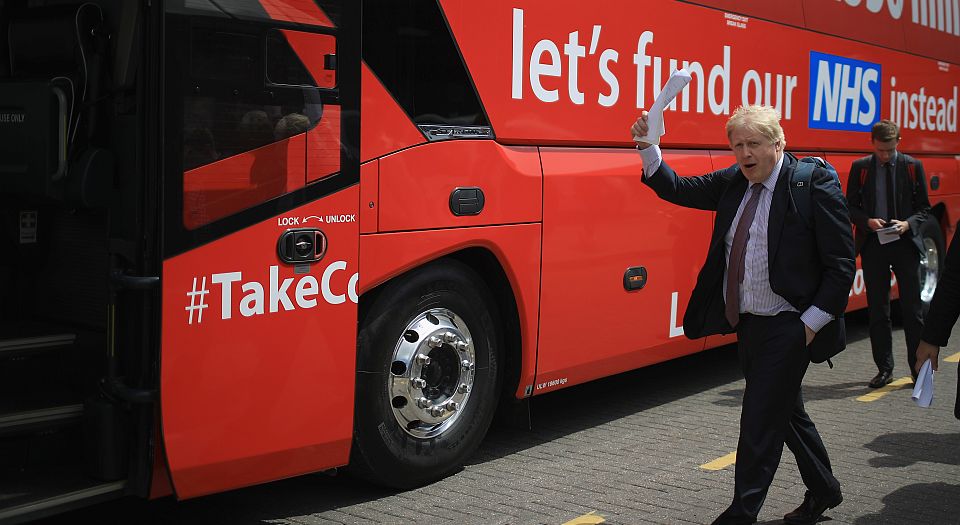 Boris Johnson is under heavy fire again over Brexit. Far be it from me to defend the buffoonish Tory foreign secretary. But much of the Boris-bashing is really a coded attack on the 17.4million Leave voters, who elite Remainers consider so thick that we were obviously duped by the 'Brexit lies' of BoJo and the Leave battle bus.
In a long article in the Sunday Telegraph setting out his Brexit agenda, Johnson wrote that, 'Once we have settled our accounts we will take back control of roughly £350million per week. It would be a fine thing, as many of us have pointed out, if a lot of that money went on the NHS.'
Cue outrage from Tory Remainers, opposition politicians and the media, led by the BBC, all protesting that Boris had repeated the central 'Brexit lie' – the controversial claim, plastered on the Leave campaign's big red bus, that 'We send the EU £350million a week – Let's fund our NHS instead'.
Their complaints were given the official seal of approval when Sir David Norgrove, head of the UK Statistics Authority, wrote a letter to Johnson – really a political statement tweeted to the media – expressing his distaste at the foreign secretary's 'clear misuse of official statistics'. Critics seized on this to insist that Tory prime minister Theresa May sack Johnson and repudiate his 'hard Brexit' line.
No doubt this controversy is fuelled by Tory infighting over Brexit and the parlous state of May's lame government. Those issues are widely expected to come to a head around the Conservative Party conference, after May makes a major speech on Brexit which is rumoured will propose new concessions to the EU.
But behind all that, the renewed attacks on Johnson and the Leave bus are really another thinly disguised assault on the electorate and democracy. The message is that millions of us were conned into voting Leave by the joker Boris and the magic number of £350million a week. Now that has officially been declared a 'misuse of official statistics', Remainers feel free to declare that Brexit was won on the basis of a lie, that the referendum result was effectively a fraud.
What better excuse could they want for demanding a second referendum, or even trying to overturn Brexit without bothering to ask the ignorant and gullible electorate again? Or at least demanding a 'soft Brexit' that would amount to Remain by another name.
The problem with this claim is that we did not vote Leave because of anything Boris Johnson said or a slogan daubed on the side of a bus. We did not vote Leave simply because somebody dangled £350million a week in front of us. It is a libel against British voters to suggest that they were somehow bribed into backing Leave by the false promise of a weekly fiver a head being spent on the NHS.
As an aside, we might note that the dispute between Boris and the UK Statistics Authority is an accountant's argument over whether he should have used gross or net figures when discussing how much extra money the UK government might have control of after leaving the EU. Critics insist that Johnson and the Leave campaign should have first deducted the UK's rebate from the EU, to arrive at a net figure closer to £270million.
Does anybody seriously believe the referendum result would have been different if that campaign bus had instead boasted that leaving the EU would 'only' give the government control of a net £270million a week? Imagine millions of voters saying, 'I don't get out of bed to vote Leave for less than an extra £350million a week!'.
Contrary to such ridiculous Remainer myths, the Leave vote was about far more than the economics of pounds and pence. It was primarily about the political principles of demanding greater democracy and sovereignty. It was a democratic revolt against the pro-EU political elites, whose contemptuous attitude towards the people was well illustrated by 'Project Fear' during the 2016 referendum campaign.
If anybody wants to see hysterical economic claims about the likely effects of Brexit, let them look back at how the Remain campaign tried to scare voters into doing as they were told like frightened children. In the run-up to the June referendum, the Treasury announced that a Leave vote would cause 'an immediate and powerful shock' to the UK economy. Just a week before the vote, Tory chancellor and arch Remainer George Osborne issued the extraordinary threat of an 'Emergency Brexit Budget' if we dared vote to leave the EU. Osborne's promised punishment of the people would include a two per cent rise in basic income tax, an extra five per cent tax on alcohol and petrol, a five per cent cut in funding for policing, transport and local government, and a two per cent cut in spending on health, education and defence.
If you seek a real 'misuse of official statistics' for political ends, look no further than the Tory Treasury's threat to manipulate actual government spending to thwart Brexit. If voters really had made their decision simply based on inflated economic promises and fearmongering, the Remain campaign would surely have won.
Instead, the majority of voters refused to be swayed by all that noise and made a rational decision to vote Leave for more democracy – even if it might mean greater economic instability, particularly in the short term. They were neither bribed nor bullied into making their choice.
Indeed, anybody with a memory longer than a goldfish would surely remember that we voted to quit the EU despite, rather than because of, the hapless official Leave campaign. Nobody took much notice of that disorganised and incoherent campaign. So ineffective was it that leading Leave campaigners went to bed on referendum night convinced that they had lost, and worrying only over the projected scale of the defeat. They were as shocked as the Remainers to discover, early on 24 June, that despite their worst efforts, Leave had won.
Surely nobody would have been more surprised than Boris Johnson. He was not a Leaver at heart, having never shown any anti-EU tendencies before; he even wrote an (unpublished) column arguing for Remain a few months before the referendum. Boris simply adopted the Leave campaign as a handy vehicle for personal advancement in the Tory Party, not expecting it to win. (This was a sort of reverse version of what Labour leader Jeremy Corbyn did, by shelving his longstanding anti-EU principles to back Remain for reasons of political expediency.)
Why would voters simply have swallowed what BoJo was saying about leaving the EU, when he evidently hardly believed it himself? Instead, away from the garish campaign headlines, people came quietly to their own decisions, and refused to kowtow to the orders of the political elite. It is that democratic revolt that has rankled with powerful Remainers ever since.
The current round of Boris-bashing can also be understood as the latest stage in the elite's anti-democratic revolt against Brexit. Leave aside the details of the spat about gross and net figures. The idea that the head of the UK Statistics Authority should lecture elected politicians about what they can and cannot legitimately say shows how authority in our allegedly democratic society is increasingly being invested in unelected and unaccountable 'experts' and technocrats. As Tory right-winger John Redwood observed of Sir John Norgrove's intervention, 'We're going to have an awful lot of letters if it's suddenly the case that every bit of homework by a leading politician has to be marked by the statistical people'.
Another symptom of that drift away from democracy was this week's proposal from the Electoral Commission to strip the right to vote from internet 'trolls' who abuse MPs online. A neat trick that would attack the fundamental liberties of free speech and democracy at a stroke, in line with the Orwellian vogue to deem some voters more equal than others.
Behind the fuss about Boris and the bus lies the same fear and loathing of the demos – the people – that has informed every anti-democrat since Plato. In his denunciation of Ancient Athenian democracy, the philosopher branded even the most respected politicians as little better than pastry chefs, since all they did was pander to the base appetites of the greedy, drooling masses. In the Platonic tradition, today's Remainer elitists might look upon the 'populist' Boris as a manipulative pastry chef – but the real target of their anti-democratic disgust remains the people who supposedly swallow his pies and lies.
Mick Hume is spiked's editor-at-large. His new book, Revolting! How the Establishment is Undermining Democracy – and What They're Afraid of, is published by William Collins. Buy it here.
Picture by: Getty
To enquire about republishing spiked's content, a right to reply or to request a correction, please contact the managing editor, Viv Regan.