What's the point of the Tories?
May's Conservative Party is now aping Labour policies.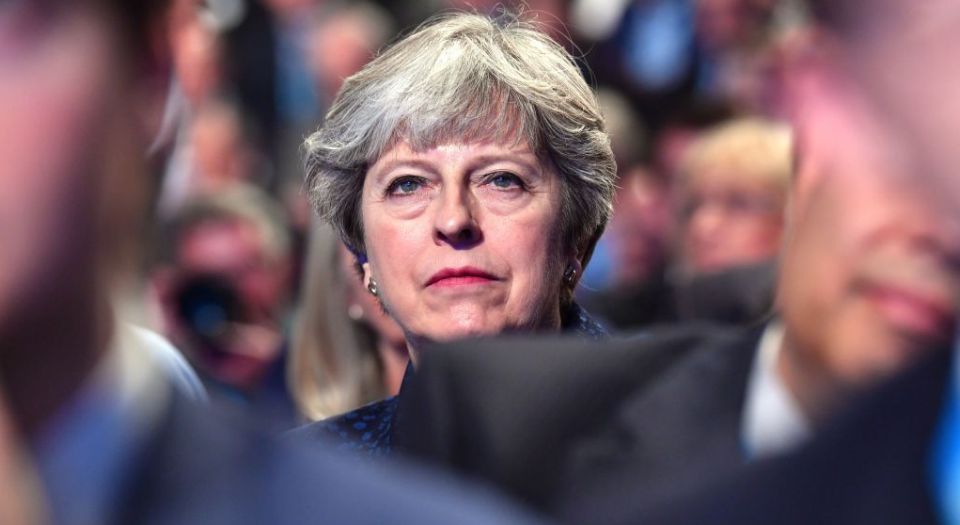 It's as if the Tories have actually bought into Labour's delusions of electoral victory. So while JC and the Moonshine Gang treated their booze-soaked Brighton conference as something akin to an FA Cup victory parade, complete with that travesty of a terrace chant, the Tories are now busy moping about in Manchester, acting as if they lost the election, rather than just their majority.
It's not just the downbeat mood of those Tory ministers who are not Boris Johnson that suggests defeat. It's also the desperate pre-conference policy announcements of prime minister Theresa May herself: a promise to freeze university tuition fees at £9,250; and a £10 billion housing plan to expand the Help to Buy loan scheme, coupled with tougher regulation of private landlords. In themselves, they're little more than transparent, cynical attempts to appeal to younger voters, largely through their pockets. But in a context in which Labour is also flashing the cash at the under-25s market, with its pledges to abolish tuition fees altogether, and transform social housing and end 'forced gentrification and social cleansing', it looks like something else: a desperate attempt to mirror Labour, as if Labour is the electoral success story here.
The Tories' sense of defeat, which radiates from May in every frazzled public appearance, is not confined to their Corbyn-lite policy poses. It seems to have eroded belief in what few articles of faith the modern Conservative Party, detoxified and detraditionalised, still has left. So although commentators on both ends of the political spectrum may have been working themselves up into a froth in response to Corbyn's confident assertions that capitalism's 'crisis of legitimacy' is an open invitation for state-led 'economic restructuring', May has been equally as critical. 'We do not believe in untrammelled free markets', she wrote in the Conservative Party's election manifesto, before adding, with an Owen Jones-esque flourish: 'We reject the cult of selfish individualism. We abhor social division, injustice, unfairness and inequality.' This weekend, May continued to doubt the legitimacy of capitalism, telling the BBC's Andrew Marr Show that 'the arguments that we thought we'd had and won during the 1980s about the importance of free-market economies – I think we thought there was a general consensus on that. And we now see that there wasn't.'
It's as if the Conservative Party no longer believes in itself. Or better still, it no longer knows what there is to believe in. No market-based economics; no law-and-order ideal; no sense of tradition. And it is this ideological lack and its accompaniment — complete political incoherence — that fuel the open, petty infighting we have witnessed over the past few months, with every over-promoted non-entity loyally lining up behind May, knife in hand. After all, who can blame them? In the modern Tory Party, there's nothing – no idea, no principle – to be loyal to, apart from one's own career. Hence the endless interventions from foreign secretary and leader-always-in-waiting Boris Johnson.
But this lack of a point is also why the Tory Party now acts, at some, almost subconscious level, as if it really did lose the election, as if very few actually voted for it. Because – and this is key – not knowing what it is, what its purpose is, the Tory Party therefore doesn't know what its voters voted for. It doesn't experience the admittedly limited electoral mandate it formally won as a mandate for itself to govern. It is authorised by the electorate, yes, but the problem remains: authorised to do what? So it looks to Labour, sees the certainty of its core supporters, the conviction that their time has come, hears the talk of their 'connection' with younger voters, and thinks: 'I want some of that.'
And, as a result, we now have this bizarre spectacle in which the party that won the General Election is in the position of envying the party that lost the General Election – envying its mood, its seeming momentum. And from there, it's but a small step not just to the policy appropriation we have seen over the past few weeks or so, but also to a broader adoption of Labour-ish rhetoric and attitudes. As up-and-coming Tory MP Robert Halfon put it last month: 'We need to claim back language from the left – words like social justice, redistribution and compassion, and do them in Conservative ways.'
The ease with which the Tories can ripoff Labour, join in with its criticism of 'untrammelled free markets' and acknowledge capitalism's 'crisis of legitimacy', doesn't just tell us of the Tories' existential crisis. It also tells us something of Labour, too, of how unradical and un-spicy Labour's reheated statist casserole really is. We are often told by Labour's tellingly middle-class, professional and public-sector fanbase that Corbyn's re-discovered recipes from the Seventies are revolutionary social programmes. And yet the Tories, as discombobulated as they are, would still surely not be willing to offer up pale imitations of Labour's red wedge if it were as hammered and sickeled as its champions claim? No, what the Tories see in Labour's socialisty hodge-podge is something like the new political centre ground, where the young-ish and middle class are now congregating, happy to virtue-signal their concern for the poor and the vulnerable, while capitalism continues in an increasingly state-managed-and-supported form.
But as the Tories move in this direction, as May, in search of something that feels like popular support, insists that she wants to focus on domestic issues, the Tories continue to move away from the concerns of the people they cynically courted in the run-up to the General Election: those who voted for Brexit. They appeared to try to be the party of Brexit, because they clearly, and opportunistically, believed it was a source of votes, of democratic authority. But May, chancellor of the exchequer Philip Hammond, and a raft of other senior, frontbench Tories, plus Scottish Tory leader Ruth Davidson, are Remainers in spirit, and, at best, reluctant Brexiteers in deed. Their hearts never were in the Brexit cause, despite seemingly, and initially, campaigning on a Brexit ticket. Yet, in doing precisely that, in claiming to represent a popular desire they themselves rejected, they sought a mandate for themselves that they never really wanted, and, worse still, only partially received. And it is this which has really thrown the Tories, providing them with a sense of defeat even in limited victory, a sense of being in government with little impetus to govern.
And so the Tories, in their own way, not only mirror Labour's very pale red policy offerings; they also mirror its continued estrangement from the vast swathes of the UK that rejected the worldview of the political establishment in June 2016. The new political centre ground – the mainstream, as Corbyn calls it – is also a refuge from the people.
Tim Black is a spiked columnist.
Picture by: Getty Images.
To enquire about republishing spiked's content, a right to reply or to request a correction, please contact the managing editor, Viv Regan.