Why is Richard Spencer a thing?
The panic over the alt-right has turned a loser into a threat.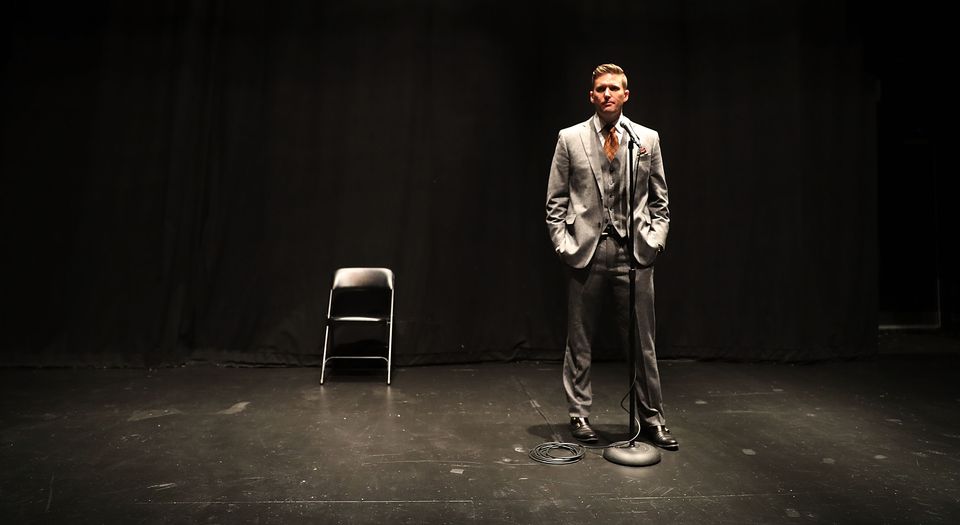 'Flattering.' That's what white identitarian sadsack Richard Spencer had to say about Florida governor Rick Scott's decision to declare a state of emergency ahead of Spencer's talk at the University of Florida yesterday. The move, which basically just allowed for more cops to flood the streets, left the alt-right leader feeling smug. He was on a par with 'hurricanes and invading armies and zombie apocalypses', he smirked.
The scene was insane. Police were wearing riot gear, and running airport-style security, which was so tight a veteran wasn't allowed entry because they feared his cane might be used as a weapon. The whole thing cost Florida $600,000. And for what? A 'few dozen' of his followers showed up, outnumbered by hundreds of demonstrators. Though Charlottesville was no doubt weighing on minds, this was a bizarre overreaction.
Watching the clips of Spencer's speech, you're reminded how manifestly unthreatening he is. Yes, there's his ugly, racialist rhetoric – he believes the US should become a white 'ethno state'. But it comes across as batty rather than scary. As the protesters chanted 'Black Lives Matter', he just kept calling them 'morons', sounding like an overgrown gamer chiding his online playmates.
His supporters, the fearsome army we're told he is quietly raising, were not up to much, either. Near the front were a gaggle of his fanboys, all in the alt-right uniform – short-back-and-sides, white shirt, khakis – which looks more Eastern European wine bar than Hitler Youth. The idea that the image of these racist dateless wonders surrounded by hundreds of protesters is a sign that the far-right is on the march in Trump's America is ridiculous.
But that's what we've been hearing for months. Not too long ago Spencer's primary propaganda tool was memes; now he gets wall-to-wall media coverage everywhere he goes. And yet the idea that alt-righters are about to storm the palace and bring about their longed-for white America is a fantasy. And the obsession with them, the constant media promotion, has in a sense willed the alt-right threat into being – it has made it more real than it was.
Trump's refusal to disavow his alt-right supporters – largely, it seems, because he's incapable of criticising anyone who likes him – has no doubt emboldened them. But the idea that Trumpism is like some sort of Nazi Trojan Horse is utterly unsustainable, and projects a dim view of Trump voters: white supremacy, ethno-nationalism and throwback Nazism are as ugly and alien to the vast majority of those in the Rust Belt as they are to those on the coasts.
The scenes in Charlottesville, where Spencer helped organise a white-supremacist march that turned violent, were certainly shocking. Seeing that many racists marching together is a rare sight these days – for decades far-right rallies could barely pull a few dozen. And the fact that it ended in the death of an anti-racist protester, after one alt-righter ploughed his car into the crowd, made it even more stomach-turning.
But it does nothing to downplay that tragedy to say that these new movements, this more visible white-supremacist activity, aren't really a threat. In the age of social-media organisation it makes perfect sense that the ragbag of old Klansmen, Nazis and these new geeky alt-right upstarts can better get their act together. What doesn't make sense is the desire to present them as anything other than what they really are: vile, marginal losers.
One of the most depressing things about Spencer's Florida speech was his attempts to make himself out as a free-speech martyr. Partly because it was so disingenuous. He's one in a long line of crackpots who thinks that saying 'Hey, I'm allowed to say this!' is some kind of defence. But it was more depressing because the protesters were playing right into his hands. The calls to ban him, the huge agitation against him, has only made him more powerful.
Just as Spencer should be free to spout his racialist drivel, so people should be free to protest against him, too. When you come across views that disgusting, it's hard not to. But you can't help but wonder whether leaving these alt-right loons to it, to Sieg Heil at each other in draughty, half-empty conference halls, to stop handing them a notoriety they don't deserve, might be a more fitting response.
Tom Slater is deputy editor of spiked and the coordinator of spiked US's Unsafe Space Tour.
To enquire about republishing spiked's content, a right to reply or to request a correction, please contact the managing editor, Viv Regan.