Genderfluidity is the latest fashion craze
Why being trans is all the rage among the young and the famous.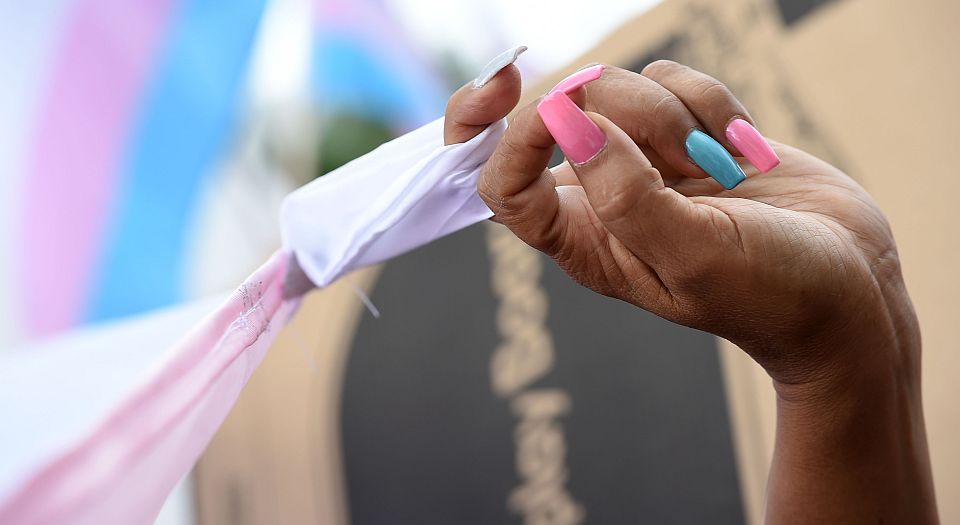 'I feel just as much woman as I am man.' So pronounced the singer Sam Smith at the weekend, invoking the now common doctrine of 'genderfluidity' – namely, that what sex or gender you are can be altered by mere performative utterance. Smith explained that he felt like a woman because he liked dressing up in women's clothes. 'I love a heel. I've got loads of heels at home… There was one moment in my life where I didn't own a piece of male clothing, really. I would wear full make-up every day in school, eyelashes, leggings with Dr Martens and huge fur coats.'
Is there anything more achingly fashionable today than announcing yourself genderfluid or transgender? That question answers itself. But more to the point, why do people feel the need to tell everybody about it, about their new identity? Sometimes it seems that the new transgender revolution is less about breaking down oppressive binary gender levels and more about showing off. To pronounce yourself 'genderfluid' today is less about breaking taboos and more a symptom of narcissistic neediness and deep insecurity. It all brings to mind David Schneider's character from The Day Today's 'The Bureau', declaring with wounded self-importance: 'I'm gay! I'm gay! I'm gay!'
It's no coincidence that the demographic for whom it's most fashionable to declare one's 'genderfluidity' are teenagers. Adolescence, after all, is the time of life when you are most insecure about yourself and most desperate to fit in.
Next come students and twentysomethings, who despite their ostensible braggadocio and confidence on political matters, are just as insecure in their new, scary adult world. Among their numbers you will find the most belligerent and vociferous supporters of the trans ideology and genderfluidity – much to the horror of feminists older than them, feminists who believe that being a woman is a real, biological experience, and not just something you become on a whim.
The insecurity of so many self-identified trans and genderfluid folk is exposed by their rhetoric of 'recognition' and demand to be acknowledged by society, or the demand to be addressed according to their new sex or gender using the correct pronoun. Wrongly call a 'he' a 'she' and you will be met with tearful tantrums and complaints of being 'hurt'. Such neediness is something to behold. No wonder those at the vanguard of the trans movement are popstars and the young (bless!). On the other hand, mature, confident grown-ups have a far greater immunity to this 21st-century transgender fad, with its absurd notion that you can become a woman just because you say so, or that men can give birth to babies.
---
Brexit was never about money
Michael Bloomberg has said that Britain voting for Brexit is 'the single stupidest thing' a country has ever done (beside America voting for Trump). 'We are opening a brand new European headquarters in London – two big, expensive buildings. Would I have done it if I knew they were going to drop out? I've had some thoughts that maybe I wouldn't have.'
Every week we read of dire prognostications about the financial fallout from Brexit, of how all the City of London companies are going to flee, of how the economy is going to suffer or tank in the long run. Despite the economic catastrophe the Remainers predicted failing to have materialised, the narrative remains the same: post-Brexit Britain is financially doomed.
It is a further symptom of the aloof remoteness of the hardcore Remain camp, in that they persist to frame their arguments in economic terms. They think the debate is all about money. This is why the philistine morons at the Financial Times harp on about 'London independence': they don't see a capital city where most people are proud to call themselves British or English – they see pound signs, investment opportunities and 'consumers'.
There's no point trying to scare Leave voters with ghoulish tales of penury. For the Leave vote never was about money: it was about national sovereignty. For some it was utmost about democracy. Do we want to run our country through elected MPs or be run by unelected moguls in an empire which we feared had no future? (Events in the Czech Republic this month and rumblings elsewhere in central and eastern Europe are vindicating this.)
Many people in poor areas in the north and southeast voted Brexit because they felt their communities had been splintered by an overabundance of immigration. Remainiacs are fond of saying today that 'they don't recognise the country they're living in anymore'. Well, this is precisely the complaint many Brexiteers living in poor areas made in the first place. For them, their quality of life and livelihood mattered far more than money.
There were deep anti-expert, anti-elite, anti-City of London undercurrents in the Leave vote. The more the hardcore Remainers in the financial world keep returning to the economic argument, the more they prove how out of touch they were and still are.
---
PC plod
The British police have for some years been regarded by most people as an unfunny joke, pursuing racism, homophobia and other thoughtcrimes at the expense of solving unglamorous day-to-day actual crimes that affect everyone regardless of ethnicity, gender or religious affiliation. Our constabularies seem to spend their time on Twitter warning the public not to say offensive things or else they will end up in the nick, adapting the exterior of their cars to display solidarity with the LGBT community, or, as we saw last week, wearing nail polish as part of an anti-slavery campaign. The Rozzers seem to have become the worst virtue-signallers in the land.
To be honest, I don't blame them. All of this is long, baleful result of the 1999 Macpherson Report, which has been the ruination of our police forces. Tarnished for being 'institutionally racist', the police have since been desperate to prove that they really aren't a bunch of racist yobbos. Because they are utterly terrified of being stigmatised like this again, they have swung violently in the opposite direction, propelling themselves into the heady arena of liberal virtue-signalling. It's this terror at the behest of the liberal-left which means that the police are often reluctant to check black youths for knives, or to investigate Islamic extremists or preachers who really are inciting violence with words of hate.
It's all very well to scoff at the police for their cowardice here, but post-Macpherson, if you were in their ranks, would you risk the career-death stigma of racism or Islamophobia? I think not.
Patrick West is a spiked columnist. His new book, Get Over Yourself: Nietzsche For Our Times, is published by Societas.
To enquire about republishing spiked's content, a right to reply or to request a correction, please contact the managing editor, Viv Regan.