Terror in New York: the cowardice of the elites
Too many observers provide cover for Islamist violence.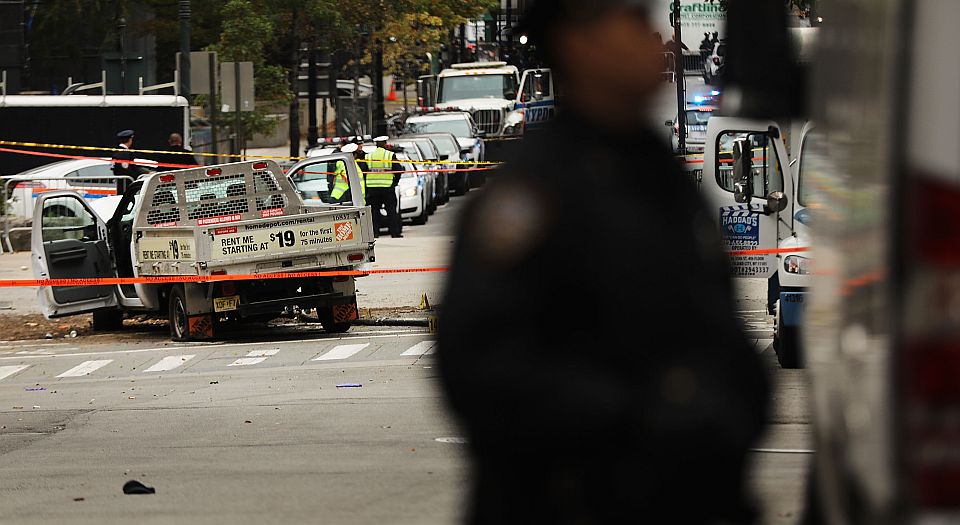 'The man that hates you hates the human race', wrote Brendan Behan, addressing America, his 'new-found land', from the Chelsea Hotel in New York in 1960. Yesterday, in lower Manhattan, a murderous Islamist showed just how true those words are. Manhattan, the steel-wrought emblem of 20th-century modernity, the roaring crossroads for all of humanity, was once again the sight of a barbaric terrorist attack. This was an expression of a worldview that wants to kill and maim not because it hates Godless decadence and consumerism or US domination, but because it hates the human race. Life itself.
The alleged attacker, Sayfullo Saipov, reportedly an Uzbek migrant, rented a truck in New Jersey. He drove to Lower Manhattan, mounted a crowded, tree-lined bike path along the Hudson and swerved to hit pedestrians and cyclists for 11 blocks, where he slammed into a school bus. He got out, wielding what turned out to be a pellet gun and a paintball gun, reportedly shouting 'Allahu Akbar', and was shot and arrested by police. The attack ended five blocks from where the Twin Towers once stood. Eight are dead. At least a dozen are injured. And local schoolchildren, breaking for the Halloween festivities, were left facing a very different kind of evening.
Among the platitudes that are uttered in the wake of these attacks, the claim that they are 'cowardly' is the most glaring. Indeed, that's what New York mayor Bill de Blasio said at a news conference yesterday, where he declared the attack 'a particularly cowardly act of terror aimed at innocent civilians'. But this barely does justice to what we're witnessing. There's nothing brave about ploughing a pick-up into defenceless cyclists. But it's the profound misanthropy that shines grimly through. These people hate us, hate freedom, hate humanity. And from London Bridge to Las Ramblas to Lower Manhattan, this nihilism is writ large.
The cowardice we need to concern ourselves with now is the cowardice of those who would only deflect from what has happened. The bodies were barely cold before commentators were fearmongering about Islamophobia. 'Muslim Americans should not fear retaliation today… just as my white American dad didn't after the brutal Las Vegas massacre', tweeted MSNBC's Stephanie Ruhle. The boneheaded debate about whether we only call it terrorism when it's a Muslim inflicting the carnage was reopened – casually ignoring the most basic dictionary definition of terrorism: that it is driven by ideology, by politics. It is the Islamist ideology that this whataboutery gives cover to.
For all the inevitable handwringing about the post-attack anti-Muslim bigotry, a wave of hate that never actually materialises, it is these people who are racialising the discussion. Almost no one, outside the moronic alt-right Twittersphere, blames these attacks on all Muslims. It is supposed liberals' gutless statements, dropping terror attacks in the same basket as lone-shooter carnage, that forces the debate into a tit-for-tat over white violence vs brown violence. And in the process, in these exchanges over what is and isn't terror, we depoliticise Islamist slaughter, and render politicians and the public incapable of grappling with it – lest their 'Islamophobia' get the best of them.
A month on from the Las Vegas shooting, speculation still rages as to why Stephen Paddock massacred 58 people and injured 546. No such uncertainty lingers after acts of Islamist terror, try as people might to ignore it. The choruses of 'why would someone do this?' ring on, even after notes, pledging allegiance to Islamic State, are found at the crime scene; even after online Islamist channels erupt in celebration. At present, the authorities are investigating the Manhattan attack as one 'inspired' rather than coordinated by ISIS. But the networked nature of modern jihadism doesn't change the fact that an ideology, an interpretation of a religion, drives it.
Violent Islamism needs to be confronted. Treating these attacks like natural disasters, or like another expression of some marginal people's murderous impulses, indistinguishable from that of a school shooter or a serial killer, disables us from grappling with it. Worse still, it betrays a moral cowardice among opinion-formers who don't want us to grapple with it, who are seemingly more scared of citizens getting angry about Islamist terror than Islamist terror itself. Meanwhile, politicians squabble among themselves. This morning, rather than show the leadership and conviction the nation needs, Trump got into a slanging match with Chuck Schumer over a decade-old immigration bill.
America, Manhattan, humanity, deserves so much better.
Tom Slater is deputy editor of spiked. Follow him on Twitter: @Tom_Slater_
Picture by: Getty
To enquire about republishing spiked's content, a right to reply or to request a correction, please contact the managing editor, Viv Regan.