This sex-pest witch-hunt is an abuse of politics
Michael Fallon's 'kneegate' is no Profumo scandal.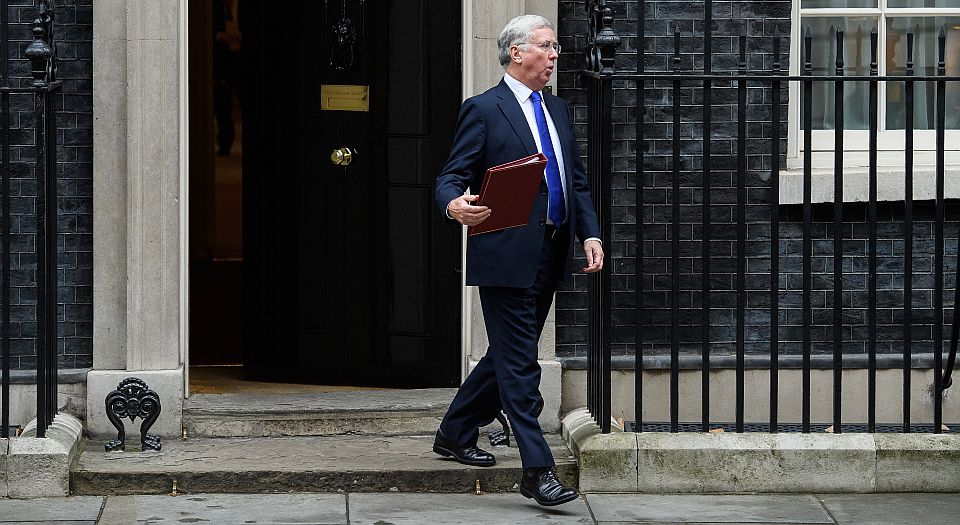 Westminster sex scandals ain't what they used to be. Tory defence secretary Michael Fallon has resigned over revelations of sexual misconduct – the first, but probably not last, major casualty of the growing furore about 'sex pests' in parliament.
Fallon apparently follows in the footsteps of his predecessor, John Profumo, who resigned as Tory secretary of state for war (what they called the job back when political language was slightly less Orwellian) over another sex scandal in 1963. But there the similarities end.
The Profumo Affair was a real political-sexual scandal that helped to bring down the Conservative government and usher in the 'Swinging Sixties'. The Tory war secretary was revealed to have had a full-on affair with model and 'party girl' Christine Keeler, who was also involved with a Soviet naval attache and alleged spy – an obvious security risk at the height of the Cold War. Worse still, Profumo lied about it in the House of Commons – a hanging offence for any cabinet minister.
By comparison, what offences has Fallon committed? Well, we now know that he put his hand on the knee of a journalist, Julia Hartley-Brewer, some 15 years ago. And that's it – that we know of so far. The admirable Hartley-Brewer insists that she was not in the slightest bit traumatised by the incident then or now, and that it was forgotten as soon as she threatened to punch Fallon's lights out and he apologised.
There has been no suggestion that a Russian spy was trying to squeeze her other knee at the same time. Moreover, far from lying about it in parliament, the fallen minister volunteered the full story of his shameful antics to the press almost before he was asked.
Mind you, there are also new rumours that Fallon may have been 'overly flirtatious' in more recent conversations with women. The horror, the horror. As made clear in his resignation letter to prime minister Theresa May, Fallon himself feels that 'in the past I have fallen below the high standards we require of the Armed Forces that I have been honoured to represent'. One can only try to imagine the post-traumatic stress disorder caused to battle-hardened British squaddies by the very idea of placing a hand on a lady's knee or flirting with females.
Yet these sexual non-events are now being talked about at high levels as final proof of a 'culture of sexual harassment' in Westminster, which could end in mass sackings of ministers and MPs and will lead to big changes in the rules about how politicians behave.
The real scandal here is that politics is now being reduced to a gossip contest to see which parliamentary party is sleazier than the other. Accusations and counter-accusations fly, making Westminster business sound like some sort of Victorian melodrama where a pack of evil Sir Jaspers pursue innocent parlour maids around the House.
As Joanna Williams argues elsewhere on spiked, the spread of the sex-pest hysteria to Westminster will do no good for women, men or gender relations. It can also only do harm to politics. The last thing the already debased and depoliticised world of Westminster needs is a new system of government-by-gossip-mongering, where politicians' alleged personal misdemeanours are deemed more important than their public, political blunders and betrayals.
What has happened to justify the feverish preoccupation with sexual abuse in politics? There has so far been one public allegation of rape, made by a Labour Party activist who claims she was attacked by a more senior Labour member (not an MP). We can surely agree with Mrs May that any such allegation of serious sexual assault is a matter to be investigated by the police rather than splashed across the media for trial by Twittersphere.
Meanwhile, back in parliament, attention focuses on the 'dirty dossier' of around 40 Tory MPs accused of sexual shenanigans. This shopping list of Tories some would like to see the back of seems about as reliable as the New Labour government's 'dodgy dossier' on Iraq.
Many of the cases apparently involve no allegations of wrongdoing at all, but simply list politicians involved in consensual relationships at Westminster, some with other MPs. Others repeat old and well-known stories, such as the one about May's deputy Damian Green's name reportedly being found on a 'cheating website' a couple of years ago. As one press report made clear below the lurid headlines, 'None of the 10 MPs who have been publicly named is accused of sexual harassment or abuse of any kind'. Dirty dossier? Some dirt; some 'dossier'…
Inevitably since the 'dirty dossier' went public others have come forward with allegations of sexual harassment by politicians. One Conservative activist in particular has grabbed headlines by claiming that Green touched her knee in a pub two years ago – 'I felt a fleeting hand against my knee – so brief, it was almost deniable' (he denies it) – and later texted to ask her for a drink, after she posed in a corset in The Times. Is the Westminster sergeant-at-arms supposed to kneecap MPs for such heinous offences?
That other veteran of political knee-touching, Hartley-Brewer, wrote in the Sun this week that parliament is 'much duller in real life' than talk of dirty dossiers might suggest. She observed that a loss of perspective has turned the sex-pest panic into 'a witch-hunt… a blood-sport, an opportunity to settle old scores and make political capital'.
Any political leader worth their salt would surely try to put the brakes on this runaway train and restore some sense of proportion to the discussion. Instead, Labour, the Tories and the rest of the Westminster parties have been vying to outdo one another in their zealous hunting of sex pests.
There are competing proposals for a crackdown with new committees and codes of conduct to govern how MPs talk and act with people. Andrea Leadsom MP, leader of the House of Commons, has declared a dreaded 'zero tolerance approach' to anything that anybody deems untoward anywhere in Westminster. As if there was not already a surfeit of priggishness in contemporary politics. Perhaps we will soon see parliamentary staff encouraged to wear the scarlet sash of the Junior Anti-Sex League from Orwell's Nineteen Eighty-Four.
The mixing of sex and politics has a long history. Others have recently observed how the cocktail of power, relationships, close-working, long hours and cocktails has often led to extra-professional relations. No doubt these things were more prevalent in the past – indeed it is probably a symptom of the feminisation of political and public life that the current allegations largely refer to past events, such as the 15-year-old 'kneegate' affair.
Past political heroes of both the left and the right had reputations for sexual antics and indiscretions. However, that rarely became the defining feature of their career – or caused the end of it. Both they and their critics had bigger things to worry and fight about.
Today, by contrast, it seems that the reputed sexual ethics of politicians are being treated as more important than their political actions. It marks a triumph of the slogan that 'the personal is political'. That began as a demand for 'women's issues' to be taken seriously in political life. It has now been degraded to mean instead that public debate should be reduced to focusing on petty personal matters such as whose hand might have 'fleetingly' touched whose knee, between typing allegedly 'off-colour' text messages.
The politicians now caught up in the 'Westminster sex-pest scandal' should indeed be held to account. But for their seriously backward political misdeeds, rather than alleged minor personal indiscretions. As defence secretary, Fallon defended the government's disastrous interventions in Libya and elsewhere. As first secretary of state (aka deputy prime minister), Green is one of the leading Tory Remainers seeking to undermine and derail Brexit. These politicians are screwing democracy, and fully deserve a political punch in the nose for their misdeeds.
Instead we are witnessing the pathetic spectacle of politicians flagellating themselves over 'overly flirtatious' chats, while continuing to grope around for ways to govern as they see fit. One current proposal is for MPs to be sent on a 'management course'. That seems the last thing this closed club of managerial, technocratic, democracy-dodging politicians needs.
Mick Hume is spiked's editor-at-large. His new book, Revolting! How the Establishment is Undermining Democracy – and What They're Afraid of, is published by William Collins. Buy it here.
Picture by: Getty
To enquire about republishing spiked's content, a right to reply or to request a correction, please contact the managing editor, Viv Regan.