'Russia did it!': a comforting delusion
The Democratic Party and elite Remainers can't admit that they lost.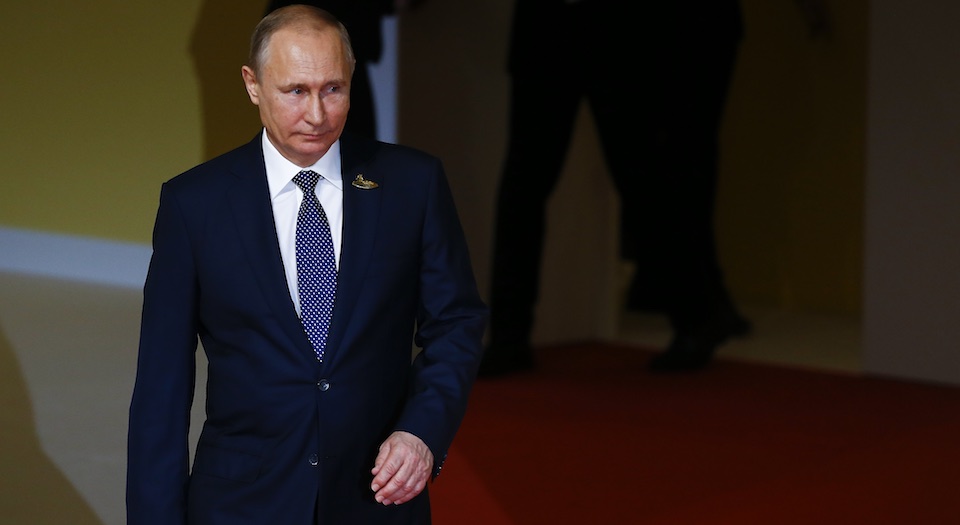 Ben Bradshaw, the Labour MP for Exeter, has had something on his mind since the EU referendum. Namely, a fear that Russia in some way played a role in persuading the 52 per cent to vote to leave the EU. Last week he raised the matter in the House of Commons, asking for a government investigation.
The alleged chain of causation is rather hard to discern. It seems to centre on Arron Banks' contributions to UKIP and the Leave campaign, totalling £9million. The main argument is that Banks is not as rich as he claims, and that therefore his donations may have come from some shady source – maybe Vladimir Putin. In an article for the Guardian, Mark Galeotti summed up what this argument hopes to achieve: that if enough people believe Kremlin gold was behind the Leave vote, they will demand the result be overturned.
In short, what American journalist Matt Taibbi has dubbed Putin Derangement Syndrome has arrived on our shores. Almost the entire American political and media establishment has decided that the best way to delegitimise Trump is by pushing the idea that he was installed by the Kremlin. There are those in Britain who think this is a good plan for derailing Brexit, too, even though the evidence is even more feeble. In any case, the whole 'our democracy has been taken over by a hostile foreign power' play is not working out so well on either side of the pond.
There still isn't any proof that Putin had anything to do with either Brexit or Trump. I've lost count of the number of 'here's the smoking gun' headlines claiming to blow open the whole Kremlin scheme. The articles, however, never provide any evidence. The latest smoking gun is the indictment of George Papadopoulos, who it is claimed had a meeting with an 'unnamed London-based professor' who claimed to have Russian government connections, and a 'female Russian national' introduced as a relative of Putin's. Like the meeting Rob Goldstone set up between Trump Jr and a Russian lawyer, this really doesn't seem to have been a high-level Kremlin operation.
Each time there is a huge 'revelation' it's often quietly debunked later on. For example, it was claimed that Russia had intervened in state electoral systems, such as Wisconsin's. When that was later disproved, it was quietly dropped. The infamous Steele Dossier (you remember: Trump cavorting in Moscow with prostitutes) was, it turns out, initially paid for by the Republican Party and then taken up by the Clinton campaign. Trump has always said these allegations were cooked up by Democrats, and this has more or less turned out to be the case.
The conspiracy-mongering has become pretty desperate. Some claimed that Russia tried to hack the French elections after Emmanuel Macron's emails were leaked during the campaign. But in an Associated Press interview, the head of French cyber security, Guillaume Poupard, said the En Marche hack was so generic it could have been done by anyone, and there was absolutely no evidence to suggest Russian involvement. Meanwhile, we had laughable headlines during the German election, along the lines of 'Where are the Russians?'.
The bar for what qualifies as interference seems to get lower and lower. Now the allegation is that during the US election, Kremlin-linked organisations flooded Facebook with $100,000 worth of ads. That's right, $100,000 worth of ads, many of which were released after the election, is what swung it for Trump against Clinton's $1.2 billion campaign. Then there's the handwringing about the role of Russia Today, which has around 30,000 American viewers. Oh yes, and the revelations that Russia was using Pokemon Go as a propaganda tool, and may have co-opted Black Lives Matter.
This hysteria needs to stop. Russia did not put Trump in the White House. Trump won because of a series of well-understood social trends, combined with the fact that the Democrats insisted on running with Hillary Clinton, a politician who even now is less popular than Trump. Worse still, the Democrats absolutely knew it at the time. And while Ben Bradshaw is entitled to be upset by the Brexit vote, the idea it was a Kremlin op is ridiculous. Does he really think that 75 per cent of people in Boston, Lincolnshire voted Leave because of Kremlin influence?
The claims about Russia taking over the West would be laughable if they didn't reveal a political crisis so profound, mad and frightening. The fact that the entire liberal establishment in America would rather say that Trump is a Manchurian candidate than actually think about why he won reveals a political class that would rather burn down the house than engage with citizens. Britain, Bradshaw and a few others aside, hasn't gone as far down this road. Let's hope it stays that way.
Tara McCormack is a lecturer in international politics at the University of Leicester. She is author of Critique, Security and Power: The Political Limits to Critical and Emancipatory Approaches to Security, published by Routledge. (Buy this book from Amazon(UK).)
Picture by: Getty
To enquire about republishing spiked's content, a right to reply or to request a correction, please contact the managing editor, Viv Regan.