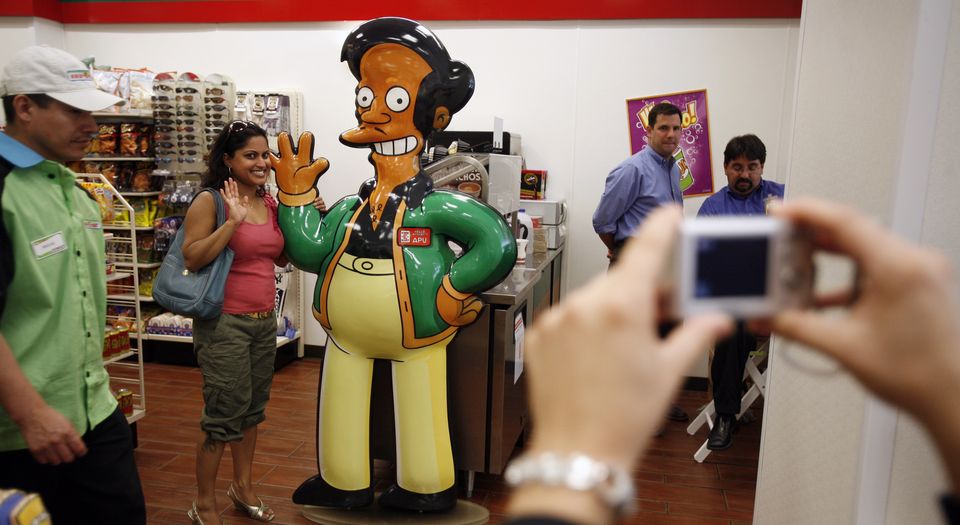 Another day, another claim that the entertainment industry is racist. The latest subject of attack is a character from The Simpsons. But who is the character causing offence? It's not the stereotypically dumb, fat, white, blue-collar worker, Homer Simpson, or the loveable rogue, Bart Simpson. Nor is it the many typecast Irish, Scottish, German and other ethnic characters in this 28-year-old comedy. No, the media has taken offence at the Indian shopkeeper, Apu Nahasapeemapetilon.
Apu is the subject of a forthcoming documentary made by Indian-American comedian Hari Kondabolu, called The Problem With Apu. Kondabolu, a successful comedian with a Masters degree in human rights, claims that when he was growing up in Queens, New York, kids would call him Apu and put on Indian accents. Kondabolu admits to being a fan of The Simpsons, and expresses a fondness for Apu. 'If you separate the impact of the character, and you just follow it, he's a funny character in terms of how he's one of the smarter characters', he says. 'The times when I watch it, within the context of the show, I can generally deal with it – until you hear a joke that you realise is basically a joke a bully would have made.'
Kondabolu places Apu within a wider context of brownface, blackface and minstrelsy in American popular media. Apu's Indian accent is fake, performed by white, American voice actor Hank Azaria – who also performs the voices of other characters like Moe Szyslak, Chief Wiggum, the Comic Book Guy and Carl Carlson. This 'minstrelsy' is deeply problematic for Kondabolu – for him, it's a white guy 'brownfacing'. This is, of course, ignoring the fact that Azaria's talent is in performing a culturally diverse range of voices for fictional characters.
I grew up in 1970s London in a working-class, Indian-origin household. My family would watch British comedies like Love Thy Neighbour, Mind Your Language and It Ain't Half Hot Mum. All of them featured crude stereotypes of foreigners as well as black and Asian people. But we loved watching them, with a plate of biryani on our laps, laughing uncontrollably. The Simpsons is a far more sophisticated comedy than the crude slapstick of my youth – and people of Indian origin born or living in America tend to be far more well-off than they are in the UK. So it's peculiar that a successful comedian feels so troubled by a fictional Indian shopkeeper.
Fighting racism through media representation is misguided, and only serves to stop writers creating characters outside of their own ethnic or racial backgrounds. Who wants a walking-on-eggshells approach to creativity? Besides, Apu is not the one-dimensional Indian stereotype that Kondabolu makes him out to be. Let's not forget that Apu graduated first in his class of seven million at the Calcutta Technical Institute, going on to earn his doctorate at the Springfield Heights Institute of Technology. He began working at the Kwik-E-Mart during graduate school to pay off his student loan, but stayed on because he enjoyed his job and the friends he made. He even had a No1 hit singing in a barbershop quartet. Apu is a successful immigrant businessman who loves America. Hats off to him.
Manick Govinda is head of artists' advisory services and a producer for Artsadmin and the visiting artists co-ordinator for the Manifesto Club's campaign against visa restrictions on non-EU artists. He is writing in a personal capacity.
To enquire about republishing spiked's content, a right to reply or to request a correction, please contact the managing editor, Viv Regan.