Why won't they just build more homes?
Why the housing crisis inspires lip service but no solutions.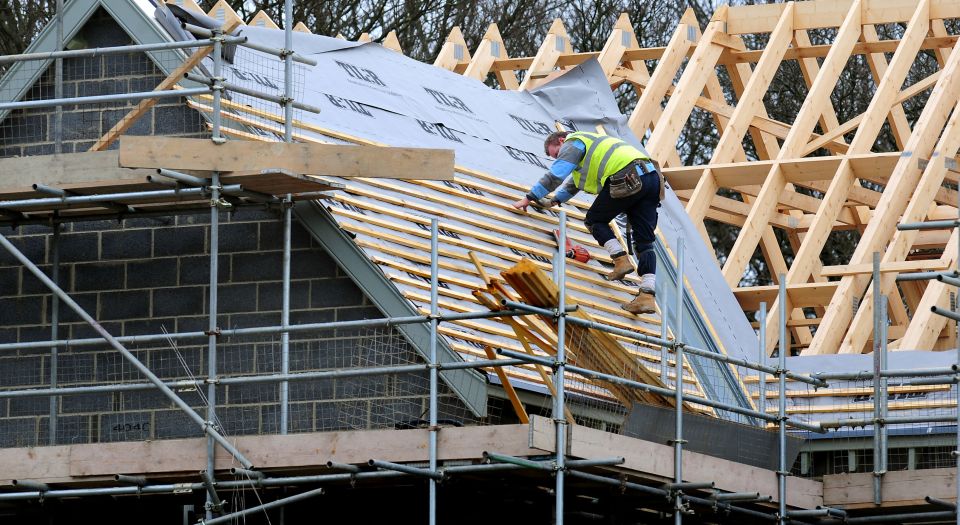 In 1995, Labour's then stripling leader Tony Blair did something of which subsequent politicians, both Labour and Tory, have made a habit: he dangled the prospect of a solution to the ever-present housing crisis in return for good PR. Or, as he put it at the time, he was going to spend the billions generated by the Tories' council-housing sell-off to build more housing and end 'the most telling obscenity of Tory Britain' – the plonking of the homeless in bed-and-breakfast accommodation, often in the UK's then delapidated coastal resorts.
Times (and holiday destinations) change, but the housing crisis, the outstripping of supply by demand, has consistently provided a stage on which politicians can demonstrate their virtue. So, in 2004, Labour's John Prescott, then deputy prime minister, promised to help young first-time buyers by building hundreds of thousands of £60,000 homes; in 2007, in one of Gordon Brown's first public forays as prime minister, the one-time clunking fist pledged to build three million homes by 2020; then, in 2011, with the Tories now ruling in coalition with the Lib Dems, housing minister Grant Shapps promised 150,000 new homes a year in addition to those already being built – a 'housebuilding revolution', he called it; and, again, in 2015, then chancellor George Osborne went even further and promised that a huge 400,000 new homes a year would be built.
Given the volume of promise and pledge over three decades, you would expect the UK to be awash with new housing. Or you would if the state had ever made good on its politicians' promises. But as attested to by the ever-bubbling housing market, inflated by limited provision and rising demand, the promised house-building boom never did come. In fact, house-building has been largely decreasing since its height in the late 1960s, when well over 300,000 new houses a year were being built. By 2001, under New Labour, fewer than 140,000 new houses a year were being built. It did climb to about 175,000 by 2007, but then, with the economic crisis of 2008, it plummeted to just over 100,000 for much of the early 2010s – the lowest rate since the 1920s – before the recent climb, under the Tories, up to 184,000 this year.
But even the recent rise is not nearly sufficient to meet current or future demand. As the National Audit Office put it in January this year: 'For housebuilding to match future need, it must increase in most parts of the country; this is particularly acute in London. Projections suggest that at least 227,000 new households will be formed each year between 2011 and 2021. This is substantially higher than the annual average of 166,000 extra homes in England over the last 10 years.'
Given the decades-long inability to fulfil pledges, to create enough homes for an ever-growing population, it is difficult not to treat the recent flurry of Tory promises to solve the housing crisis with cynicism. We've had communities secretary Sajid Javid announce 'we are willing to fight to get Britain building'; chancellor Philip Hammond talking of building 300,000 new houses a year; and, bizarrely, even the prime minister Theresa May saying she was going to take 'personal charge' of solving the housing crisis.
But the big question is why is it so difficult to provide as many homes as we, as a society, need?
It's not a problem of volume. As the NAO suggests, we need near enough 250,000 more homes a year – that's in total, taking into account the deterioration and demolition of current housing stock. That ought to be a more than achievable target, given that in the 1960s, when housing and construction technologies were far less developed, well over 300,000 new homes were still being created. And it's certainly not a problem of sheer space – nearly 90 per cent of land in England has not been built on.
It is also not a problem of a lack of social or council housing, as some of the more right-on commentaries contend. As a Times columnist points out, a fifth of all homes are already owned by councils or housing associations, which 'amounts to about four times as much social housing as they have in Germany and is considerably higher than in France, Denmark or Sweden' – nations, that is, that have rising populations, but neither suffer from an absurdly inflated housing market nor from high levels of homelessness. It's not that social housing is a problem; it's just that it's not the solution. (Indeed, it often seems that those who shout loudest about more council housing do not actually live in it themselves; they see it as something for those less fortunate than themselves, the poor, the vulnerable, those who, unlike their middle-class would-be protectors, need the state in their lives, directing them and making decisions for them.)
So, again, why is it that successive Tory and Labour governments have singularly failed to meet this most fundamental of human aspirations?
The answer lies in large part, as James Heartfield has argued on spiked, in the 1947 Town and Country Planning Act, which meant that in order to build on land, people didn't just need to own it, they needed planning permission, too. This immediate limit on housebuilding was compounded by 1950s Green Belt legislation, which blocked the expansion of Britain's cities and towns. What's striking, however, is that this raft of postwar planning legislation – and regulation – actually corresponded with the massive upsurge in home provision in England, Wales and Scotland. That's because while town-and-country-planning legislation limited the scope for private housebuilding, it simultaneously empowered the author of the legislation, namely, the state. So, to the extent that the postwar state, facing a war-ravaged landscape, had the will, authority and legitimacy to build more houses, to create whole New Towns, which it did throughout the height of the state-planned and nationalised 1950s, 1960s and early 1970s – Lord Reith called the New Town plans 'an essay in civilisation' – then the state-backed construction of new homes existed in conjunction with the regulatory limits on private home construction.
But the moment the state's will faltered, the moment its postwar ideological ambition to demolish slums and right wartime destruction lost impetus, the moment its conviction of the necessity and importance of housing people lessened, initially as economic growth itself faltered and flatlined, then houses stopped being built in any great number – because there was little leeway for them to be built in any great number.
That this will, which sustained the housing boom of the postwar years, has never returned is not down to economic downturns; it's down to the growing influence of the largely environmentalist ideologies that have flourished in the busting aftermath of the postwar boom, legitimising the absence of any real economic growth, and turning population growth and the demand for more housing into problems to be combatted rather than opportunities to be embraced. This is why repeated government promises to build new homes are now issued through green teeth, Gordon Brown's ill-fated eco-towns project being the most obvious.
What's more, the planning legislation that empowered the state during the postwar boom did not only become a brake on non-state construction; it also created the conditions for the inflation of property and land value. And in doing so, it laid the ground for a miserable alliance to emerge between a section of homeowners wanting to protect the value of their properties, and an increasingly influential environmentalist lobby wanting to protect nature. That is, it created a significant social obstacle, buttressed by environmentalist ideology, to the building of new houses. And it's an obstacle that successive governments have not only failed to overcome – they have also increasingly sided with and become part of the obstacle. They promise to meet the demand for new housing while, through planning laws, continuing to limit supply.
The solution to the housing crisis is as simple, then, as it is profoundly progressive: build more homes. Not a handful, but hundreds of thousands. Build as many as are necessary to meet people's aspirations. But to do so we need to make the case for our needs and desires trumping those of nature, which after all is as artificial and constructed as the Green Belt legislation which enshrined it. In doing this, we can make the case for relaxing planning legislation, because it ought to be for us, not against us; we can argue that falling property prices might actually be a good thing, because that is the way to make housing really affordable; and, then, at long last, we might be able to find the solution to the housing crisis to which successive governments have only paid lip service.
Tim Black is a columnist at spiked.
To enquire about republishing spiked's content, a right to reply or to request a correction, please contact the managing editor, Viv Regan.