Now Stop Funding Hate wants to ruin Christmas
These snobby censors want to punish both tabloids and their readers.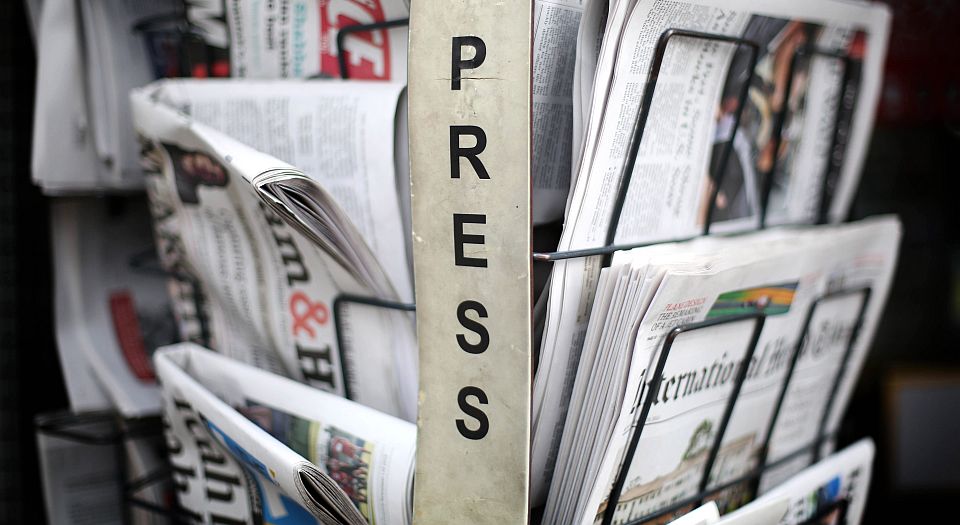 Who doesn't love the run-up to Christmas? The lights go up, carollers start bringing festive cheer to the streets, and shoppers are tempted by all manner of Christmas offers. Well, it turns out not everyone loves Christmas. In a kind of reverse version of the 12 days of Christmas, the Scrooges of the anti-press freedom campaign Stop Funding Hate are seeing how much they can take away from people this festive season.
They started with wrapping paper. Stationery chain Paperchase offered all Daily Mail readers two free rolls. But after numerous complaints on social media and pressure from Stop Funding Hate for working with the supposedly hatemongering Mail, Paperchase quickly issued a grovelling apology for its actions. 'We've listened to you about this weekend's newspaper promotion', it said. 'We now know we were wrong to do this.'
Next, Stop Funding Hate moved on to food, attacking Pizza Hut for a promotion in the Sun offering readers a free pizza. Once again, the company caved in; Pizza Hut apologised for 'any offence caused as a result of this partnership'.
Stop Funding Hate's Twitterfeed has daily updates naming and shaming companies that advertise with newspapers that SFH accuses of spreading hate, namely the Sun, the Daily Mail and the Daily Express. One supporter
tweeted a picture of Tesco's promotional offer with the Mail, offering 20 per cent off on gift cards. Tesco, Aldi and Argos are just some of the major retailers in the campaign's sights. So, with any luck, by the time Christmas comes around, it will not only have stopped tabloid readers from enjoying free wrapping paper and free pizza, but cheaper Christmas gifts, too.
Stop Funding Hate appeared on the scene last Christmas with its cringeworthy John Lewis-style Christmas advert, calling on big brands to boycott the Mail and Co. It repeated the exercise this year, with a new ad upping the cringe factor with a sad-looking dog.
In response to criticism of its censorious ways, it always claims it is a campaign for consumer choice. 'If you are affected by media hate, or concerned about media hate', reads its website, 'then you have the right to use your voice as a consumer to ask the companies you shop with not to advertise in newspapers that publish hateful, inflammatory and divisive stories'.
But Stop Funding Hate founder Richard Wilson let slip the campaign's real goal on Newsnight: 'I think the endpoint for us is a media that does the job that we all want it to do, that upholds the public interest, that treats people fairly.' He was immediately taken to task for this by The Sunday Times' Sarah Baxter, who called him out for arrogantly appointing himself arbiter of what Britain's media should be like.
Wilson and his supporters can dress up their censorious campaign however they like, but they are fooling no one. By targeting companies who advertise with certain newspapers, they are attempting to damage the finances of those papers, which could ultimately lead to their demise. This is a censorious attempt to shut down newspapers they disagree with – and an explicit attack on press freedom.
Influential supporters of the campaign have similarly appointed themselves judge and jury of what the British people should be allowed to read. Owen Jones called Paperchase's apology 'a victory for basic decency', before going on to explain why the Mail is so evil: 'When Theresa May announced her fateful snap election, the Daily Mail celebrated an opportunity to "Crush the saboteurs", demonstrating its utter intolerance of political dissent.' How ironic for Jones to criticise the Mail's supposed 'intolerance of political dissent', given his intolerance of the tabloid press.
The Daily Mail remains the widest-read newspaper in Britain, with 31.1million monthly readers across print and online. The Sun comes in second with 28.8million. Stop Funding Hate wants to censor what they consider to be offensive messages in the tabloids, and yet they have no qualms about the offensive message they are putting out to millions of tabloid readers. By labelling tabloids poisonous peddlers of hate, these campaigners are painting tabloid readers as brainwashed bigots who unquestioningly devour everything they read.
As Christmas draws ever nearer, Stop Funding Hate might win a few more victories. And each time, no doubt, it will claim it supports press freedom and is merely acting in support of consumer choice. Let's cut the bullshit, shall we? If you don't like a newspaper, don't buy it – that's consumer choice. Trying to cut off a newspaper's funding? That's called censorship. Don't let them trample press freedom, nor ruin your festive cheer.
To enquire about republishing spiked's content, a right to reply or to request a correction, please contact the managing editor, Viv Regan.