Al Franken: sacrificed to the #MeToo mob
The ousting of Franken shows how crazy #MeToo is becoming.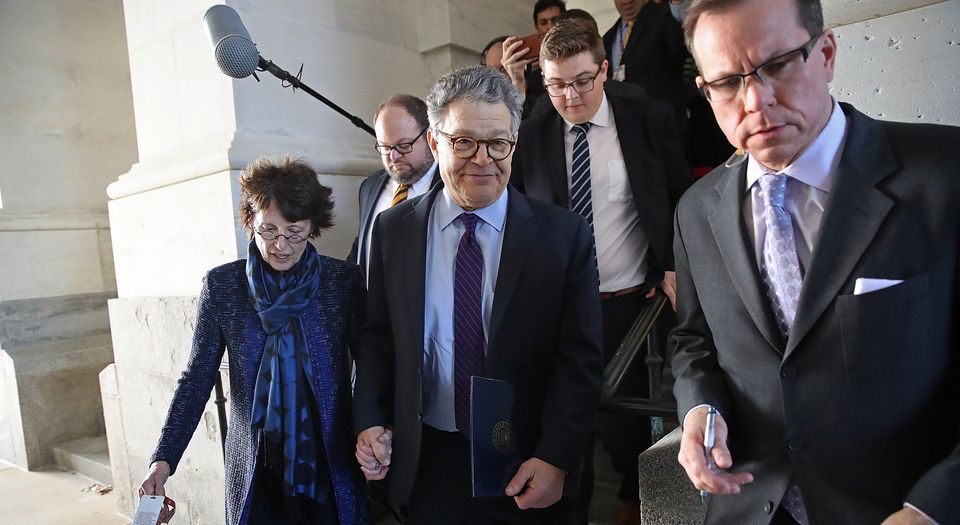 'I have earned a reputation as someone who respects the women I work alongside every day. I know there has been a very different picture of me painted over the last few weeks, but I know who I really am. Serving in the US Senate has been the great honour of my life. I know in my heart that nothing I have done as a senator – nothing – has brought dishonour on this institution. And I am confident that the ethics committee would agree. Nevertheless, today I am announcing that in the coming weeks I will be resigning as a member of the US Senate.'
These are the words of the now former Democratic senator for Minnesota, Al Franken, from his resignation speech last week. Franken has been accused of sexual harassment by several women – most notably the commentator Leeann Tweeden, who claims he 'forcibly kissed and groped her'. Tweeden's claim was partly in reference to a picture of Franken seemingly pretending to grope her breasts while she slept on a plane in 2006. Other women have since come forward, including army veteran Stephanie Kemplin, who claims Franken cupped her breast during a photo shoot, and Lindsay Menz, who says Franken 'grabbed her buttocks', also during a photo shoot.
Franken still denies that he has done anything wrong. 'I know who I really am', he said on the floor of the Senate. And yet, he has resigned. He has bowed to the #MeToo mob, even though he maintains his innocence, no doubt due to pressure from the media and his party. A man who hasn't been convicted of a crime, and who insists he did nothing wrong, has stepped down from public office because some people alleged that he 'inappropriately touched' them years ago. We can't let the strangeness of this escape us.
Franken's resignation reflects not only the frightening power of the the scalp-hungry #MeToo movement – it also confirms the Democrats' desire to pose as the holier-than-thou party on this issue. Writing in Slate, Mark Joseph Stern described the allegations against Franken as 'a test of the Democratic Party's consistency, honesty, and decency'. 'If Democrats wish to preserve whatever moral standing they have today', he said, 'they must exhort Franken to leave the Senate, with no hesitation or reservations'. And so they did – over 30 Democratic senators publicly stated that Franken should step down.
Franken isn't the only Democrat to fall on his sword. The 88-year-old congressman John Conyers Jr 'retired' from his position last month after allegations of sexual harassment were made against him by a former staffer. He also denies the allegations. Yet, like Franken, he politely stepped down. The party's 'purity' may play well with certain sections of the liberal press, but it tramples on a key liberal principle: due process. Franken was cooperating with the Senate ethics committee, which is investigating the allegations. But even this wasn't enough. He was edged out even before the investigation properly began.
This 'purity' is deeply cynical. Now that the Democrats have demonstrated their #MeToo credentials, they have set their sights on the alleged groper-in-chief, Donald Trump. Some commentators have praised the Democrats' decision to sacrifice two of their own because they think it now means they can go after Trump. The Democrats 'have the moral high ground', writes Joan Walsh in the Nation, 'now they need to use it'. 'Rejecting Al Franken is a political win for the Democrats', writes John Stoehr in Newsweek. Bernie Sanders tweeted smugly: 'We have a president who acknowledged on tape that he assaulted women. I would hope that he pays attention to what's going on and thinks about resigning.'
Politics is a dirty game, but this politicisation of sexual assualt is extremely low. Democrats are not only celebrating the public shaming of two innocent (until proven guilty) men – they're also boasting about being a party so intolerant that mere allegations are enough for representatives to lose their jobs. Pushing an elected politician out the door on the basis of 'he said, she said' isn't democratic. But this is the ugliness of #MeToo writ large: it has become a political weapon used by all sides. And right now, America's supposedly liberal party is trampling on hard-won liberal principles.
To enquire about republishing spiked's content, a right to reply or to request a correction, please contact the managing editor, Viv Regan.