Why don't the left want to leave the EU?
A few things radical Remainers have forgotten about progress.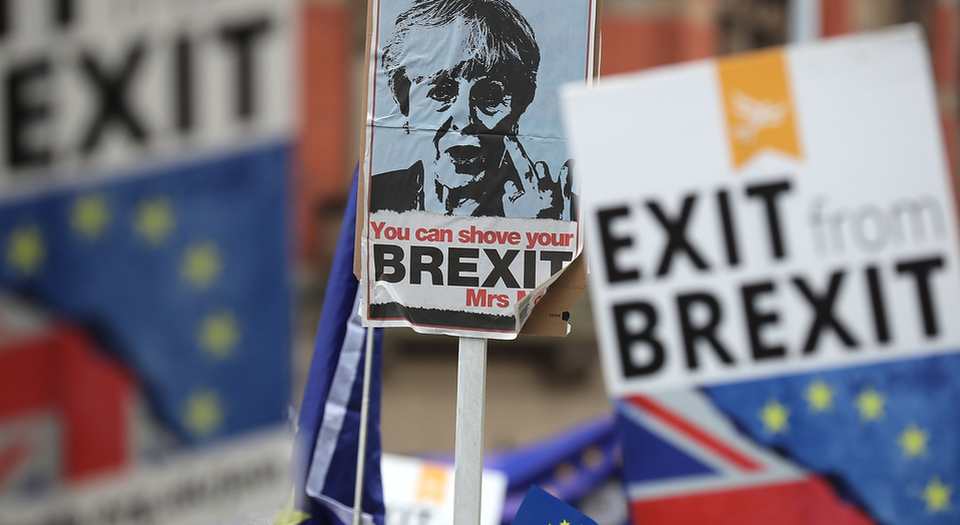 To the delight of left-leaning cheerleaders, Labour's two-faced Brexit mask has slipped, revealing the party leadership's support for 'Soft Brexit' – aka 'Not Brexit', or 'Remain By Another Name'.
Time to remind them that the desperate desire to remain attached to the EU is not radical or progressive. It is a sign of all that is illiberal, anti-democratic and, yes, conservative in politics today.
Here are a few things radical Remainers forgot, as to why there is nothing 'left' to cheer about the EU.
Democracy and power
The EU is not 'an ever-closer union of the peoples of Europe'. It is a private club of Europe's political elites, from which those peoples are excluded. The EU does its real business in an atmosphere of secrecy and public silence where the rooms are free of the air of democracy.
The unelected, unaccountable European Commission proposes and polices countless EU rules and regulations, practising what one former head called 'benign despotism'. It is informed by an army of civil servants from the Committee of Permanent Representatives – COREPER – whose proceedings are treated as supra-state secrets and who would not recognise a voter if one served their lunch at a Brussels restaurant.
The European Council, comprising elected governments of EU members, might appear democratic enough. But when our governments enter council meetings they undergo a strange transformation. They cease to be representatives of nation states, accountable to their electorates, and become 'member states' of the EU, which draw their authority from membership of the club and do binding deals behind closed doors which cannot be overturned back home.
Then there is the European Parliament – the barely living embodiment of a toothless talking shop which, unlike proper legislatures, does not elect a government, cannot propose legislation, and exists as tired democratic window dressing for the elite powers behind the curtain.
The EU is not only anti-democratic in the sense of unelected; it is anti-politics, too, removing important issues from national democratic debate and treating them as technical matters to be dealt with by technocrats in commissions and committees.
The Labour left's abandonment of its opposition to the anti-democratic EU (personified by Leave-poacher-turned-Remainer-gamekeeper Jeremy Corbyn) is symptomatic of the party's turn away from the British demos, the people, towards courting kratos – the powerful Euro-elites.
Borders and control
Left Remainers claim that the EU's 'open borders' policy is the progressive alternative to xenophobic, nationalist politics. That's one reason they back Labour's proposal to keep the UK effectively in the Single Market, in return for abiding by EU rules on the movement of people.
In fact, the EU is not just 'anti-nationalist' – it is anti-national democracy. Its policy on borders is about overriding elected governments and taking control at the centre.
If the EU is really anti-borders or pro-immigrant, why are all those would-be migrants drowning off the reinforced borders of Fortress Europe? No, when EC president Jean-Claude Juncker says 'borders are the worst invention ever made by politicians', he means only national borders, and the popular politics which go with them.
The EU's insistence on open borders is designed to usurp control from national democracies. That is what the Single Market debate is about, much more than simple economics. The attempt to impose open borders without permitting any debate on immigration was what helped stoke the 'populist backlash' – aka democratic revolt – across Europe, from which the left now recoils in horror. But if you want a liberal immigration policy, you must win a public argument for it. And that means first establishing national democratic control over borders.
Whatever our internationalist aspirations, the truth is that the nation state is the only effective arena for democratic politics yet discovered. Any progressive-sounding talk of no borders or global democracy can only mean the world being run by the UN Security Council, or Europe being reordered by order of the European Commission. Some progress.
Rights and liberties
Left Remainers insist that Euro-law is our best protector of rights and liberties. They want European courts to oversee the rights of EU citizens in the UK, and European human-rights rules enshrined even more deeply in British law.
But a glance at history would show that our liberties were not handed down like acts of charity by government ministers, commissioners or judges. They were fought for by the peoples of Britain and Europe as part of the struggle for greater democracy. That's how they will be defended and extended in the future.
Talk about the rights of EU citizens in the UK is really about the right of the European Court of Justice to intervene in and override UK law, with potentially disastrous and divisive effects. Our European neighbours in the UK – whom nobody wants to round up or deport – are being used as human shields to advance the powers of EU judges, cosmopolitan figures whom the left here now trust far more than they do those vulgar British proles.
European human-rights law has always been about granting power to elite judges in Europe and the UK to decide how much freedom we are fit to enjoy. Whatever 'taking back control' through Brexit means, it cannot be handing m'luds more authority to rule how free we all deserve to be.
Whatever happened to fighting for change?
Call me old-fashioned, but wasn't political progress about fighting for change, trying to transform society? Doesn't the very word 'radical' stem from the Latin for 'roots', implying an attempt to change things fundamentally from the bottom up?
Now we have a 'left' which is largely fighting to maintain the existing system, backing the establishment's campaign to keep the UK within the confines of the EU. They demand that the status quo must Remain, and denounce those who want to Leave for a different future.
What on Earth, or in Europe, is radical about that? The demand to Remain has become the focus for all that is small-c conservative in politics. The sort of uncertainty they fear around Brexit has been the midwife of every radical step forwards – as well as back – in political history.
It is not that left Remainers think things are great today – many are professional miserabilists. Rather, they have abandoned any faith in real change because they do not trust the demos and fear things can get worse if the masses are allowed a say in deciding their own destiny.
Mick Hume is spiked's editor-at-large. His new book, Revolting! How the Establishment is Undermining Democracy – and What They're Afraid of, is published by William Collins. Buy it here.
Picture by: Getty Images.
To enquire about republishing spiked's content, a right to reply or to request a correction, please contact the managing editor, Viv Regan.