The revealing hysteria over blue passports
Elite Remainers finally reveal how much they despise ordinary people.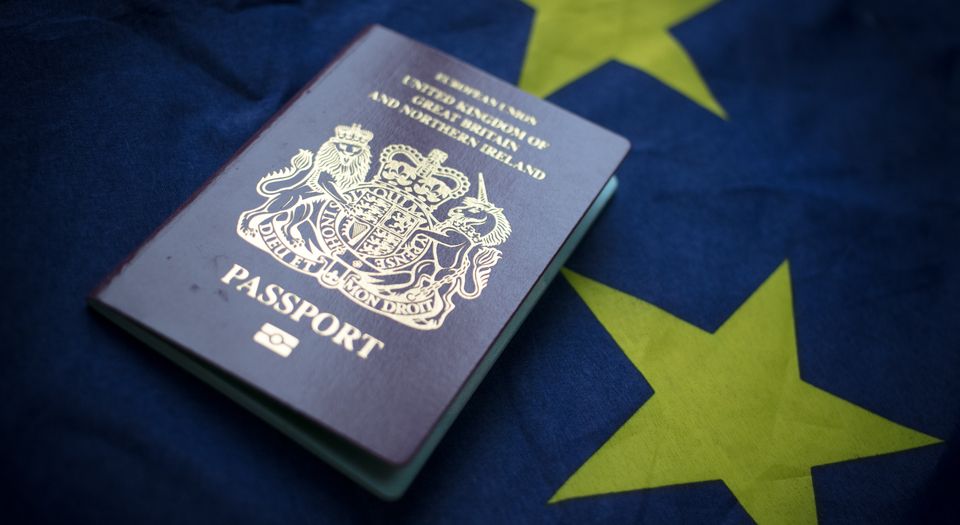 I am worried about Remainers. I am still politically opposed to them, of course, but now I'm concerned for them, too. Concerned for their mental wellbeing. Their emotional state. Their ability to maintain even the softest grip on reality. Consider their meltdown yesterday over the announcement that Britons' post-EU passports will be blue rather than burgundy. It was the most telling explosion of Remainer fury yet, beautifully capturing in tweets and tears and thinkpieces just how disgusted these people are with the throng that voted Brexit, and how dislocated they are from basic facts and sense. It was simultaneously terrifying and hilarious to behold.
No sooner had #BluePassport been announced – it is officially a hashtag now, and if you get bored over Christmas and need a shot of eggnog-spluttering mirth, I highly recommend browsing this hashtag – than Remainers were taking to the web to weep. 'NO NO NO', said David Miliband (echoing what Labour members said when he stood for the leadership). A comedian fantasised about a post-Brexit apocalyptic future in which people are 'huddled around a campfire' moaning about burgundy passports before one of them 'starts coughing up blood'. So for the sake of changing our passports – which is apparently the sole reason 17.4million people voted Leave – we'll all die in a Cormac McCarthy-style post-EU nightmare. My sides! Elsewhere, the blue passport was denounced as 'insane', 'fucking crazy', and evidence that 'uneducated idiotic Brexiteers' are on a 'mad nostalgia trip' back to a racist past. Lovely.
Big political hitters took the opportunity to shit on Brexit again. Alastair Campbell, Britain's Kissinger, said 'it is going to be so worth destroying the economy and our standing in the world for this', 'this' being blue passports. Three things, Mr Campbell: 1) Brexit won't destroy the economy. 2) Brexit isn't about the colour of our passports. And 3) the man who green-lighted the destruction of Iraq and 100,000 lives to shore up Tony Blair's shaky self-esteem is really not in a position to lecture anyone about doing destructive things for tiny pay-offs.
Nicola Sturgeon lost the plot, too, taking to Twitter to laugh at the fact that the blue passports might be made overseas. 'The blue passports might have to be imported LOL', she said, followed up with two cry-laughing emojis. What has happened to the political class? Anyway, the joke's on her, because for all the Brexit-fearing set's jaundiced view of Leavers as old white men who want to shut themselves off from humanity in a 1950s Britain made of PG Tips and royal-family crockery, in fact we've always wanted to reach out to the world, the whole world, the world beyond the sad, tragic, protectionist Little Europeanism of the Brussels machine that fears American politics and Chinese industry and African agriculture.
And of course the #BluePassport meltdown was replete with snooty digs at the uncultured hordes who voted Brexit. 'Half the pricks who voted for Brexit haven't even left their hometowns', tweeted one angry journalist. 'Weird that the people most happy about #bluepassport are the people who don't travel further than Bognor Regis', said another Twit. 'It's funny how the people who are glad they're getting their #bluepassport back are the ones who would never travel out of the UK anyway but their favourite food would be a curry', said one writer. Chortle chortle: the plebs who voted for Brexit are so pig-ignorant that they're clamouring for a new passport they won't even use, unlike us cosmopolitan educated people who summer in France and winter in Norway. There it was, in Technicolor, the thing elite Remainers normally try to hide: their deep hatred for the poor, the working class, the oiks who for some reason have the vote, the little people who like beach holidays in Britain (and might only be able to afford beach holidays in Britain). They view these people as trash, and hold them responsible for destroying Britain's future. That's actually not funny.
The Remainer elitists' degraded view of Brexiteers was summed up in their belief that we voted Leave just to change the colour of our passports. Some of them really think this. Mary Creagh, Labour MP for Wakefield, said it is not worth pursuing Brexit and 'crashing the economy' just to have blue passports. The people of Wakefield voted to leave the EU by 66 per cent to 34 per cent. Does Ms Creagh think those tens of thousands of people are all idiots who just wanted a different shade of travel document? The gap between Labour MPs and the Labour grassroots is gaping now.
Aside from the seething contempt for the uneducated masses, it was a hilarious spectacle: angry Remainers were taking to the web to say 'WHY DO YOU PEOPLE CARE SO MUCH ABOUT BLOODY PASSPORTS??' and in the process revealing that they care far more about passports than Leavers do! LOL, as Sturgeon would say. The blue passport exercised the anger of elite Remainers far more than it did the political passions of the average Leaver. They were moved by the blue passport more than Leavers were. So much so that they started to make things up. Many in the meltdown said officialdom would have to pay £500million for blue passports to satisfy the Brexit mob. A flat-out lie. That is how much passport production always costs, every five years, and the current five-year contract runs out soon. Talk about post-truth.
The blue passports hysteria has made one thing very clear: only certain identities are acceptable in modern Britain. To the extent that some people are happy to have a more traditional British passport – I'm not one of them, by the way: I don't care what colour my passport is just so long as it doesn't say EU on it – they are surely only expressing their identity, their national identity. And yet they have been excoriated by the kind of people who obsess myopically over their own identities. The kind of people who ostentatiously smother their Twitterfeeds or writing or political style with declarations of their sexual, racial, trans, non-binary or whatever identity now laugh uproariously at those who think a blue passport might be a nice expression of their identity. You may only have an identity the chattering class approves of, it seems. Which, again, is just beautiful, because that captures what the Brexit vote was really about – not getting blue passports, but defeating an elite that looks upon ordinary people and their identities with disgust, snark and hatred.
Brendan O'Neill is editor of spiked.
Picture by: Getty
To enquire about republishing spiked's content, a right to reply or to request a correction, please contact the managing editor, Viv Regan.