Kick these video refs out of football
Video Assisted Refereeing will be the death of the beautiful game.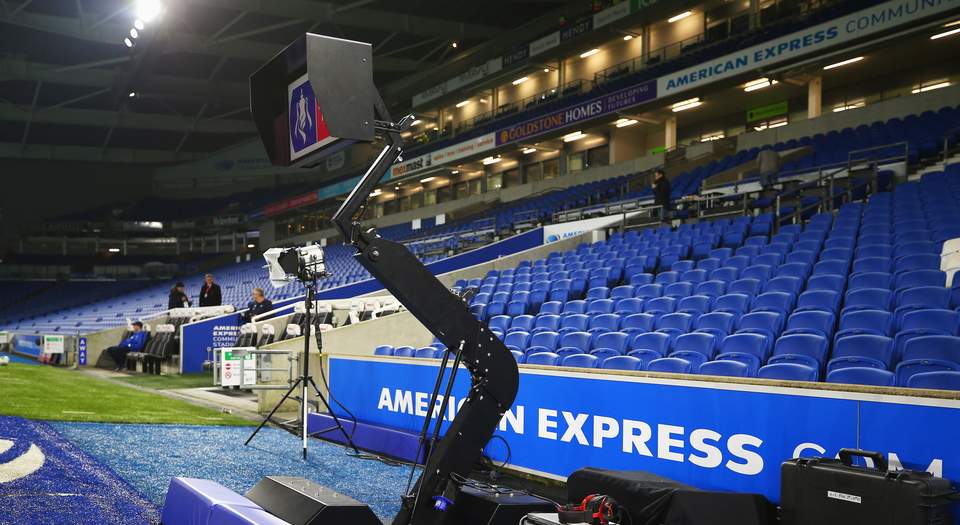 We've only had Video Assisted Refereeing (VAR) in English football for a few weeks. But I've already seen enough. The end of football has been nigh, according to the doom-mongers, for many years. But this time it's for real. Unless the inexorable march of VAR is halted, it will destroy football as we know and love it.
I was there when VAR was first deployed in England. Brighton vs Crystal Palace at the Amex Stadium on 8 January 2018. As history-making moments go, it was a thoroughly damp squib. There was a whiff of handball when Glenn Murray scored Brighton's winner and a minor commotion after Rio Ferdinand, in the BT Sport studio above us, appeared to gesture that the goal should have been ruled out. But, while TV viewers could scrutinise the slow-mo replays, no-one in the stadium really knew what was going on.
To be honest, most of the travelling fans weren't too bothered. The game didn't really matter that much. Both managers fielded weakened teams, the stadium was half-empty, and the last thing anyone wanted was a replay. The full horror of video replays didn't really dawn on me until I watched the first half of Liverpool's 4th Round FA Cup tie against West Bromwich Albion on Saturday night. Yes that's right, just the first half. I didn't bother with the second. The game had been ruined as a spectacle by VAR and, well, French cop drama Spiral was about to start on BBC Four.
It had all started so promisingly. With a flurry of goals in the first five minutes, this had the making of a classic full-blooded FA Cup tie. Until the dead hand of VAR intervened, that is. First, West Brom had a goal disallowed after video assistant Andre Marriner, holed up in mysterious bunker in Heathrow, spotted a very marginal offside. Then, five minutes later, Liverpool were awarded a penalty after another VAR review. This time play was stopped for nearly four minutes as both the video assistant and match referee Craig Pawson studied replays of the incident.
Here's the first problem with VAR. It cannot eliminate controversy. It's not like goal-line technology, which is a matter of objective fact. VAR is used to review decisions, such as fouls, handballs and offside calls, which inherently involve a big dollop of subjectivity. They're open to interpretation. Is a player in an offside position interfering with play? Was physical contact sufficient to cause a player to tumble? I've watched many replays of the penalty incident, in which Mo Salah threw himself theatrically to the ground, and I still haven't a clue whether he was fouled.
Proponents of VAR will argue that any technology that increases the number of correct decisions is a good thing. According to the International Football Association Board, the game's law-making body, VAR has been accurate in 98.9 per cent of decisions since its two-year trial began. But this is sporting drama, not precision engineering.
The most damning evidence against VAR from Saturday evening's game was how a succession of lengthy video review stoppages killed the flow of the game. Unlike tennis, cricket and rugby, all of which employ technology to review decisions, football isn't a stop-start game. Chris Foy, BT Sport's expert referee, insisted that the average video review takes two minutes. But a two-minute break, in the context of a football match, is an eternity. Every prolonged break disturbs the rhythm of play and stymies momentum. That's why teams trying to run down the clock feign injury, make late substitutions and commit niggly fouls: it prevents their opponents building up a head of steam.
If VAR is rolled out, it won't just disrupt the flow of the game: it will destroy the joy of celebrating a goal, too. When West Brom scored their third, the goal celebration, that giddy explosion of collective delirium, was utterly ruined. It was choked mid-roar. After a two-minute hiatus, during which Pawson fiddled with his earpiece, talked to the video assistant and waved bewildered players away, he signalled that the goal had been awarded. But the moment had gone. The ecstasy had drained away. There were muted cheers from the West Brom fans but it felt like a terrible anti-climax. A goal celebration in football is one of the most thrilling and joyous experiences mankind has ever invented. The cacophonous noise, the flailing limbs, grown men dancing, screaming and hugging each other: it's magical and orgasmic. And VAR kills it. Stone dead.
The advocates of VAR say these are just teething problems; that we're still learning how to use the technology. What matters, they tell us, is that more decisions are correct. Really? Is that why we fell in love with football? Is that why we invest so much financially and emotionally in this game? Correct decisions? The administrators and club owners might be in thrall to accuracy, but they've clearly forgotten what being a fan is all about.
Football is the most popular sport on the planet. It's been doing just fine for all these decades without VAR. Why? Because it dishes up exhilarating sporting drama. And human fallibility is integral to that drama. To err is to be human, said Alexander Pope. I'll drink to that. I don't care much for the robotic, anaesthetised spectacle of football purged of all refereeing mistakes. I don't want the game I adore punctured by constant video stoppages. The VAR experiment has gone far enough. It must be stopped before it kills football.
Duleep Allirajah is spiked's sports columnist. Follow him on Twitter: @DuleepOffside
Picture by: Getty Images.
To enquire about republishing spiked's content, a right to reply or to request a correction, please contact the managing editor, Viv Regan.