You can't measure the financial worth of knowledge
Politicians know the price of everything and the value of nothing.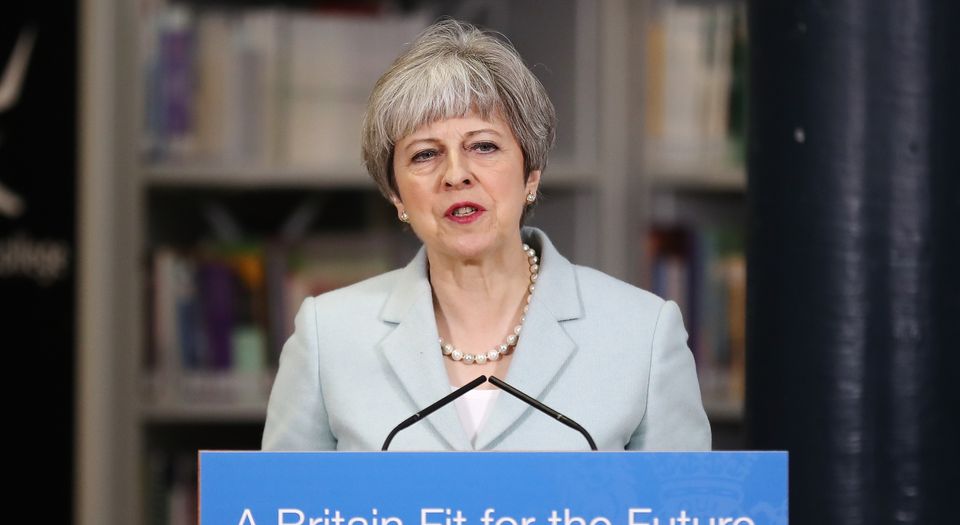 Brexit, the economy, national infrastructure, the NHS: there are, of course, many significant challenges facing the UK right now. But yesterday the prime minister ignored all of them. Instead, she spent the day discussing university tuition fees. How much 19-year-olds should pay to spend three years studying English at Warwick is no doubt very important to individual students and their families. But a full day of prime ministerial press conferences, This Morning sofa chats, and visits to Derby? Please.
Despite Theresa May's best efforts to appear alternately outraged and sympathetic, yesterday ended with no clearer idea of either what she thinks about university funding or what the government plans to do. We know she thinks the current system for funding higher education, where most students pay £9,250 in fees irrespective of where or what they study, is 'expensive' and 'the level of fees charged do not relate to the cost or quality of the course'. Surely she didn't need to go all the way to Derby to discover this?
May's statements of the obvious were a virtue-signalling cover for her lack of announcement. Unlike the Labour Party, the Conservatives have no plans to scrap fees. There are arguments to be had about the affordability and motivation behind Labour's proposals, but at least, on this issue if not others, it has a clear policy. All May had to announce was a year-long review. That's right: this tedious discussion about student fees is set to drift on and on.
There's no agreement about the price of attending university because there's no consensus about the value of higher education. The financial worth of a product that isn't a product, an investment that may or may not carry a return, an immeasurable, unquantifiable experience that may or may not be satisfactory, is impossible to determine. Tuition fees were trebled to £9,000 a year in 2012 and have since increased in line with inflation, yet this price bears no relation to either the cost or worth of higher education. But instead of discussing the purpose and value of universities, we have interminable discussions about the price of a degree.
In her speech yesterday, May asked us to imagine a working-class, state-school boy from Derby who wanted to be a lawyer but had the odds stacked against him in a higher-education system that favours privately educated pupils. This is debatable. Evidence suggests that working-class students with good A-level results are only slightly less likely to go on to university than their middle-class peers – the problem is not discriminatory universities, but rather that so few working-class kids do well enough at school to meet the entry requirements.
May's summoning up of a working-class state-school boy echoes the 1963 Robbins Report, which helped launch the postwar expansion of higher education. Robbins argued that 'the able boy from a small grammar school and a home with no tradition of higher education' should have as much right to higher education as the social elite. But the rhetorical echo makes today's lack of clarity about the role of universities all the more stark. Robbins outlined four clear motivations for higher education:
Instruction in skills for the advancement of individual careers and 'to solve many of our most pressing problems';
To promote the general powers of the mind;
The advancement of learning;
The transmission of a common culture.
Although Robbins wanted higher education to become more socially diverse, it would continue to be concerned with knowledge, learning and culture as ends in themselves.
Today, by contrast, higher education has no such clarity of purpose. Few have the confidence to identify, let alone transmit, a common culture. The advancement of learning and promoting the general powers of the mind are no longer seen as sufficient aims in themselves. In the absence of an intrinsic intellectual purpose, higher education searches in vain for a justification. Successive policy reviews have latched on to individual employability, future graduate salaries, social mobility, and global citizenship as the aims of a university. May's critics push 'the social benefits of an educated population'. However, they do not mean learning for its own sake; they mean the political project of social inclusion. Some go so far as to argue for 'social quotas' for every university. This would complete the transformation of higher education into a politically correct finishing school, a place where working-class and upper-class young adults are made to rub shoulders until each has sufficiently imbibed proscribed values.
Today's universities offer students three years in between finishing school and starting work. They will hopefully read a few books and learn something new. But learning is not as measurable as certificates, satisfaction and future earnings. And if it can't be measured, it can't, it seems, be valued. Ensuring the marketisation of higher education has become so important because it is the only mechanism politicians are able to conceive of for determining value. As the then higher-education minister David Willetts argued in 2013, 'unleashing the forces of consumerism is the best single way we've got of restoring high academic standards'. For this reason, May cannot contemplate scrapping fees.
Over the course of the next year we will no doubt have many policymakers trying to determine how much university costs and how much it is worth before moving on to ask who pays. But this is entirely the wrong place to begin. Instead of focusing on price we need to think about the value of higher education. And that means asking what a university is for.
Joanna Williams is education editor at spiked. Her new book, Women vs Feminism: Why We All Need Liberating from the Gender Wars, is out now.
To enquire about republishing spiked's content, a right to reply or to request a correction, please contact the managing editor, Viv Regan.