Australia's neo-Victorian 'bonking ban'
The PM seems to think women need to be protected from consensual affairs.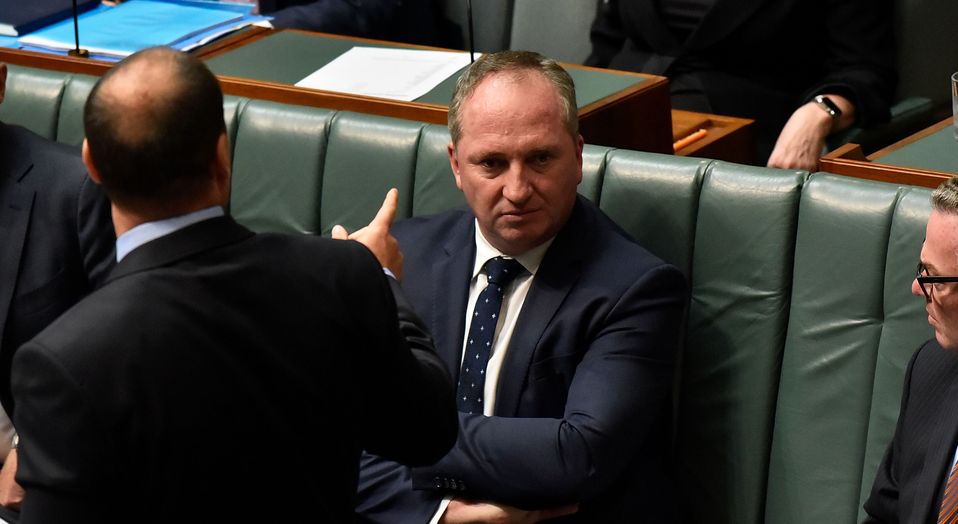 The Pestminster moral panic that last year swept British politics seems to have reached Australia, with the priggish PM Malcolm Turnbull issuing a 'bonking ban' between ministers and political staff.
Turnbull claims the change is needed to root out 'serious cultural issues' in Australian politics and ensure parliament is a 'respectful workplace' for women. This follows revelations that his deputy, Barnaby Joyce, had deserted his family after impregnating his media adviser, 20 years his junior.
But contrary to Turnbull's grandstanding, the bonking ban is a Victorian throwback to a time when society didn't trust men and women to make their own choices.
Indeed, the idea that policing consensual sex advances the position of women in the workplace hinges on the most cynical stereotypes about both the sexes.
On one hand, it implies men are so beholden to their primal urges they need to be held back from salivating over their secretary's shoulder. Even worse, it presumes that women are too fragile and persuadable to be trusted with control of their own sex lives and ought to be kept under the watchful eye of someone who knows better.
The handling of Joyce's affair is emblematic of a broader trend towards rewriting consensual sex as misconduct after the fact, based on a perceived risk of exploitation borne out of a power imbalance between the sexes.
As Andrew Sullivan recently wrote in New York magazine, feminism in the era of #MeToo has fallen into thinking 'a bad date is just one end of a patriarchal curve that ends with rape. And that's why left-feminists are not just interested in exposing workplace abuse or punishing sex crimes, but in policing even consensual sex for any hint of patriarchy's omnipresent threat.'
This loose logic was on fine display in the wake of the Joyce affair, when a leading workplace discrimination lawyer took to ABC radio to champion the bonking ban, claiming it would help 'nip harassment in the bud'.
Paranoia about ordinary sexual behaviour is becoming a disturbingly common feature of Australian life. Last year, the Australian Football League sacked two of its senior executives over revelations they had conducted extramarital affairs with younger female staff members. Despite no suggestion that either affair was anything other than consensual, the men were publicly upbraided and sacked, while the women – one a solicitor, the other a senior manager – were lionised by certain quarters of the Australian media as victims.
The #MeToo moment is no longer about tackling sexual harassment. It's about dragging sexual morality back into the public square at the expense of liberty and personal autonomy. And, putting the paternalism to one side, the claim that in workplace trysts men are villains and women are victims fails to stand up to the most basic scrutiny.
Indeed, the Joyce sex scandal is perhaps the least convincing example imaginable of unequal power dynamics blurring the boundary between consent and coercion. At the time of the affair, Joyce's lover, Vikki Campion, had risen to the rank of chief media adviser to the deputy prime minister, after a career as an accomplished journalist.
Joyce and Campion now share a home, have been on multiple holidays together, and are openly together. And this is hardly unusual; work is the most common place for people over the age of 30 to meet their spouse. Yet under Turnbull's bonking ban, such relationships are automatically cast as suspect and the participants vulnerable to censure.
None of this is to say that politicians like Joyce should be shielded from the consequences of their actions. The point is that elected officials shouldn't be answerable to bureaucratic diktat for behaviour that is not just legal but entirely normal. Rather, their deeds and misdeeds should be judged by the voting public.
Barnaby Joyce has styled himself as a flag-bearer for family values and regional Australia. During Australia's same-sex marriage plebiscite last year, he spoke passionately about his desire for his four daughters to find a loving relationship and get married, adding that he didn't want any legislators to 'take that right away' from them.
With it now known that at the time Joyce made this plea he'd been pursuing another woman behind his wife's back, voters are well within their rights to mark down Joyce's credit as a conviction politician. But it's not the government's job to police politicians' private lives, nor is it the government's job to patronise women in the name of protecting them.
John Slater is a spiked intern.
To enquire about republishing spiked's content, a right to reply or to request a correction, please contact the managing editor, Viv Regan.