Sorry, Stormzy, but you've become boring
The grime artist is now a Guardian editorial made flesh.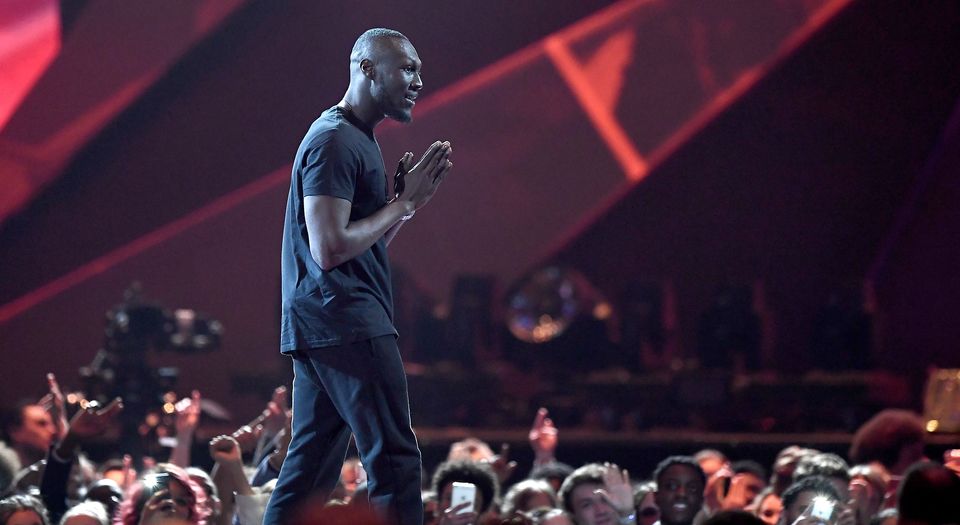 Here's a tip for grime artists: if you find yourself being cheered by the Guardian – surely the squarest, whitest, most privately educated publication on this island – you're doing something wrong. Yes, Stormzy, that includes you. That the Guardian has published an actual leader piece hailing you as 'revolutionary' and 'inspirational' should give you pause for thought. It means either that these plummy columnists who only go to Peckham when a new artisan pizza restaurant opens there have suddenly turned street, or that you are turning chattering-class. I'm going to take a wild guess and say it's the latter.
What has happened to Stormzy in recent months has been quite tragic. He has been co-opted by the liberal establishment. He's been made into a mouthpiece for their every dull, victim-politics platitude. Music-press types, being the kind of people who think being anti-capitalist means owning Naomi Klein books (never bought via Amazon, of course) and insisting on staying in a tent at Glastonbury even though you can afford one of their wanky five-star teepees, think artists only sell out when they go to a big record company or give an interview to the Daily Mail. But there are other ways to sell out. And if turning from a grime artist known for his diss tracks into a media hero whose every utterance wins excitable praise from Labour MPs, Fleet Street's double-barrelled bores, literally the entire Twitterati and Radio bloody One isn't selling out, I don't know what is.
Stormzy now says everything young people are expected to say if they want to be accepted as 'good' by the cultural elite. Talks openly about his mental-health struggles? Check. Hates the Tories? Check. Thinks the Daily Mail is evil? Check. Pushes an ahistorical, moralistic view of the Grenfell disaster as being the consequence of Tory evil, as if Labour hadn't been in power for 13 of the past 25 years and hadn't spent much of that time treating council-house tenants as 'anti-social' scum and failing to build the millions of new homes Britain needs? Check, check, check. Stormzy is a Guardian column made flesh, a Buzzfeed tweet with bars. I predict in the future he will work with Prince Harry and Duchess Meghan to promote mental-health awareness among the young and eventually he'll get an OBE and the Daily Mail will publish a piece headlined 'Now he really is too big for his boots' and there will be a month-long Twitterstorm about tabloid racism and we'll all just have to kill ourselves.
None of this is radical or deserves the title of 'protest music'. Talking about your mental health is virtually mandatory now. It's those who refuse to do it who are treated as freaks and losers. Moralising the Grenfell calamity is utterly mainstream. Witness how it has become tragedy porn for Oxford-educated Corbynistas who have never set foot in social housing but are pretty sure everyone else should live in it. Stormzy's Theresa May-bashing BRITs performance last week, the occasion of the latest outpouring of chattering-class love for him, was only a throbbing, musical iteration of the apolitical reduction of Grenfell to easy anti-Tory moralism, which is designed to help the Corbyn project, not the poor of west London.
As to disliking the Daily Mail ('The Daily Mail can suck my d…', Stormzy rapped at the BRITs), that is the minimum requirement for entry into the dinner-party set. I was tickled, and disturbed, to see that even Stop Funding Hate, the most illiberal, anti-masses wing of the pseudo-liberal Twitterati, is now defending Stormzy. They have been agitating for big business to withdraw their advertising from the Mail in response to an Amanda Platell column that dared to criticise Stormzy. Stormzy, mate, when well-educated censors are marshalling big corporates to punish a tabloid newspaper for dissing you, you know you have become establishment.
There's a weird, racialised self-loathing to this co-option of Stormzy. That Guardian leader cheers his 'blackness'. Cringe. What we have here are middle-aged, middle-of-the-road politicos desperately hoping that this urban young man will add some authenticity to their worldview. It's a tragic attempt to doll up some pretty dull politics in the glamour of grime. Worse, this incessant co-option of popular-culture figures by a political set desperate to connect drains grime and other cultural pursuits of their independence. These cultures become the playthings of an aloof political class rather than the property of the young and free. Can't these people leave street culture alone for heaven's sake? Stormzy, sort your life out.
Brendan O'Neill is editor of spiked. Follow him on Instagram: @burntoakboy
Picture by: Getty
To enquire about republishing spiked's content, a right to reply or to request a correction, please contact the managing editor, Viv Regan.