The danger of overreacting to school shootings
US society shouldn't be overhauled on the basis of rare events.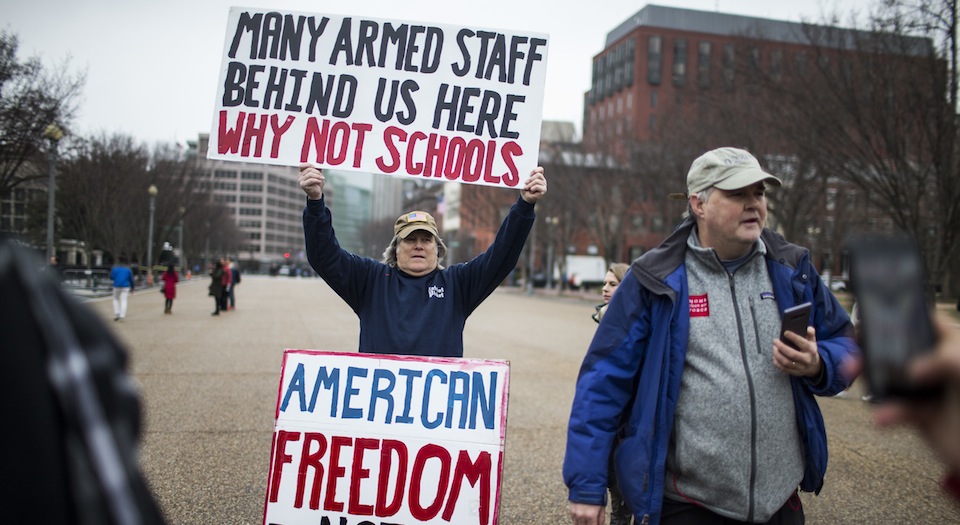 On 15 February 2018, just a few miles away from Marjory Stoneman Douglas High School in Parkland, Florida, where the horrific massacre of 17 students and teachers by the alleged killer, Nikolas Cruz, took place, a teacher at North Broward Preparatory School reported hearing a gunshot. The school was put on lockdown. During the investigation of what turned out to be a false alarm, a Broward Sheriff's Office deputy unintentionally discharged his firearm, injuring his leg. The deputy was treated at the scene.
This incident turns up in the lurid reporting of Everytown, under the rather hyperbolic headline '291 School Shootings Since 2013'. Everytown is a lobbying group for gun-safety (that is, gun-control) laws. This incident illustrates the flaws with both sides of the recent debate on gun control: they both work from the assumption that school shootings constitute a huge problem in the US. Yet the statistics show that, while the shooting at Marjory Stoneman Douglas of course upsets all people, this kind of thing is a rare event. Passing hasty legislation – whether controls on the weapons used or handing out guns to teachers or more mental-health screening – is not appropriate.
Trump, feeling the pressure to 'do something' about the shootings, characteristically took to Twitter after meeting with some students from Marjory Stoneman Douglas and proposed arming teachers to prevent mass shootings at schools. He wants to provide as many as 20 per cent of teachers with concealed-carry permits, training them and paying them bonuses. That would be an army of nearly 650,000 teachers with guns.
In the past, Trump has declared himself a fan of concealed-carry laws. Concealed-carry is the lesser-known story about guns over the past 30 years. In 1986, a large number of states banned Americans from carrying concealed weapons. By 2016, all 50 states either had no restrictions, 'shall-issue', meaning that virtually anyone who applies is granted the right to carry, or 'may-issue', meaning that the right to carry is subject to the discretion of local authorities. Whereas fewer people own guns in the US these days, more and more seem to want to be licensed to carry a concealed firearm.
Trump has also mooted stronger mental-health measures, concentrating on the failure of the FBI to pick up on reports about Nikolas Cruz in the weeks preceding the shooting. But most people who struggle with mental illness are not killers or potential killers. If there are to be mental-health background checks for guns, why not for other potential weapons, like cars or axes? Such measures will inevitably punish those who seek help for mental illness, perhaps dissuading them from doing so.
Examining school shootings in Florida since 2013, courtesy of the influential Everyman site (the BBC and other British pundits rush shrieking to the headlines without examining the details), we find that of the three homicides at schools in the third most populous state in the US, two were in one single incident when a janitor shot and killed two other janitorial staff. A second was a 27-year-old man shot and killed in a school parking lot. According to Everytown, no school-age students died in school shootings in the five years prior to the Marjory Stoneman Douglas attack.
Looking at the chart compiled for the US Department of Justice (below) we get a better picture of the risks to pupils at school. Teachers are more at risk from school shootings. If we take a relatively high year, we see that of the 53 student, staff and non-student school-associated violent deaths occurring between 1 July 2012 and 30 June 2013, there were 41 homicides, 11 suicides and one legal-intervention death. Removing teachers and other staff from the equation, there were 31 homicides, six suicides, and one legal-intervention death of school-age youth (ages five to 18) at school. That is around two-and-a-half per cent of the 1,186 homicides among school-age youth in that period, a percentage that has remained consistent since the 1990s.
Both left and right seem determined to do something when there is nothing effective to be done. It is simply not appropriate to punish gun-owners or people suffering from mental illness in the wake of this shooting. Arming teachers would probably result in more school shootings like the recent one in North Broward Preparatory School. We are better off celebrating the heroism of those like assistant football coach and security guard Aaron Feis, who pushed a female student out of harm's way and was shot to death.
Kevin Yuill teaches American studies at the University of Sunderland. With Joe Street, he is the editor of The Second Amendment and Gun Control: Freedom, Fear, and the American Constitution. Buy it here.
To enquire about republishing spiked's content, a right to reply or to request a correction, please contact the managing editor, Viv Regan.