What Martin McDonagh gets wrong about Missouri
Three Billboards indulges some pretty base stereotypes about country folk.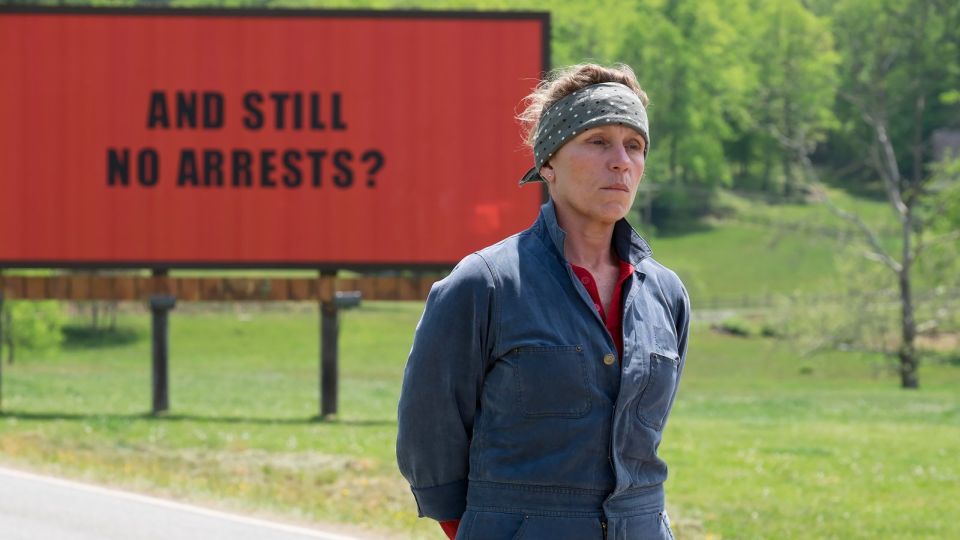 Shortly after watching Three Billboards Outside Ebbing, Missouri, I began to fantasise about taking up a collection to fly Martin McDonagh out to Missouri. In the dark night of my soul I spent 10 minutes staring at GoFundMe.com.
It's not that I felt personally insulted. I am not from Missouri. I am definitely not a cop. I am not even particularly sentimental about rural America. I choose to live in the red part of a blue state, and although it is beautiful, with orchards and peony farms, it can be backward, parochial and downright depressing. It is the sort of place where people duke it out on talk radio over whether the local heroin addicts (of whom we have many) should be allowed Narcan when they overdose or just be left to die for their sins.
Nor do I have some pedantic devotion to authenticity. It is delightful when filmmakers pick up on the details, like the pronunciation of Missouri (pronounced muh-zer-uh) or local colloquialisms, but it's far from essential. In retrospect, I think it was sheer disappointment at the loss of an opportunity to tell a good story. Three Billboards should have been great. The actors were top-notch. The setting was unusual. It promised all-consuming grief, smalltown politics, and strange bedfellows. Most tantalisingly of all, it promised comedy, that glorious human instinct to laugh in the face of pain. What could go wrong?
The plot revolves around Mildred Hayes, a middle-aged woman whose daughter was raped and murdered. Frustrated by the local law enforcement's lack of progress in finding her daughter's killer, she rents three billboards along the old highway near her home that read 'Raped while dying / And still no arrest / How come, Chief Willoughby?'. The billboards set in motion a series of increasingly implausible events that spin the story and its characters out of control. Which was fine in itself. The problem was the people.
Don't get me wrong, Frances McDormand, Woody Harrelson, Peter Dinklage and the rest of the cast give outstanding performances. (Full disclosure: I could happily watch McDormand, Harrelson or Dinklage read the ingredients off the back of a cereal box.) But even such intelligent acting isn't enough to compensate for McDonagh's fundamental disinterest in the people he is portraying.
The most obvious, and annoying, evidence of his laziness is his dialogue. His approach, which I have begun to think of as 'death by a thousand "fucks"', is wearisome. It is almost as if someone took him aside as a young screenwriter and advised him that punctuating every sentence with some variation of the word 'fuck' is a good idea. Why? Because it makes the characters seem more authentic? More working class? It is hard to fathom.*
Profanity has its place, but McDonagh's constant use of it in common speech is nothing short of bizarre. It was so off-putting that my family and I began counting at one point, but eventually had to abandon the effort. With one f-bomb every two to three minutes it was too distracting. It isn't just that Americans don't do this as a rule – dialogue isn't like real speech. It felt more like a literary Tourette's syndrome, visited upon the actors and the audience, that made it more difficult to suspend disbelief and left the actors to accomplish the Herculean feat of turning their characters into more than crudely rendered cartoons. It is to their credit that they succeeded. McDonagh's characters, from the fat dentist to the cop to one of the cop's hillbilly momma, are stereotypes of other people's stereotypes, specifically the stereotypes that urban liberals hold about the rednecks out in flyover land.
Writing comedy is hard. Writing dark comedy is even harder because it requires some truth on which to hang the absurdity. Audiences will gladly go over to the dark side, forgive implausible plotlines, and even cardboard characterisations, so long as there is some familiar and recognisable starting point. It also helps if the writer has some sympathy with the people he's writing about. We want to laugh at ourselves, not to be the butt of the joke.
Fortunately, the actors supplied what McDonagh could not. One of the best moments for me was when Dinklage's character, James, reproaches Mildred for her rudeness during their dinner together, saying, 'I know I'm a dwarf who sells used cars and has a drinking problem, I know that. But who the hell are you, man?'. The line is shocking precisely because Dinklage's portrayal of James, despite McDonagh's best efforts to the contrary, like when James introduces himself as the 'town midget', made us all but forget his size.
In the end, McDonagh's Ebbing, Missouri is an imaginary country, so far away from the truth of Missouri and the rest of rural America that it might as well be science fiction. It is just a convenient backdrop for an exploration of the universal themes of grief and anger.
The problem is that the universal cannot exist without the particular, not really. That's what makes Three Billboards Outside Ebbing, Missouri almost painful if you happen to be one of the millions of people living in this imaginary country. It's a reminder that we exist as a sort of caricature in the minds of many Americans who ought to know better. Who would know better, who would see the tragedy and the comedy and the absurdity and the humanity, if only we could fly them to Missouri. But of course, it's not enough just to be here.
You have to give a fuck.
Nancy McDermott is a writer based in New York.
(*As an aside, a friend en route to Europe tells me that the version he watched on his flight had the words 'frigging' and 'cow' dubbed in — think 'mother-frigging cow' — rendering it nearly unwatchable.)
Watch the trailer for Three Billboards Outside Ebbing, Missouri:
To enquire about republishing spiked's content, a right to reply or to request a correction, please contact the managing editor, Viv Regan.