March for Our Lives: 'I have a nightmare'
Inflated fears over school shootings are no basis for gun control.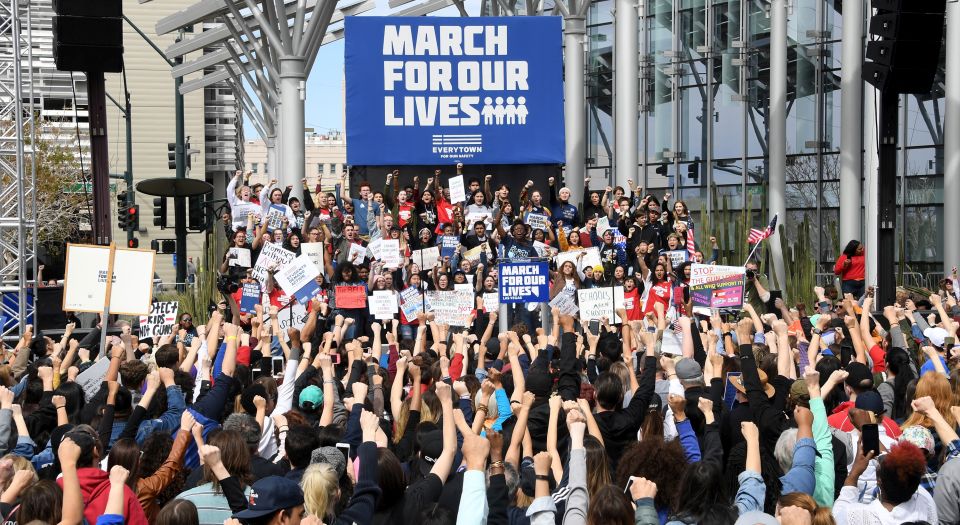 On Saturday, thousands attended the many March for Our Lives rallies for gun controls across the US. One of the surprise guests at the Washington rally, not far from where her grandfather told the world he dreamed his children would be judged by the content of their character and not the colour of their skin, was nine-year-old Yolanda Renee King. King told the DC crowd that her dream was of 'a gun-free world, period'.
It was in 1963 that Martin Luther King Jr delivered his 'I have a dream' speech. King and 400,000 marchers called for full citizenship and the extension of rights to African Americans – that portion of the population that had been denied them. In contrast, the March for Our Lives called for less freedom and for important citizenship rights to be taken away.
The issue of mass shootings is the 'defining fear' for young Americans, according to a USA Today and Ipsos poll of 13- to 24-year-olds. The survey found that gun violence eclipses all other worries, including terrorism, racism, college affordability and climate change. Nearly one fifth of respondents do not feel safe at school.
Robby Soave of Reason reports from the march that 'teenager after teenager testified that their fears of death were all-consuming, ever-present, and more justified than ever before'. Soave noted that 'from what I saw and heard at the rally, dying in school was a remarkably ubiquitous fear among young people'. He recalls spotting 'a little girl, perched on her father's shoulders, waving a sign bearing the text "Am I Next?"'.
No, little girl, you are not. Thankfully, American children do not 'risk their lives' when they show up to school each morning. In fact, they are safer than they ever have been in the history of the republic. Moreover, they are safer at school than they are at home. There was not one homicide at a school in Florida – the third most populous state – between 2012 and the Marjory Stoneman massacre this year. An American's lifetime odds of dying in a mass shooting, committed in any location, are one in 11,125. For dying in a car accident, they're one in 491. Violent crime is at or near a 30-year low.
And yet these inflated fears persist – thanks largely to gun-control proponents, who consciously conflate various risks. They take the total gun deaths – 36,252 in 2015, for example – as a measure of risks to all Americans. But total gun deaths are unevenly distributed. Of the 13,455 cases of gun homicide (the remainder comprises suicide and accident) that year, more than half were black males, who make up around six per cent of the population of the US. The victimisation rate for all males is about four per cent higher than for females. We need to talk about the numbers of young black lives cut short. But mass shootings, the events that are most feared, are incredibly rare.
But it is this fear of mass shootings that fuels the demand for a ban on assault weapons, in particular. Despite the existence of 100million rifles in the US, they were used in only 226 homicides in 2016. A ban on assault weapons was even tried between 1994 and 2004 and had no effect. Nevertheless, the calls to ban them carry on. They do look scary, after all.
Emotive reactions to tragic events seldom make good policy. Liberals have, historically, resisted the hue and cry for the lynching or execution of notorious killers. The principle that the state should not take a life, they conclude, is ultimately more important than the (understandable) feelings of a victim's relatives and friends. But with gun control, such principles fly out the window. Instead, they give full vent to emotionalism, and venerate children as wise counsellors if they know someone who was killed by a gun or they heard a bullet whistle by.
Many of the kids involved in the protests have, indeed, been impressive. Dialogue on the issue should certainly be encouraged. But it should be stressed to young people that they are not all knowing and are only at the beginning of a journey of understanding. When not berating his 'old ass parents' for not starting the 'revolution', David Hogg, one of the young survivors of the Parkland shooting, rightly attacked his school's policy of requiring clear backpacks as a breach of students' First Amendment rights. At least this 17-year-old recognises the importance of some constitutional rights, if not all of them. And he's still young, so there's hope.
There is less hope, however, for the adults who are eager to to exploit and spread children's fears over school shootings. Those who call themselves 'liberal' have fewer and fewer liberal principles nowadays. Polling shows that American gun owners place more value on freedom of speech, the right to vote, the right to privacy and freedom of religion than their non-gun-owning compatriots. As Benjamin Franklin argued, 'those who would give up essential liberty, to purchase a little temporary safety, deserve neither liberty nor safety'.
'There will be neither rest nor tranquility in America until the Negro is granted his citizenship rights', intoned Martin Luther King in his 'I have a dream' speech. In contrast to King's emphasis on gaining freedom and enjoying the rights of citizenship, today's activists seem eager to give them away.
Kevin Yuill teaches American studies at the University of Sunderland. With Joe Street, he is the editor of The Second Amendment and Gun Control: Freedom, Fear, and the American Constitution. Buy it here
To enquire about republishing spiked's content, a right to reply or to request a correction, please contact the managing editor, Viv Regan.