The Cambridge Analytica story is looking thinner by the day
The Observer thinks it has a smoking gun – it's more a damp squib.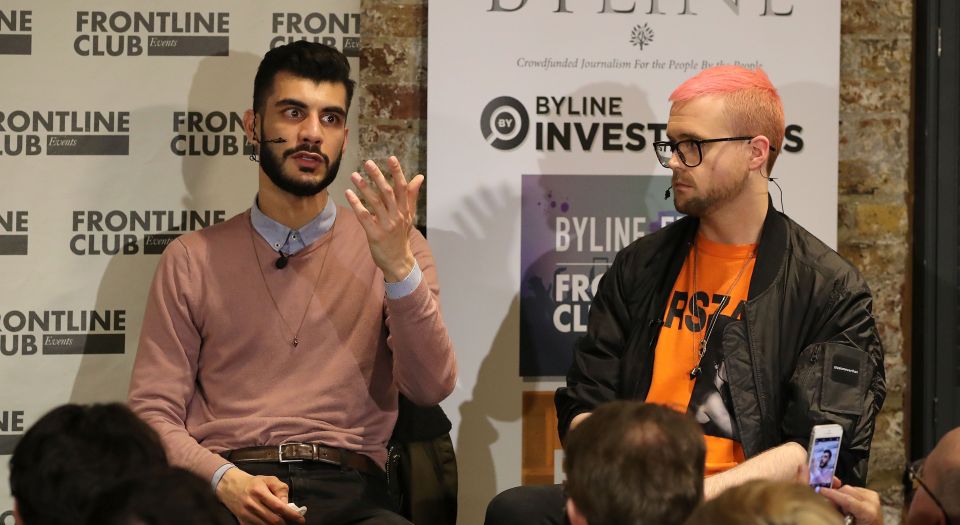 The Cambridge Analytica (CA) scandal is the latest in a long line of excuses from those who – two years on – have yet to accept the democratic outcomes of the US presidential election and Britain's EU referendum. Having exhausted their tedious theories about Trump winning thanks to the Russians, and Brexit thanks to a bus, now these people are talking up data company CA as the cause of the alleged political nightmares that are the Trump administration and Brexit Britain. Apparently Trump won courtesy of 'Steve Bannon's mindfucking tool' – that is, CA – while sections of the Brexit campaign are said to have cheated by channelling money to a CA-linked firm.
These claims may have made international waves, but they look increasingly thin. This story could end up being an embarrassment for those who are pushing it. Here are five reasons everyone should calm down about Cambridge Analytica.
Big Data wasn't always seen as a bad thing
The outrage over Cambridge Analytica's data mining for political ends is not really about what they did – it's about who they did it for. Before the Brexit and Trump earthquakes, social media were lionised for catalysing the Arab Spring, while Big Data was credited with putting Obama in the Oval Office. In 2012, the chattering classes gushed that data-driven strategy had put the soul back into politics and restored the primacy of the individual voter.
They're only turning on Big Data now because it has 'delivered' – as they see it, anyway – results they don't like. In their mind, the Cambridge Analytica 'mindfuck tool' manipulated the plebs into voting the wrong way. If Hillary's mindfuck tools had been more successful, you can bet there would be celebrations right now over how Big Data gave America its first female president. So the very basis of this scare – that Big Data is inherently bad – is based on political bitterness, not cool-headed analysis.
Psychographics are psychobabble
Cambridge Analytica's snake-oil sales pitch is that by mining Facebook's data for your likes, it can predict your personality, which in turn can be used to predict your political views. This would therefore allow CA's clients subtly to tweak political messages to suit your personality type. But not only is personality a poor indicator of political views – the so-called 'big five' personality traits are as effective at predicting your political outlook as your star sign is* – there is also no evidence that CA could have predicted personality from your Facebook profile, anyway.
A relatively robust psychographic test that might be used in market research or HR would typically contain between 100 and 150 questions. CA built psychometric profiles based on just 10 questions. It profiled a small number of users and correlated their likes, and then generalised this to the rest of the population. Dean Eckles of MIT Sloan, who worked at Facebook and has studied voter behaviour, believes this indirect approach will have been even less effective than Facebook's bog-standard in-house targeting by age, gender, location, and so on – which, according to his research, is itself only marginally more effective than advertising in traditional media. To see how CA's methods are likely to fail to 'manipulate' voters, consider that its first client was Ted Cruz – and he was crushed in the Republican primaries.
*No, astrology doesn't work either.
Campaign spending doesn't equal votes
The suggestion by Observer journalist Carole Cadwalladr that the £625,000 in donations that was channelled by Vote Leave to a campaign called BeLeave and the CA-linked firm AggregateIQ effectively bought the EU referendum is perhaps the most risible of the accusations in this sorry saga.
If it were true that spending more money could 'buy' an election, then Remain would have won by a country mile. Electoral Commission figures put the total spending of all the various Remain campaigns at £4.6million higher than the spending of all the Leave campaigns. And that doesn't include the cost of using the Whitehall machine to promote Remain – such as the £9.3million pro-Remain leaflet sent to 27million households, flying over Obama to deliver his pro-Remain sermon, or the now totally discredited Treasury analysis promising immediate recession and mass unemployment following a vote for Brexit. An extra £625,000 on data-mining, which doesn't even work, was not wot won it.
Remain circumvented spending rules, too
The Observer's two whistleblowers, Christopher Wylie and Shahmir Sanni, insist that Vote Leave 'cheated' by funnelling the £625,000 from Vote Leave to BeLeave in order to flout campaign spending rules at the last minute. But Britain Stronger In Europe created five new groups to do exactly the same thing. This included The In Crowd and Best For Our Future. They split over £1million between them. Remain campaigners were fined by the Electoral Commission in December 2017 for the kind of accounting discrepancies Leave campaigners currently stand accused of. Why aren't any of the whistleblowers and journalists up in arms about this? Because they are not pursuing a real journalistic investigation but rather a political crusade against a democratic decision they despise.
Voters aren't easily manipulated
The lie of Cambridge Analytica's ability to sway elections rests on the anti-democratic, elitist belief that the public are stupid, irrational and easily manipulated. That they are incapable of independent thought. Yet as spiked's editor Brendan O'Neill argued this week, the Brexit vote proves the opposite – that the public were able to resist the institutional and information dominance of the Remain camp and make up their minds for themselves.
In fact, the only people that have been manipulated by Big Data are the politicians and strategists who threw money at the data-men for their dubious 'insights'. And yes, that means various chancers in both the Trump and official Vote Leave camps. They bought these quack remedies wholesale because they share their critics' low view of the voting public. That's the final great irony of the liberal media's hysteria over CA: these anti-democratic handwringers have more in common than they think with the people they're railing against.
Fraser Myers is a writer. Follow him on Twitter @FraserMyers
Picture by: Getty
To enquire about republishing spiked's content, a right to reply or to request a correction, please contact the managing editor, Viv Regan.