Pulse of Europe: an elitist campaign
Meet the 'grassroots' pro-EU group that is only popular with politicians.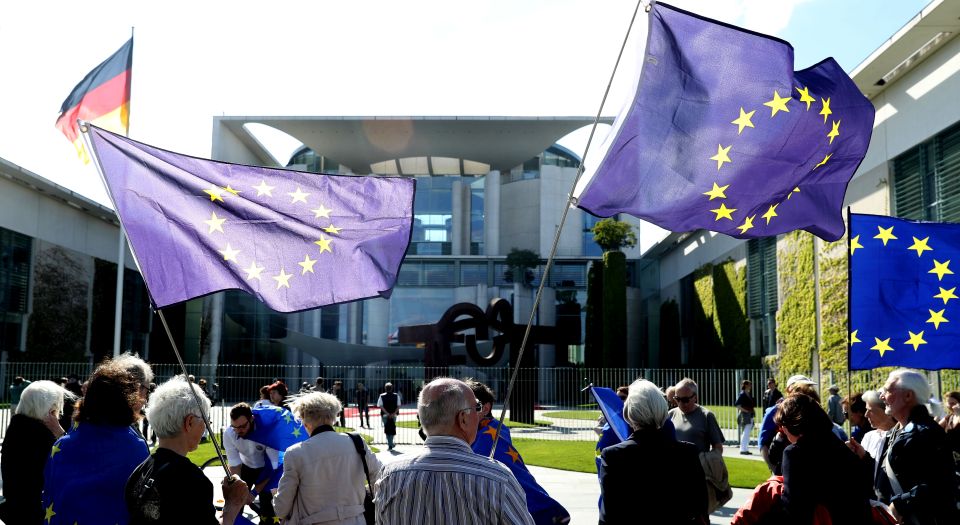 'We're out in the streets when Europe needs us.' That is one of the slogans used by Pulse of Europe, a campaign founded by a German lawyer and his wife in 2016 in response to the Brexit vote. Since then, it has been organising pro-EU rallies across Germany, calling on people to 'pack their European flags… and bring friends and family'. Claiming to speak for Europe's 'silent majority', it describes itself as standing for 'human dignity, rule of law, free thinking and acting, tolerance and respect'. It condemns its avowed opponents – those who are against the EU, that is – as right-wing nationalists and populists. 'Right-wing populists and Brexit supporters have been railing against Europe for far too long', it says.
Naturally, this simplistic black-and-white image isn't the whole truth. Pulse's conflation of Europe with the EU ('Europe mustn't fail', it says) is only one of its rhetorical ploys. Another is its constant equation of criticism of the EU with right-wing populism. In truth, many Eurosceptics are not on the right, and many right-wing populist parties in Europe are far softer on the EU than some make out. Germany's Alternative für Deutschland, for instance, was founded in opposition to the euro. But it has never campaigned for a German EU exit, and now prioritises immigration over the euro issue. The AfD's current leader, Alexander Gauland, has warned against a German vote on EU membership, and has accused Angela Merkel of driving Britain out of the EU with her refugee policy.
Pulse of Europe resorts to such cheap claims-making because it has very little else to offer. Like so many pro-EU groups, it defends the EU via moral posturing rather than a proper political argument. 'Pulse of Europe does not hurt anyone, concrete demands are deliberately not made by its creators, and there is no political programme', states one article, intended to be supportive, in a Frankfurt newspaper. In an emotional YouTube video, Pulse says its main aim is 'winning back people's hearts for Europe'. Yet it has few arguments to speak of, and its tendency towards demonising Eurosceptics probably won't get it very far.
Needless to say, Pulse of Europe has been met with a chorus of praise from the establishment. German president Frank-Walter Steinmeier commended it in his inauguration speech in 2017. Foreign minister Heiko Maas has promoted Pulse of Europe rallies on his Twitter account. In 2017, the group's founder, Daniel Röder, received a series of prestigious 'citizen's prizes' from the German press. In February, Röder was named 'Person of Respect' by the federal state of Hesse.
Pulse of Europe's popularity among the political class and the press has not been matched by decent turnouts at its rallies. At its height, in March 2017, Pulse events attracted 'thousands', or so German news programmes reported. But in Frankfurt, where it was founded, there are reports that only 600 people have attended demonstrations, after an initial claim the number was as high as 3,000. Clearly it doesn't have its finger on the pulse. 'A coffee party for those privileged by the EU', is how political scientist and pro-EU activist Ulrike Guérot has characterised the rallies.
Of all Pulse's ludicrous assertions, its claim that there have been too many politicians criticising the EU for far too long stands out. Unlike the issue of immigration, on which there have been inter-party disagreements in public, there is still a very strong cross-party consensus in Germany regarding the EU. Though many ordinary people are very critical of Brussels, this is not reflected in party politics. Even the Left Party, which, like the AfD, has criticised the euro, has only ever called on the EU to become more democratic and social, both of which are pipe dreams.
Indeed, it was the lack of party-political opposition to Angela Merkel's handling of the euro debt crisis that led to the formation of the AfD in the first place. It was founded in 2013 by economics professor Bernd Lucke. Voters who disagreed with the government's euro-debt policy, but didn't want to support the Left Party, were left without a voice, and this is where the AfD stepped in. Sociologist Philip Manow has spoken of a 'pro-EU overbidding competition' in German politics that has fed the 'utter helplessness of the democratic sovereign'. So, contrary to Pulse's narrative, it was the taboo around criticising the EU that led to the creation of the Germany's right-wing 'populist party'. And even then, the AfD has never fully taken up the anti-EU cause.
Equating being anti-EU with right-wing populism helps only the AfD. The mantle of Euroscepticism has been handed to it due to a lack of any other, more meaningful alternative. This is why anyone who is interested in democratic pluralism should oppose the rhetoric peddled by Pulse of Europe and its supporters. We have a right to criticise the EU. And it is precisely because people's voices were ignored for so long that the so-called populists came to prominence in the first place.
Sabine Beppler-Spahl is head of the board of the liberal thinktank Freiblickinstitut e.V., which has published the Freedom Manifesto. She is also the organiser of the Berlin Salon.
Picture by: Wikimedia Commons
To enquire about republishing spiked's content, a right to reply or to request a correction, please contact the managing editor, Viv Regan.