Poster politics, from Hope to Nope
A new exhibition captures the political imagination of our era.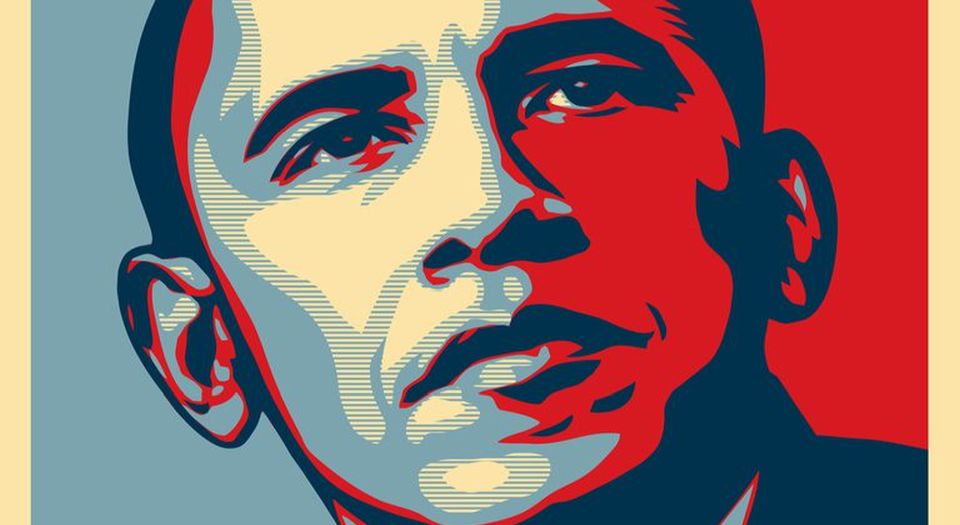 A pithy 2017 poster reads 'Slogans in nice typefaces won't save the human race'. It is just one of many to be seen at Hope to Nope: Graphics and Politics 2008-18, currently showing at the Design Museum in London.
Hope to Nope presents political graphics from Barack Obama's first election victory to the aftermath of Trump's presidency. And in a display that panders to (and obliquely criticises) the hipster cult of retro-graphics, social activism and urban lifestyles, there is plenty here to amuse and stimulate.
Political posters can be used to trace the course of modern history. From the Russian Revolution, two world wars, the Spanish Civil War through to the civil-rights movement of the 1960s, we can see how seismic political events have left their mark in posters and advertisements. The same goes for Hope to Nope. Many of the most important events and movements of our time are represented here, including Occupy Wall Street, ISIS, the Arab Spring and the Brexit referendum. Material displayed includes not only posters and placards, but also magazine and newspaper covers, cartoons, animations and internet memes. Photographs of street art and public protests show us materials as they were used at the time.
The initial item is the famous 2008 Obama 'Hope' poster by Shepard Fairey. So iconic was this design that it has since been adapted, pastiched, parodied and satirised for a host of causes, some of which are displayed here. There are also the Guy Fawkes masks from Alan Moore's V for Vendetta comic, which have been adopted by the Anonymous hacker group, worn on demonstrations and adapted multiple times in graphics. The famous frog meme Pepe is here, too. It was created as an internet cartoon, passed around as a meme and later adapted as an emblem by the alt-right during the 2016 US presidential election.
The selection on display favours work strong in typography and graphic design, rather than political content per se. There are very few officially endorsed political materials, with the emphasis on independently created designs, street art and activist-led campaigns. Additionally, the attractively designed catalogue includes interviews with some prominent designers.
Many items unwittingly reveal the mentality underpinning ideological positions. Badges reading 'I cannot believe I still have to protest this shit!!' and 'This protest lasts until 2020' (from the Women's March of 2017) are instances of moral indignation and an aggressive dismissal of dissent. There is material here for every viewer to disagree with, while at the same time he or she can admire the design.
What these items cannot do is provide context. Indeed, the impact these graphics have is due to the absence of context. Effectiveness of design does not depend on truth but on brevity and memorability. There is relatively little factual information to be extracted from these designs. But that is not the point. They show how some people viewed events, and the means by which they tried to persuade others of that viewpoint. Some of it is outright propaganda – exactly which items are examples of flagrant fearmongering or vacant cheerleading depend on the viewer's politics.
There are thunderous warnings, declarations of insurrection and defiance of authority. What there isn't are posters advocating the status quo. Normality (the rule of law, established traditions, conventional relationships, everyday courtesy and so on) doesn't make for compelling campaigns – indeed, for any campaigns. Although we need disruptive change occasionally, we also need stability to prevent emotionally driven campaigns of vengeance and righteousness from ruining functioning economic and social systems. It is our independence, discernment and ability to assess facts that keep us from being too strongly swayed by the sort of propaganda that is so ably selected in this exhibition.
Alexander Adams is an artist and writer. His website is alexanderadamsart.wordpress.com.
To enquire about republishing spiked's content, a right to reply or to request a correction, please contact the managing editor, Viv Regan.