David Goodall: dying for the wrong cause
This tragic case reminds us why assisted suicide is immoral.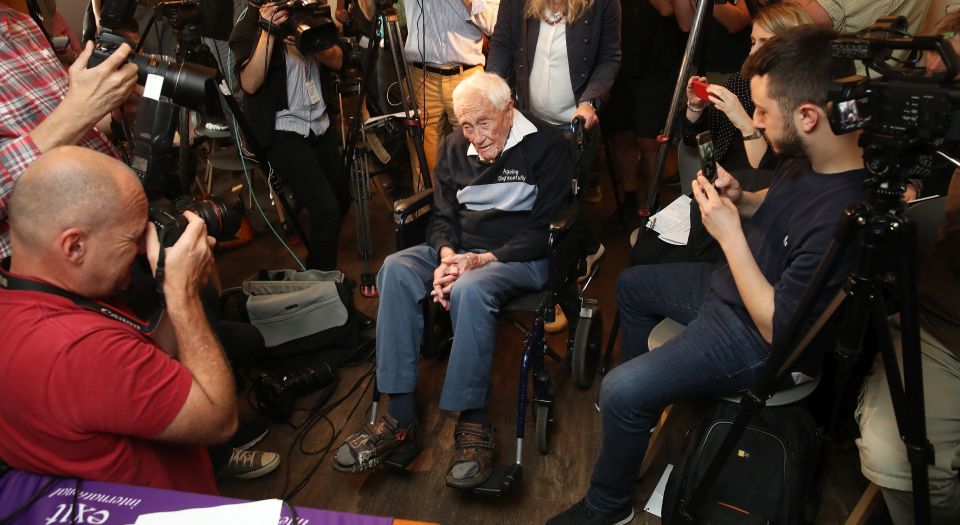 There was an uneasy tone to much of the reporting of the death of David Goodall, the 104-year-old British-born ecologist who died by his own hand in a clinic in Switzerland. Perhaps because it was definitely suicide rather than 'assisted dying'. Goodall was not terminally ill; he wanted to die because he could no longer do most of the things he enjoyed doing. Or perhaps it was the ghoulish presence of Exit International founder Philip Nitschke – Australia's 'Dr Death' – who promptly offered free membership to his suicide club for all those over 90.
Goodall told the New York Times he hoped his life story would 'increase the pressure' on Australia, where he resided, to change its laws on assisted dying. 'One wants to be free to choose his death at the appropriate time', he said. 'Once one passes the age of 60, one should be free to decide for oneself whether one wants to go on living.'
Goodall's decision attracted a lot of commentary, most of it positive. He had a 'good innings', they said, and at 104 he surely had earned the right to make the decision that he did. But though we can admire Goodall for dedicating his death to a cause he believed in, this was, in the end, a publicity stunt, and a very effective one at that.
Putting the often one-dimensional coverage aside, his death raises difficult questions about suicide and the way we regard the elderly. With no terminal illness, Goodall did not qualify for an assisted death outside Switzerland. Perhaps those at an extreme age like Goodall should also qualify? What of his suggestion that one be free to make the choice once one turns 60?
These questions give an indication of how the complexities of assisted suicide cloud the simple emotive responses many people have to it (something the people of Guernsey are now having to come to grips with as they consider a parliamentary request that would allow assisted suicide on the island).
There should be no age qualifications for suicide – all competent adults should be free to make the decision. Removing any competent adult's ability to make that decision is to treat him as less than adult, as someone, like a prisoner, not to be trusted with their belts or shoelaces.
Following this logic – that any adult should have the freedom to kill themselves – there is no reason to treat a 104-year-old any differently to a 24-year-old. After all, there is an equal regard for human life inherent in our murder and manslaughter laws. Would it be any less wicked to murder a 104-year-old than it would be to murder a 24-year-old? If not, why would we make any distinction when it comes to suicide? This is one of the central problems in relation to legalised assisted suicide. By sanctioning and assisting suicide for some but not all, we create two classes of persons – those we try to save and those who, when perched on the proverbial precipice, we offer to push. The amount of time we have left is not a basis for judging the worth of our lives.
Some argue that anyone in possession of their senses with a sustained death wish should be allowed euthanasia or assisted suicide. This is the basis for the legal framework in Switzerland, where it is legal to assist a suicide so long as the motives for assisting are honest. This is also the direction in which the Netherlands and Belgium are heading. Aurelia Brouwers, a 29-year-old Dutch woman who chose to die earlier this year, made the same points as Goodall when she spoke of her dislike for her life, present and future.
The central problem of assisted suicide is not the act of suicide, but the act of assistance. Much as we can agree that it is immoral to force anyone to live, it is also immoral to kill – or to participate in the killing of – a human being. As Emile Durkheim noted 130 years ago, a permissive attitude towards suicide 'denies the religion of humanity, the most important bond of protection between human beings':
'From the moment that the human person is and must be considered something sacred… any attack upon it must be forbidden. No matter that the guilty person and the victim are one and the same… If violent destruction of a human life revolts us as a sacrilege, in itself and generally, we cannot tolerate it under any circumstances.'
To the extent that it can be reflected in law, the attitude of the community – not the individual – must be against suicide, because it removes a member of that community. That is why our murder and manslaughter laws regard the killing of any member of society as fundamentally wrong. No one would plead in defence of a murderer that the victim did not value his or her life. So, although the death of a 104-year-old man does not shock us, the purposeful killing of him should.
Not all acts of suicide are solely acts of destruction. There are suicides that are noble and beautiful acts, like that of Captain Oates, a member of the ill-fated Scott expedition to Antarctica, who, lame, wandered off to give his comrades a chance at survival. But only Oates could make that decision. It would have been utterly wrong for his decision to die to have been approved and his death assisted by a committee.
But that is precisely what assisted suicide does. It pre-approves suicides based on superficial physical criteria – whether the subject is ill, lame, elderly or depressed. And it arrives at the philosophically impossible judgement that their death would be preferable to their continued life.
Kevin Yuill teaches American studies at the University of Sunderland. His book, Assisted Suicide: The Liberal, Humanist Case Against Legalisation, is published by Palgrave Macmillan. (Buy this book from Amazon (UK).)
Picture by: Getty
To enquire about republishing spiked's content, a right to reply or to request a correction, please contact the managing editor, Viv Regan.